Are you bored of small screens? Are you planning to make your own home theatre to have a wonderful gaming experience? Or are you thinking of purchasing a good quality projector for your business presentations? So, here you are! You have opened the right page. Please keep reading.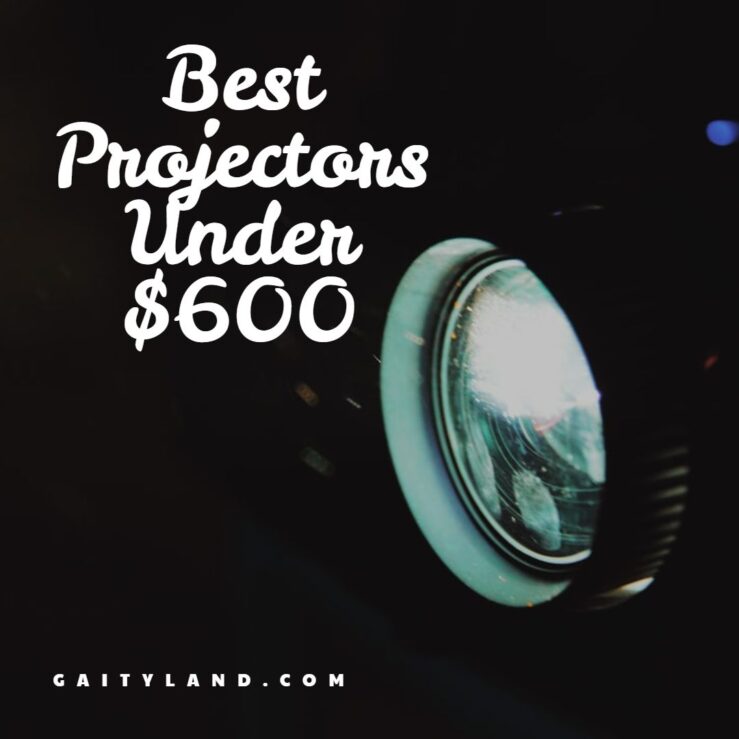 You will find the ten best projectors under $600 in 2023 in this review article and buyer's guide. The best projectors in 2023 under $600 are suitable for various purposes. You can use them for gaming, movies, and home theatres. Also, in the professional sense, they will help you a lot.
For example, you can use them for presentations of all types, whether you are using MS Powerpoint or Prezi, etc. In fact, you will easily flourish your business with these projectors. Isn't that interesting that it is possible at a minimal cost of less than $600.
It sounds great but choosing the best projector can be difficult. This is because there are lots of such projectors available in the market. However, you don't have to worry because you need the right knowledge for this.
So, are you excited to have a look at the ten best projectors under $600 in 2023? We present you with the ten best projectors in a brief way. Have a glance at them, and you carefully chose your best projector for 2023.
Top Projectors under $600
1. ASUS P3B Projector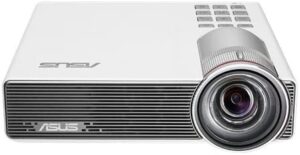 Are you searching for a portable and small projector? Then your problem is solved with the ASUS P3B projector. It has topped the list of best projectors due to its wonderful features. You are going to love your video and movies on it.
ASUS P3B projector is palm-sized with 1.65 pounds weight. So, it the best projector in terms of portability. Also, this portable LED projector has a 1:1 short-throw ratio. You will have amazingly bright images with it because it has 800 Lumens brightness. It comes with a native resolution of 1280×800.
In fact, under $600, the package seems very good. It provides a keystone correction and that too with auto-adjustment. Furthermore, the LED light is a good one with a lifespan of 30000 hours. In addition to this, highly progressive DLP Technology has been used in it. DLP will reduce the cost whenever you intend to replace the bulb in it.
ASUS P3B projector comes with an internal battery of 12000mAh and a noise level of 32dBA. Do you think about which devices to connect with your ASUS P3B projector? You will be glad to learn that it has several ports. You can connect it to several sources through different ports, i.e., HDMI, MHL, VGA, etc.
Pros
Good options for connectivity
Cost-effective and portable
Remarkable brightness and resolution
Pros
No projection of high-quality content
ASUS P3B projector is the best projector of the year 2023 under $600. It is affordable and comes with good features. We recommend you buy it for enhancing your experience at home and workplace. The compact design and lightweight will blow your mind. Additionally, the battery life and connectivity options will help you use them for various tasks.
2. Optoma W365 Projector

Are you lost in the flood of good-quality projectors under $600? Stop here; you have reached your destination.
Yes, Optoma W365 is one of the best projectors you can purchase for under $600 in 2023. It is the game-changer in the projector market. You must go for it to have sharper and good-quality images. A remarkable 3600 ANSI lumen will give clear images. What's more? It also has a native resolution, i.e., WXGA and a DLP projection.
Its 3D package is going to blow you. It is always good to see sharper images due to its 22000:1 contrast ratio. You can use it anytime and anywhere since it has equally good results in the daytime. It is the best daytime projector for outdoor activities. It will ensure optimum brightness in your outdoor events.
Optoma W365 projector comes with an impressive battery life of 10000 hours. That means it will be functional for five years even if it is used daily. Isn't that a smart move to have such a lasting gadget for only$600 in 2023?
Furthermore, with the Optoma W365 projector, you will never run out of connections. You can connect it to audio 3.5mm, HDMI, RS232C, VGA, USB, and RJ45. Also, through USB and screen mirroring, you can display your data, movies, games, etc., in a wireless mode also.
Pros
Full 3D HD
Sharper imagery
Easier installment
Pros
Audio quality not good for larger gatherings
3D glass absent
So, what are you waiting for? Go and grab your Optoma W365 projector to have the best experience under $600. It is indeed a remarkable 3D projector showing high performance. You can improve your entertainment and business world with this all-rounder. That too in a low budget.
3. ViewSonic 1080p Projector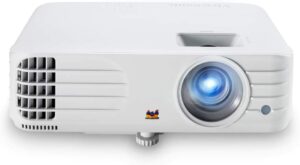 Thanks to Viewsonic PX701HD 1080P projector for making our gaming experience awesome. Yes, you can have fun watching movies and playing games with the amazing resolution of the Viewsonic PX701HD 1080P projector. Viewsonic PX701HD 1080P projector is indeed one of the best projectors under $600 in 2023. Now you can enjoy Full HD with 1920x1080P resolution and feel like sitting at the theatre.
Three hundred inches large screen and a good bright are desired by every individual watching movie. So, be ready to be mesmerized by the remarkable bright of the Viewsonic PX701HD 1080P projector reaching up to 3500 lumens. Not just brightness, but you will be blown away by the amazing images it shows.
Yes, it comes with a large color gamut due to SuperCool Technology inside it. So, enjoy the smoother imagery having no detained. Are you thinking of using it for your intense, action-packed gaming? Go on, and you will have an amazing experience with it.
Though very simple but very reliable, Viewsonic PX701HD 1080P projector has an optical zoom of 1.1.x. With a longer lamp life of almost 20000 hours, you can use it for 10+ years. Yes, if you use it for 5 hours daily, then it will become your best friend for many years. It has a SuperEco mode making it shine brighter.
Pros
Good connectivity options
Lower input lag
Faster refresh rate
If you want to grab a good quality projector under $600, then you must go for Viewsonic 1080P projector. This lightweight projector will enhance your gaming and movies watching experience. You are going to love its resolution and large color gamut due to SuperCool Technology. Also, the battery life is amazing. We recommend you must go for it!
4. Xigmi Mogo Pro Projector
Are you looking for a compact projector? Sigma mogo pro projector is in the list of best projectors under $600 in the year 2023. You can take it with you, wherever you. Going on a trip with friends or about to organize an outdoor party, you can always take the Xigmi mogo pro projector in your backpack. It will be your best movie projector.
It is good in many aspects. Its specification makes it the best projector for under $600 in the year 2023. For instance, its size and other details are incomparable. Having a compact and user-friendly design will enhance your experience.
It is incredible to know that the Xigmi mogo pro projector comes with advanced internet features. The built-in internet functionalities are Chromecast, Google assistance, and Android TV. So, you can have a complete package of a streaming media player with you for under $600.
Do you want to explore more about Xigmi mogo pro? Xigmi mogo pro is also known for good quality images having higher contrast and accuracy. The built-in battery is good enough with a playtime of about 2 hours. Connectivity can be done via HDMI and USB ports.
Pros
The direct casting of apps
Android TV operating system
Bluetooth connectivity for speakers
Pros
Less bright than competitors
Are you looking for a portable projector for your trips or medium-sized rooms? Then you must go for Xigmi mogo pro. Portability is the best feature it offers. You can get amazing imagery through it over your room wall. Also, you can enjoy internet connectivity working over it through in-built Chromecast, Google assistance, and Android TV.
5. ViewSonic PS501X Projector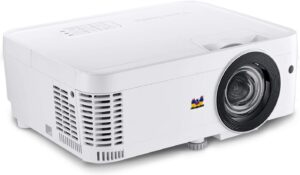 This high-performing affordable projector, known by the name of ViewSonic PS501X, will blow your mind. The audiovisual features are very good, and it is available for under $600. Apart from entertainment, it can be used for professional purposes too. You can use it for your business meetings and educational purposes due to its good resolution. It has in-built XGA 1024 x 768 resolution making you experience perfection.
ViewSonic PS501X has made it to the list of best projectors under $600 because of its good features. Especially, the power-saving mode of ViewSonic PS501X is amazing. In this mode, it automatically reduced the power in a significant manner. Also, you can increase the lamp life up to 15000 hours.
The brightness of this projector is exceptional. Such brightness is due to 3500 lumens and contrast ratio, i.e., 22000:1. In terms of the 0.61 throw ratio, larger imagery is visible in small spaces even. So under $600, you can have this best projector. It is capable of projecting a 120″ widescreen if you place it on the projection surface with a height of 4.10 feet.
Pros
6-segment color wheel
Easier installment
Good connectivity options
Pros
Physical keystone adjustment
If you are a starter at using projectors, then ViewSonic PS501X is going to be your best projector. That too under $600. You will love this product if you prefer simplicity over fancy things. With good brightness, it is suitable to use in different spaces. If you want something excellent in the budget, then you must go for ViewSonic PS501X.
6. KODAK Luma 450 Projector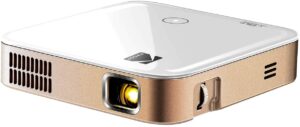 We must add the KODAK Luma 450 – HD smart projector to the list of best projectors because it offers wonderful features. With this projector, you can have a good cinematic experience inside your room, and that too in full HD. It is portable and lightweight. Thus, you may use it anywhere. Also, it is very easy to install.
So, now you can enjoy your movies, games, and videos with a good display. Indoor cinematic experience can be enhanced with 200 ANSI lumens. Images are highly detailed due to the higher contrast ratio of 3500:1. Also, the color saturation is 100% due to which images are highly detailed.
Yes, you will love the imagery because it has about 16.7 million colors and an aspect ratio of 16:9. Connectivity is superb with four ways in addition to streaming. You can further enhance your viewing by using android 7.1 smart OS.
Pros
Portability
User friendly
Smaller space requirement
Better connectivity
KODAK Luma 450 – HD smart projector is your next project or if you have just decided to install your first projector. With its wonderful features, you enjoy a good cinematic experience inside your room in full HD. Also, due to its lightweight and portability, you can take it with you to different places.
7. Optoma HD146X Projector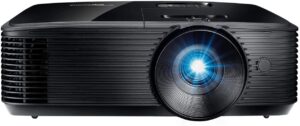 Optoma HD146X projector is going to amaze you with its features. It is one of the best projectors available for under $600 with a Full HD resolution of 1080p. The contrast ratio of 25000:1 is another feature to cherish. Now you can enjoy brighter images, movies, and games in daylight with a 3,600 lumens lamp.
This project is wonderfully lightweight. You can move it with you since it weighs only 6.2 lbs. Its flexibility is amazing. You can easily do vertical keystone correction with an Optoma HD146X projector.
If you are a gamer, then the Optoma HD146X projector is made for you. Enjoy gaming at its best with the Optoma HD146X projector. It provides 16 ms of lag time and a good refresh rate of 120 Hz, enabling a good experience in fast pace games even.
Pros
Dynamic contrast
Lightweight
Lower input lag
Immersive imagery
Pros
Sound problem in a crowded room
You must grab your Optoma HD146X projector if you want to have brighter gaming and other entertainment experience. With its higher lumen lamp and resolution, the images are sharp and well defined. Optoma HD146X projector will not disappoint you with the best gaming experience, and that too under $600.
8. Nebula Anker Mars Projector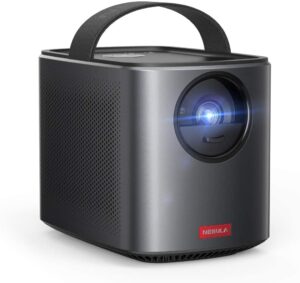 Are you searching for the best projector with fantastic brightness under $600 in 2023? Then your search is over. Nebula Anker Mars projector is available in the market with DLP IntelliBright technology. It projects good quality and radiant images due to 500 ANSI. Wonderful quality images are obtainable with it due to 720 pixels resolution.
You will have great fun with video clarity. The sound is breathtaking. Now you can have the best quality audio with Nebula Anker Mars projector due to dual 10W audio. The sound is no doubt sensational and resonant. Also, if you are outdoors with your friends, then you can enjoy an immersive movie experience.
Are you looking to do some fun? Do you want to play games, watch TV shows, listen to music, watching photos, and what not to do when you have Nebula Anker Mars projector? Connectivity ports will astonish you. You can easily make its connection with Xbox One, laptops, PlayStation, etc.
Pros
User friendly
Good synchronicity with other devices
Good functioning with Netflix
Nebula Anker Mars projector is an excellent choice. With the advanced features, it has become one of the best projectors, which you can grab. Now you entertain in an easier way with its good resolution and DLP IntelliBright technology.
9. Epson Home Cinema 880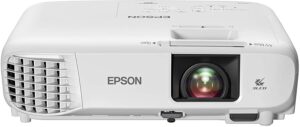 Are you fond of larger onscreen imagery? Epson home cinema 880 is a new projector to satisfy your needs at home and at the workplace. Isn't that relieving to know that with a blank wall or any other compatible screen, you can have your 320" images cast in a perfect manner? So, having a theatre-like experience is no more difficult.
Epson home cinema 880 will give brighter and sharper images due to 3LCD chip technology. This 3LCD chip technology is used in combination with 10-bit color processing. So, here you go with watching your movie without closing curtains. Epson home cinema 880 comes with a contrast ratio of 16000:1.
You will absolutely love the easier installation of Epson home cinema 880. Keystone correction can be done from both horizontal and vertical dimensions. Also, you can do geometric correction for smooth functionality.
Pros
Excellent brightness
Easier installation
1080p resolution
Pros
Lower contrast ratio than competitors
If you have been searching for a user-friendly projector, then you are here. Under $600, you can grab your Epson home cinema 880 to enjoy brighter and sharper images. The advanced design will mesmerize you with good quality entertainment in daylight even.
10. BenQ GS2 Projector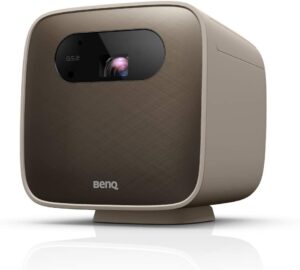 Are you thinking of taking your projector with you as you go on a trip this weekend? Yes, you can. BenQ GS2 projector comes with a bag so you can make it your travel buddy. Also, the rechargeable battery will help you in using it when you are outdoors.
You can play your movies and games from compatible iOS and Android devices. Although its resolution is 720p, you can have a full HD experience with it. It has 500 lumens, but it has actually been designed for nighttime using.
A small-sized BenQ GS2 projector is all you need for your outside movies experience. It is durable and capable of enduring harsh conditions. It is wonderful to learn that it is splash-resistant.
Pros
Durability
Lightweight
Portability
Watching movies during the daytime is great fun. With the user-friendly and design, the BenQ GS2 projector can become your best outdoor and nighttime cinematic buddy. It is durable and can be used for extended durations with a rechargeable battery.
Tips to Select the Best Projector
When it comes to the projectors, their specifications vary. It is up to you to decide based upon your preferences. However, after reviewing the best projectors available in 2023 under $600, we must share with you some tips to consider as you go for buying a projector.
A quick glance over these tips will help you a lot. So without going into other details about projectors, let us begin.
Imagery Size
Image size is important to consider. However, it is totally dependent upon your need. For instance, you will need to take care of image size if you are using it for business meetings, educational presentations, or entertainment.
The image size needs to vary according to your need. Usually, the size of the projection may range between 100 to 200". Or sometimes, it can reach 300" in the case of homes and offices. Also, the size may vary in different environments. For example, if a classroom has two students, then a 200" image size will be suitable.
Throw Distance
You must consider the throw ratio as an integral factor as you buy your projector. It is related to the mounting and placement of your projector. If you are planning to use your projector by mounting it with the ceiling, then you must understand few things. You should be aware of the distance at which the projector is hanging and the screen in front of you.
If the projector is 10 feet away from the screen, you are using, and then the image will be comparatively larger. If this distance is 5 feet, then the image will be smaller. So, when you go to buy your projector, make sure it has a good throw ratio.
Image Brightness
In the present era, you will see every projector claiming good brightness. But what is actually important to know about brightness? ANSI lumens are a measure of the projector's brightness. We recommend you using projectors having lumens exceeding 1000 lumens for a good experience in terms of brightness and clarity.
Lamp Life
Usually, you will get LCD and DLP projectors having 2000 to 4000 hours of lamp life. Are you planning to utilize a projector for replacing your TV set? Then you may invest $200-$400 for replacing the lamp.
FAQs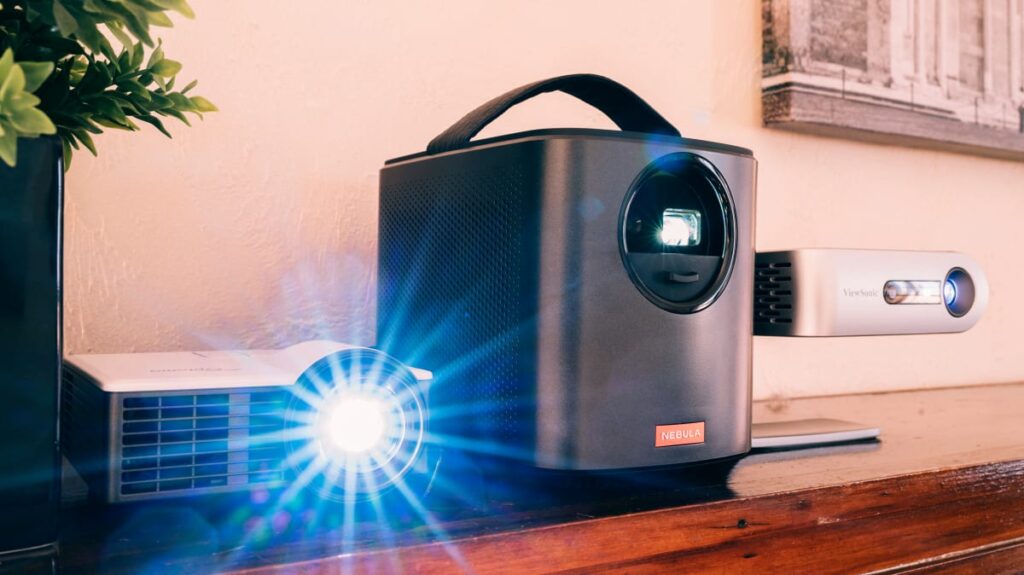 How many lumens will be enough for a projector?
One thousand lumens are recommended for sharp and clear image display.
What is the budget for the best projectors in 2023?
You can get the best projector for under $600 for your entertainment, business, or educational purposes.
Which projector is best for buying under $600 for gaming purposes?
Viewsonic PX701HD 1080P projector reaching up to 3500 lumens and with SuperCool Technology is best for gaming purposes.
Conclusions
With the detailed review and buyer's guide, we hope to help you in buying your best projector for under $600. In the final round, we are here to conclude our discussion with the top three projectors, which you might consider purchasing. So, here are they:
Optoma W365 Projector for its user-friendliness, good quality of image, and speaker. ASUS P3B Ultra Short Throw Projector for remarkable brightness, portability, and easier connectivity. Xigmi Mogo Pro Projector for direct casting of apps, Android TV operating system, and Bluetooth connectivity for speakers.
So, now you can easily decide which projector to chose. Have fun with your new projector from the list we provided!
If these weren't enough, check out these projector under $600 from Amazon also: