Have you recently visited the cinema and got amazed by the magic that is 3D projectors? It is a truly unique experience that brings life to your screen.
If you want to bring that magic to home, let us suggest the best 3D projectors available. We have compiled a list based on user experience and reviews. We have considered the technology, brightness, contrast, and finally, these projectors' cost.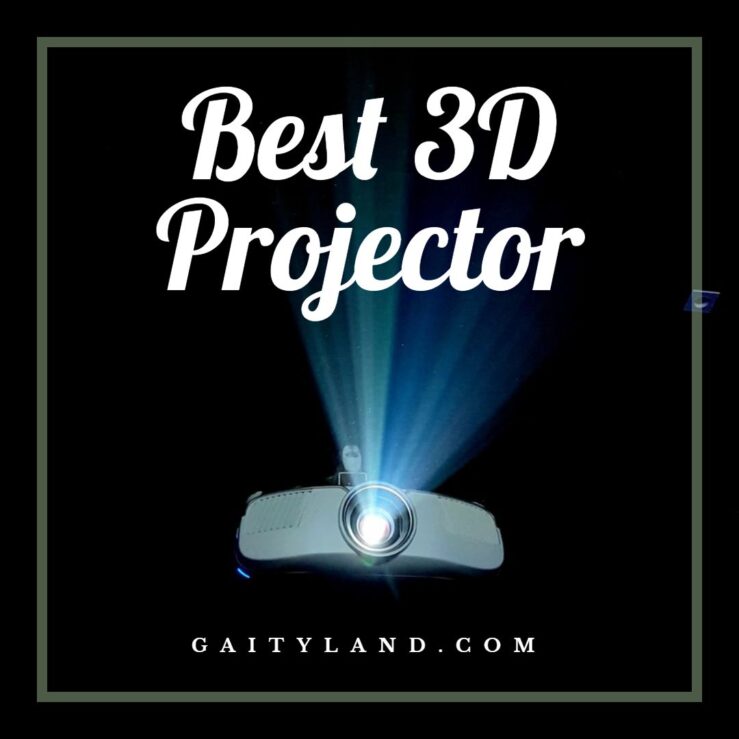 These factors have concluded the list of the seven 3D projectors best for home theatre or multimedia projections.
Our Top Pick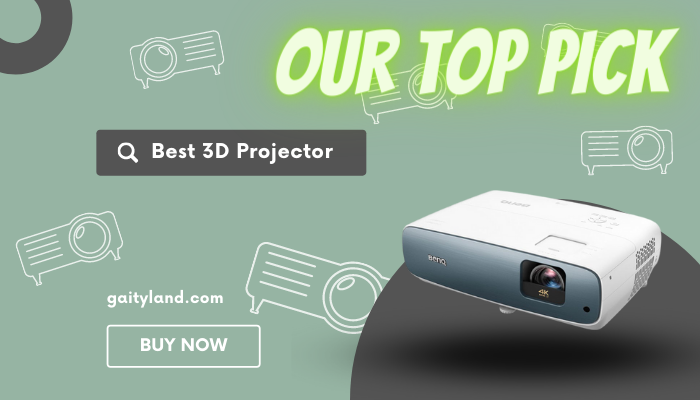 So let's start with the review section of all the models;
Overall Best Projector for 3D
Overall Budget 3D Projector
Top Picks for 2023
1. BenQ TK850i Projector – Best 4k 3D projector
On the top of the list is a hi-def 3D projector with the best resolution. This comes with a range of impressive features not seen in this price range.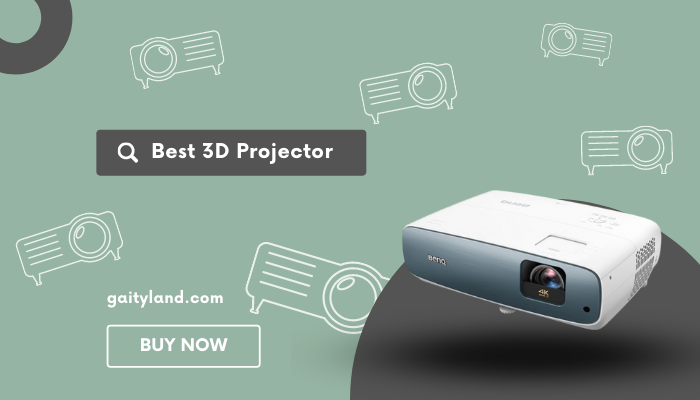 KEY FEATURES:
| | |
| --- | --- |
| Display: | HDR10 and HLG |
| Brightness: | 3000 lumens |
| Resolution: | 3840×2160 4K UHD |
| Throw distance: | 1.13 ft to 1.47 ft |
| Technology: | DLP (single chip) and HDMI |
| Zoom: | 1.3x |
| Color Wheel | RGBRGB color wheel |
Weighing at approximately 13 pounds, this has the best 3d image projection. It displays an image with 8.3 million pixels. With 3000 lumens, the resolution doesn't diminish even in full daylight.
In the USB port, you can run Fire TV or Roku. It has impressive Dynamic iris and Dynamic black modes to maintain the best contrast and details. It displays HDR10 and HLG, which are being slowly discovered.
There are no gray borders, and light leakage is nonexistent. There are five modes and a hidden HDR10 mode that turns on automatically when it detects HDR content. I like the Cinema mode best with its attention to detail. Vivid TV is mostly for watching sports, and Digital Cinema has a wide color mode. This is best enjoyed in the dark.
The sound is excellent with a 10W speaker. It has 4 modes, including cinema, sports, games, or music.
To display an image on a 100″ diagonal 16:9 screen, keep the projector 8′2″ to 10′8″ away from the screen. You can adjust the image to your desire by the convenient lens shift of +/- 5 %.
The best part is its connectivity. You can connect your Xbox or PS4 to enjoy a full gaming experience. It comes with only 50-60ms of input lag, not noticeable by casual gamers.
You can control it with a remote or project any images or videos with your voice. Wireless projection is available with Airplay for apple users and Chromecast. This has the best out of the box settings and comes with a factory-calibrated report to help you discover more.
Pros
Dynamic iris
Lens shift and keystone correction
Auto HDR10 implementation
Low noise
No light leakage
Faster processing
You can install upgrades by USB
Pros
Input lag is a bit more than other projectors
Outdated user interface
Keystone correction is not the best
2. Optoma H184X Home Projector – Best 3D Home Projector for Large Rooms
Optoma is a brand well-known for providing the best 3D mapping projectors. Gone are the days when it was impossible to buy a decent 3D projector for under 1000$. Here comes an affordable projector with excellent 1080p 3D resolution.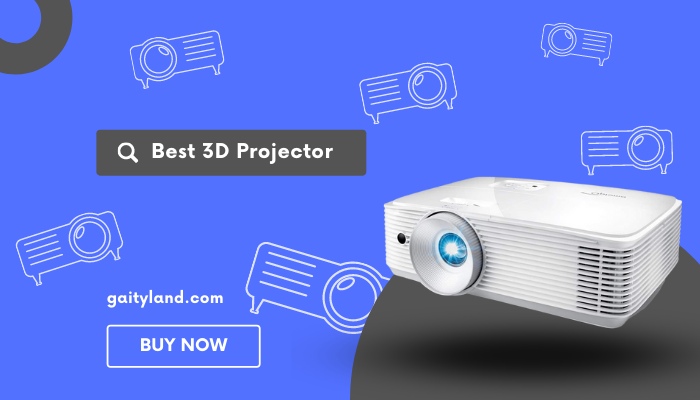 KEY FEATURES:
| | |
| --- | --- |
| Brightness: | 3600 lumens |
| Resolution: | 1280 × 720 |
| Throw distance: | at least 3.9ft |
| Connectivity: | HDMI, VGA, Composite, and USB |
| Zoom: | 1.1x |
| Speaker: | 10W |
| Weight: | 6.7 pounds |
| Contrast Ratio: | 28,000:1 |
| Vertical Keystone Correction: | +/-40° |
If you are thinking of buying a 3d home projector best for large screens, keep Optoma H184X at the top of your list. You can watch movies in your backyard or use this for displaying videos or images at a wedding.
With 3600 lumens, the brightness is enough to provide 1280 × 720 resolution without compromising the image details and contrast. It can display an image up to 300″ with 28,000:1 contrast and excellent black levels with aplomb.
Weighing around 7 pounds, it can display a 120″ image from 14 ft. The most fantastic feature is its versatile connectivity. It is compatible with any HDMI source, including laptops, Fire Sticks, or Blu-Ray players.
The projector comes with a long lamp life. You can watch it daily for 4 hours and still the lamp will last for more than 10 years.
With a 10W speaker, the sound is enough for its size. However, some users like to connect external speakers for a better gaming experience.
This multimedia projector can display any 3D content from your TV, PS4, or Xbox. This occurs at a 120Hz rapid refresh rate to get rid of any flickering motion. With 1.1x zoom and a vertical keystone correction, you can set it up quickly.
The projector comes with only a single USB port, which is for powering it on. You cannot project any content via USB. Using a black projector screen helps with the over splashing of colors and gray borders.
Pros
Affordable
Quiet
Electric keystone correction
Lamp life of 15,000 hours
Pros
The image has grey borders, and the rainbow effect is prominent.
No lens shift and limited zoom
No Bluetooth and USB connectivity
Slow processing
3. Acer H5382BD DLP Projector – Best 3D Home Theatre Projector
With the advent of technology, the 3D projection is gaining momentum in the market. In a survey, 32% market share of projectors were XGA resolution projectors. Acer comes with an affordable 3D movie projector with full HD resolution.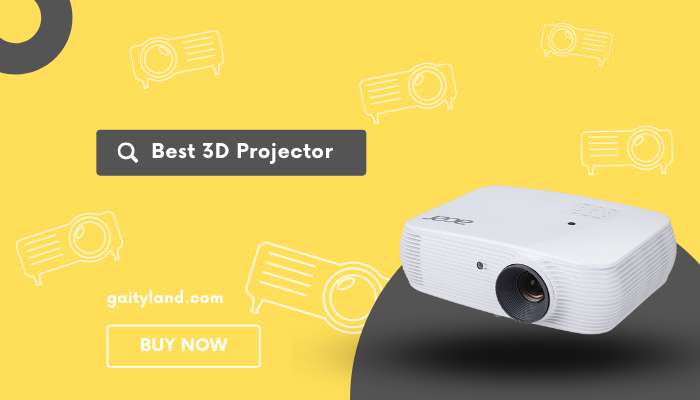 KEY FEATURES:
| | |
| --- | --- |
| Brightness: | 3300 lumens |
| Resolution: | 1280 × 720 with a maximum |
| Maximum Resolution | 1920 × 1200 (WUXGA) |
| Throw distance: | 3.3 ft to 33.8 ft |
| Technology | DLP |
| Lamp life: | 5000 hours |
| Input source: | HDMI/MHL, Analog RGB, Component |
| Weight | 5.3 pounds |
3300 lumens are a boon to enjoy a movie in your living room with blinds open or display your presentations in a boardroom. If you find this too bright, you can opt for Eco mode with just 2640 lumens.
Acer offers a DLP (Digital Light Processing) instead of a three-filter LCD. This helps you avoid the hassle of cleaning the filters. It operates at 235W power and weighs only a little above 5 pounds.
You can connect any HDMI/MHL source for excellent projection. To use it in a small classroom or office, place it at least 3.3 feet away from the screen.
For a large room, you can set it as far as 33.8 ft from the projected image.
Despite its low cost, the image quality is out of the park. It displays a native 720p resolution that can be increased to 1920 × 1200. You can display any image or HD video from your TVs, mobile phones, cameras, or even wirelessly on the screen.
The 3D projector adjusts the color and brightness to display better contrast and details according to the scene and ambient light. Did you know that Acer has a wall color compensation technology to accurately display content on colored walls? The projector prevents color from decay to prolong its life.
The 3D DLP projector is user-friendly and easy to setup. It comes with a high contrast ratio of 20,000:1. You can use the lamp for 5000 hours on normal mode and 6000 on Eco mode.
Pros
Low cost
Excellent image quality in daylight
Noise is minimal
Pros
Small remote control
Rainbow effect and no auto-focus
It does not come with the mount.
4. Optoma W365 WXGA Projector – Best Short Throw 3D Projector
For small offices or classrooms, you need a projector with the best 3D image. If that is the case for you, consider this Optoma projector perfect for business meetings and presentations.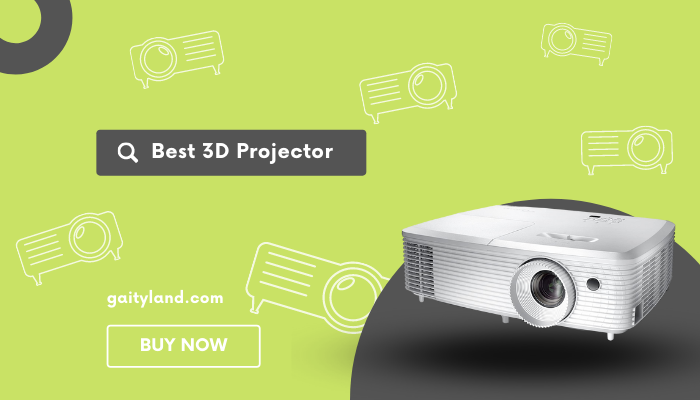 KEY FEATURES:
| | |
| --- | --- |
| Brightness: | 3600 lumens |
| Resolution: | 1280 × 800 (WXGA) |
| Connectivity: | HDMI and VGA |
| Contrast ratio: | 22,000:1 |
| Zoom: | 1.1x |
| Throw distance: | 1.95 to 2.15 ft |
| Speaker: | 15W |
| Lamp life: | 10,000 hours |
| Weight: | 5.1 pounds |
Three-dimensional imaging has changed the experience of viewing drastically. Its implementation has not only an entertainment value but has also improved education and understanding. Optoma W365 is a 3D projector best suited for offices.
You don't need to darken the room for a better image. Optoma provides a 1280 × 800 resolution in a boardroom with sufficient daylight. Its 3600 lumens makes sure of it.
The best part is its compatibility. You can connect a VGA audio, HDMI, USB, RJ45, or RS-232C and project anything to view on a big screen. It works without any wires or PC. You can activate its screen mirroring to share your phone's screen with others.
You don't have to carry all your laptops and Macbooks with you to a business meeting. Just connect a USB and view any images or documents. This works if you buy its HDCast Pro.
Weighing just 5 pounds, you can carry it anywhere with you.
Connect it to your PC or to four computers at a time. All of them have to be on the same internet, though.
You can set it up at 1.95 to 2.15 ft from the screen and watch the magic happen. The image quality is excellent, with sharp details and vivid colors. The contrast ratio is 22,000:1 with a zoom of only 1.1x.
Like all other projectors on the list, it helps with its setup too. It has a vertical keystone correction for four corners that help fit it into a rectangle. It can last more than 10,000 hours of viewing with its long life.
Pros
Incredible brightness and image for daylight
Excellent contrast ratio
Keystone correction does not affect the image's top and bottom focus
Easy setup and user interface
It comes with a lens cover and carrying case
Pros
It heats up quickly and needs plenty of ventilation
No horizontal keystone correction
Color and details beyond 70″ start to suffer
5. Wowoto M5 Mini Projector – Best 3D MiniProjector
Are you looking for an excellent 3D movie projector that you can carry around easily? Wowoto provides the best portable mini projectors without compromising the image quality and resolution.
KEY FEATURES:
| | |
| --- | --- |
| Brightness: | 4000 lumens |
| Resolution: | 854 × 480p |
| Throw Distance: | 0.5 to 3 meters |
| Connectivity: | HDMI, USB, VGA, Bluetooth |
| Contrast Ratio: | 3000:1 |
| Technology: | DLP |
| Speaker: | 3W |
| Horizontal and Vertical Keystone Correction | +/-40° |
| Battery Operated: | 10400mA |
| Weight: | 11.8 ounces |
| LED Life: | 30,000 hours |
If you want to buy a short-throw projector to use for presentations and boardroom meetings, consider this M5 of Wowoto. You will be surprised by the image quality projected by its small size.
This hi-def 3D projector packs a powerful punch at weighing less than a pound. It can connect with any HDMI or VGA source, or you can project images or videos via USB, memory card, or Bluetooth also. You can avoid the hassle of wires and laptops.
M5 displays a resolution of 854 × 480p, but it supports all types, including 1080p, HD, or even 4k. It comes with 4000 ANSI lumens that display a vivid image with aplomb. The blacks are dark, and whites are clear with 3000:1 contrast.
This small 3D projector is a DLP technology with a single chip. No filter is present.
We are just dipping our toes in DLP, and in the future, this technology will know more of its uses. Set the projector at 0.5 to 3 meters and enjoy a detailed 3D image up to 200″.
The best part is its rechargeable battery. No wires for plugging it in are required. LED has more than 5 years of life.
Wowoto offers a user-friendly interface. M5 has a convenient touchpad on its top to maneuver the controls. Keystone correction is automatic and helps In both horizontal and vertical directions. The device can be easily upgraded by new updates available online.
Pros
Minimal input lag for games
Small footprint and lightweight
Quiet
User-friendly controls
Auto keystone correction and autofocus
Built-in wifi router
It can sit on a tripod
Pros
You cannot mirror Netflix. You have to download the Netflix app on the projector
Only one HDMI port
Needs external speakers for outdoor use
6. Optoma HD28HDR Projector – Best 3D Halloween Projector
Finding the best 3D 1080p projector is difficult. Optoma has the best range at affordable prices. It offers a high resolution with enough brightness and contrast to not miss any detail.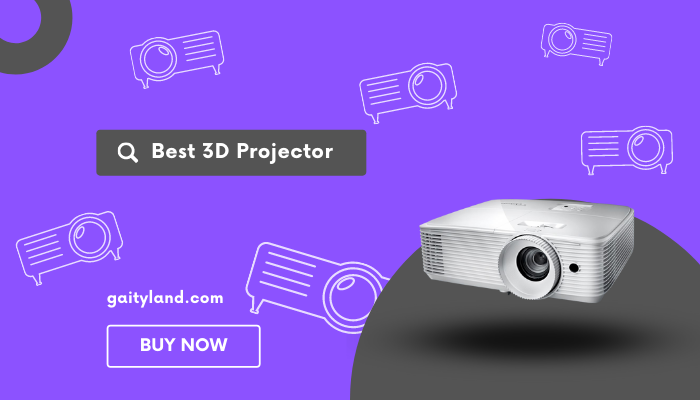 KEY FEATURES:
| | |
| --- | --- |
| Brightness: | 3600 lumens |
| Resolution: | 1080p (1920×1080) |
| Throw distance: | 1.2 ft minimum |
| Contrast Ratio: | 50,000:1 |
| Zoom: | 1.3x |
| Input lag: | 16ms |
| Weight: | 8.53 pounds |
| Lamp Life: | 15,000 hours |
| Technology: | Dynamic Black |
Here is a full HD 3D projector with a resolution of 1080p. You can insert any 4K HDR content and watch it without much compromise on image quality.
This HDR10 technology gets a boon with 3600 ANSI lumens of brightness. The attention to detail is ensured by the highest contrast ratio on this list of 50,000:1. The device comes with an RYGCWB color wheel that provides zero rainbow effect.
It has the flexibility of being mounted on either a ceiling or on a tripod or tabletop. The 3D projector can cater to a large crowd with an image up to 302″ without affecting the resolution.
It can zoom up to 1.3 times and has a vertical lens shift. This helps in the setup of the lens to project the desired image with minimum fiddling.
The faster processing speed is ideal for gaming. You get only 16 ms of input lag at a rapid refresh rate to get a flicker-free motion. You can turn on its Game Mode and enjoy vivid details with the Dynamic black technology.
You can enjoy this for a long time with its life of more than 10 years. The HDMI-CEC helps control the projector and all the devices connected to it with one remote.
For Halloween, many people are now using projectors instead of spending money on lights and decorations. With immense brightness, sufficient keystone correction, and a large image projection of up to 302″, the Optoma projector is the best candidate as a 3D Halloween projector.
Pros
The best contrast ratio with a bigger screen size
No filters to clean
HDR technology
The brightness is enough even in Eco mode
Pros
White parts of the screen are much brighter
A little loud at the start-up
Projector gets hot easily
7. Projector WOWOTO H9 – Best 3D Projector – Editor's choice
Where better to buy a projector than from a brand known for making the best 3D DLP mini projectors? Wowoto is a Chinese company with more than a decade of history.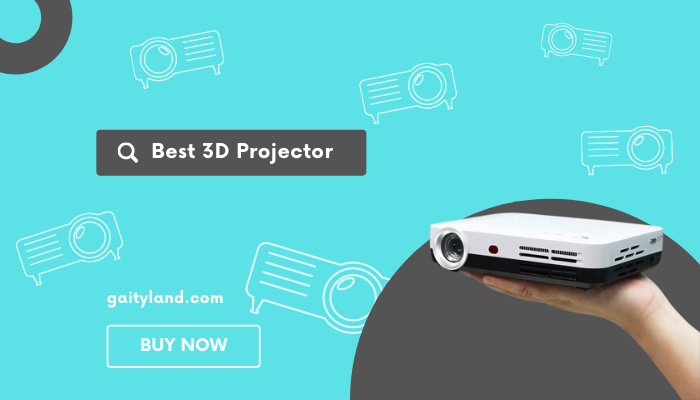 KEY FEATURES:
| | |
| --- | --- |
| Brightness: | 4000 lumens |
| Resolution: | 1280 × 800 (WXGA) |
| Throw distance: | 2-3 meters |
| Contrast Ratio: | 2,000:1 |
| Technology: | DLP |
| Vertical keystone adjustment: | +/-40° |
| Weight: | 2.89 pounds |
| Lamp Life: | 45,000 hours |
The most important feature of a portable projector is its weight. Wowoto H9 weighs only half a kg. The projector is a single-chip DLP instead of having filters.
This 3D projector comes with 4000 ANSI lumens. This helps provide the necessary brightness for a sharp image even in broad daylight. It displays a detailed image with a WXGA resolution and excellent 3D.
You can connect this with your mobile phone, PC, hard disk, or Fire Stick. Project your pictures or presentations via USB without any hassle. The projector comes with a vertical keystone correction of +/- 40° to align the perfect image on your screen.
The H9 is perfect for displaying any content from 2 to 3 meters away. It can display an image at a size of 20″ to 300″ at the most. You can see the most accuracy and details with a contrast ratio of 2,000:1.
Are you tired of carrying around wires and gadgets with you? By H9, you can share wirelessly via wifi and Airplay. The best user interface and user-friendly controls make the experience convenient. Wowoto H9 has an in-built speaker and a touchpad to help browse through the menu.
It can last for a long time with an extended lamp life of 45,000 hours. There are four brightness modes, including standard, warm, and Eco mode. You can update the software online and install updates via USB. However, you don't have the luxury of connecting with Bluetooth.
Enjoy your games on a big screen by connecting your PS4 and earphones to the projector. There is minimal input lag. Wowoto H9 works well as a 3D Halloween projector.
Pros
Small footprint and lightweight
Easy to setup
Wireless projection
User-friendly controls
Pros
It is not battery operated
It cannot project via Bluetooth
No horizontal keystone correction
Conclusion:
Did you know that 54% of people in the U.S prefer their homes to watch movies? Whether it be home or office, finding the right 3D projector is a daunting task without knowing the basics.
We have compiled this list to help you with your decision. Focus on the device technology, its brightness, resolution, throw distance, and contrast ratio.
If you want a projector with the best 4k resolution ranging around 2000 $, BenQ TK850i hi-def 3d projector is your pick. It offers an excellent projection and passes the test of even the pickiest choosers.
If you are looking for a Halloween 3D projector, consider getting yourself an Optoma HD28HDR projector. However, the best all-around 3D projector at a reasonable price is the Wowoto H9 projector.
Buying Guide For 3D Projector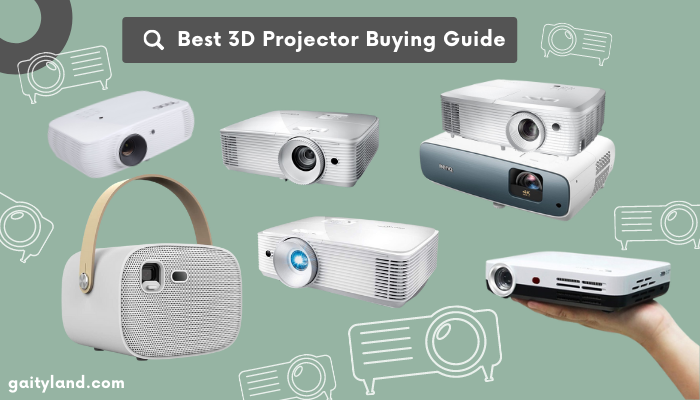 Display Technology
Probably the most crucial part of the buying guide because the type of technology you will choose will determine the 3D output. DLP and 3LCD are the most common display technology. DLP is the most used projection technology for 3D as it offers vivid and vibrant images with low motion blur. However, when compared with 3LCD it lacks in black level. It even faces a rainbow effect because of the color wheel.
On the other hand, 3LCD utilizes high-intensity light projection which helps the projector to show sharp black areas and top-notch contrast. Most importantly it delivers deep color saturation but fails to match the vividness of DLP.
Image Size
– You shouldn't forget about the screen size as a large screen ensures a better 3D experience. It is better to opt for a widescreen size range rather than limiting yourself to a certain perimeter.
Resolution
– When you are going for the 3D projector, always remember better the resolution better will be detailing and sharpness. However, the resolution entirely depends upon your budget but according to us 1080p serves as the best bait.
Brightness
– Another essential consideration is brightness, and you should always go for a projector with high lumens numbers as it will deliver bright images. Brightness plays a significant role in enhancing the 3D output so you should try to choose a model with a minimum of 2000 ANSI Lumens.
Contrast Ratio
– As we all know, the quality and clarity of an image are set by many factors and one of them is the contrast ratio. A 3D projector with a high contrast ratio ensures that you will get high-quality 3D visuals with excellent color output.
Image Adjustments
– Would you prefer to see deformation or alignment issues in your 3D visuals? Absolutely not. So while choosing your projector, you should check whether it has keystone adjustment, focusing, and zoom capability. It would be great to get a model with an iris and lens shift option.
Lamp Longevity
– Well, it is not a crucial consideration, but lamp replacement is an expensive affair which adds up to the owning cost. So when you are choosing a projector always make sure it has a minimum 8000-10000hour of lamp longevity.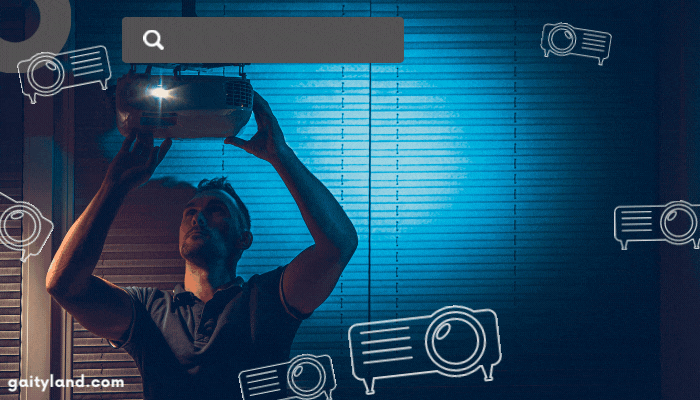 Frequently Asked Questions:
1. How 3d projector works?
3D projectors generally come with a 3D image engine that projects multiples at a time to create a 3D field that is directly projected on your eye through the 3D glass. The projector overlap images which creates an illusion of depth in your eye which we consider 3D.
2. How to use a 3d projector?
The 3D projector offers the same usage as a traditional 2D projector, and you have to play 3D contents to utilize its 3D capability. Some 3D projectors provide 2D to 3D conversion, and you can convert them using the 2D-to-3D button.
3. Is 3d projector worth it?
3D projectors are totally worth only if you wish to view 3D movies or 3D presentations. They are the same as 2D projectors, and 3D compatibility serves as an additional feature in these projectors.
4. Can 3d projector play 2d?
3D projectors can play 2D contents without any issue or degradation. It all depends upon the content type you want to play, and it will reproduce the exact content on the screen.
5. 3d projector VS 3d TV?
Well, 3D projectors emerge as the winner when there is a comparison between 3D projectors and 3D TV. First of all, the 3D effect is much more profound and stunning when played on a large screen, so the 3D projector wins in this section as not all TV offers a large size. 3D makes the screen smaller on TV, and no one would want to watch a 3D movie on a small screen. Projectors don't face any ghosting or rainbow when it comes to issues while TVs get a noticeable amount of ghosting. TVs don't get a lot of features like frame interpolation, 3D drive, 3D brightness, etc but this is not the case with the projector.
6. Can I play 3d movies on my projector?
Yes, you can play 3D movies on your projector, but the projector should come with 3D compatibility. Otherwise, it won't play, or else it will offer a blurry image.
7. What is the best 3d projector?
The term best 3D projector varies from person to person, and it entirely depends upon the price range as well as the requirement. However, according to our team, BenQ HT2050 can be considered as the finest one.
8. What is DLP 3d projector?
DLP 3D projector is the same as a 3D projector but with DLP projection technology which is known to cut down any ghosting.
9. Can you play TV through a projector?
Yes, you can play TV through a projector, and you have to use the VGA or HDMI cable to connect both devices. You can even use a composite video or RCA port to connect the TV and projector.
10. How does 3d projection mapping work?
3D projection mapping is a complicated process, and it is based on the idea of amalgamation of projected images so that it is thrown on the screen with a 3D view. It utilizes a countless number of already stored resolutions and brightness levels which creates rich imagery.