Are you a movie fanatic or hardcore gamer who is not interested in traditional 1080p monitors anymore and want to go to the 'big league'? A 4K android projector then must be your first choice. Streaming series, movies or casual gaming could all be fulfilled using a projector but having an Android OS built-in could be beneficial in many ways.
An Android projector will be 'smart' enough to turn your living room into a cinema space. Here is a review of some of the most portable and affordable Android Wi-Fi projectors.
Whether it is binge-watching or doing a professional presentation elsewhere, doing it on a big screen relatively will help you get a good reputation and improve confidence levels. This buying guide will definitely help a person of any category to get their requirement filled.
Overall Best Android Projector
Overall Budget Android Projector
Top Picks for 2023
1. Anker Nebula Capsule II – Editor's Choice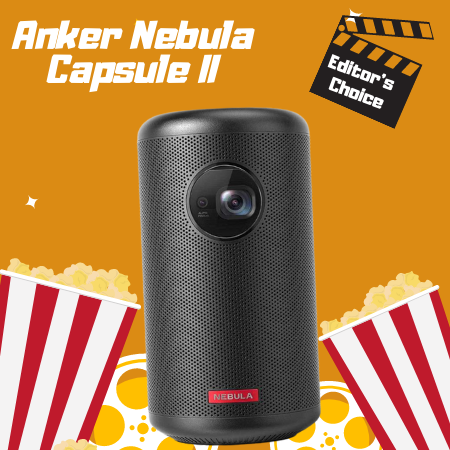 Pocket cinema at the size of a Coke can! Here is an amazing portable yet feature-packed projector that works flawlessly at 720p resolution. Don't get astounded to the fact that it can stream only up to a 720p resolution. A 100-inch Smart TV in your pocket and you will be amazed at what this device can offer you with. This product is a buff to the earlier version it had released a year ago.
It can last for about 3 hours on a full charge. The 8-watt speaker that it offers has a 360-degree surround-sound system providing you a theatre-like experience. This is an HD android projector that runs on a custom skin and has 'Android TV' app built as its system app. The top surface of the projector has volume buttons, center motion buttons, and back buttons.
The back of the projector has an IR sensor, a mode switch button, and a power button. The ideal distance of the projector from the wall or a screen is around 40-80 inches away. The 200 ANSI lumens of brightness is plenty enough to binge-watch or stream video games on Twitch pretty well in a dark room. You have and can also download any Android app for viewing content like Netflix, Hulu, Amazon Prime, Twitch and many more.
It also has a 'Nebula Connect' app that enables a motion sensor for moving the mouse/cursor on the projector UI and configuring other settings. You can connect many more devices to the projector via the HDMI cable like laptops, gaming consoles etcetera. Media playback is possible using the USB port on the projector.
Specifications:
| | |
| --- | --- |
| Charging time: | 2.5 Hours with Quick Charge 2.0 9V2A |
| Movie Playtime: | 4 Hours in Battery Mode |
| Working Modes: | Projector Mode, Bluetooth Speaker Mode |
| OS: | Android TV 9.0 |
| Fan: | < 30dB |
| Bluetooth: | 4.0 Dual Mode / A2DP |
| Speaker: | 5W |
| Wi-Fi: | 802.11a/b/g/n |
| Battery: | 5200 mAh / 3.85V |
| RAM: | 1GB DDR3 |
| CPU: | Quad Core A7 Smartphone Chipset |
| HDMI: | HDMI 1.4 up to 1080p Input |
| Projection Mode: | Front Projection / Rear Projection / Front Inverted Projection / Rear Inverted Projection |
| Throw Distance: | 0.58 m–3.08 m |
| Aspect Ratio: | 16:9 |
| Lamp Life: | 30,000 Hours |
| Brightness: | 100 ANSI lumens |
| Native Resolution: | 854×480 |
| Diameter: | 2.67 inch |
| Height: | 4.72 inch |
Pros
Extremely portable
8-watt powerful sound
720p resolution
Pros
2-3 hours battery life
Slightly expensive
2. Vamvo Ultra-Portable Projector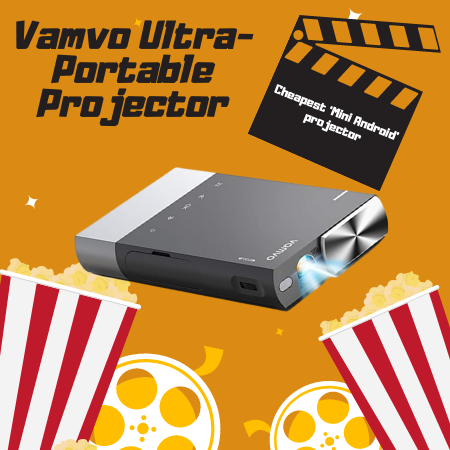 Want a portable android TV projector but under your budget? Well, this is the cheapest 'Mini Android' projector from the list of projectors.
The biggest upside of a projector at this price range is that it offers a direct 1080p HD resolution out of the box. It can be scaled up to 130 inches. The audio though is pretty bad with the speaker built-in, but it has a 3.5mm headphone jack to assist in any external woofer or speaker of your choice. The ideal distance of the projector from the wall or screen is around 1.5 meters for a 70" screen. It runs on the Android TV software and includes all the streaming apps that you might love to watch including Netflix, Hulu, Amazon Prime, YouTube and many more.
You can even play games on it by connecting it to your PS4, XBOX or laptop using an HDMI cable and enjoy some large screen fun. You can connect any external audio or video devices using Bluetooth 4.0 connectivity too.
Specifications:
| | |
| --- | --- |
| Imaging Technology: | DLP, |
| Support: | Airplay DLNA Miracast, |
| Projection Size: | 15 ~ 130 inches |
| Projection Distance: | 1.6-10ft |
| Battery: | 5200mAh |
| Projection Ratio: | 1.4: 1, |
| Aspect Ratio: | 16: 10 |
| Native Resolution: | 800 x 480 pixels, support: 1920 x 1080 pixels |
| Size: | a tiny frame of 5.8* 3 * 0.9 inches |
| Weight: | 0.6 lb |
Pros
Cheapest Mini projector in the market
1080p native resolution
Size of a pocket
Pros
Above 80 inches, the picture quality isn't very good.
Blackness levels are poor
3. XGIMI MOGO Pro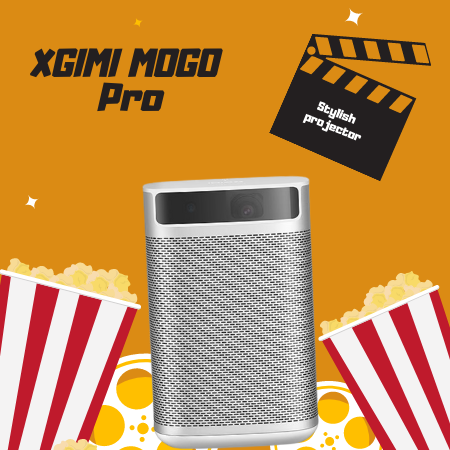 Looking out for a high-quality android projector that supports 4K HD streaming but under a budget? The XGIMI MOGO Pro is a stylish and portable wireless projector that runs on stock Android TV software and has a pretty straightforward approach to its nifty features.
It has a glossy white finish with 3W powerful Harman-Kardon branded speakers that are pretty loud and clear. It has won the 'Best Design' award for the year 2019 by 'red dot' design. It has a touch-capacitive control button on the top of the device.
Even though the lens is not movable or rotatable, it has super crisp image quality and amazing brightness of about 300 ANSI lumens and has a 2-sec quick image tuner and focus generator. It supports 4K UHD native resolution which might be the most wanted feature for the users. You can stream via all the known Movies, series, and music streaming apps available on the Play Store. It can go up to 100 inches of screen size diagonally. It can also play games downloaded from the Play Store or else streamed using an HDMI cable from a PS$ or an XBOX that you might own.
The remote and the projector in itself has voice control using Google Assistant and can be a deal-breaker if you are a regular user of voice commands. The setup is pretty quick using your own Android smartphone.
Specifications:
| | |
| --- | --- |
| Display Type: | DLP, |
| Specialty: | 3D, |
| Luminance: | 300 ANSI Lumens |
| Display Chip: | 0.23" DMD, |
| Resolution: | 1920 X 1080 (1080p), |
| Projection Ratio: | 1.2:1, |
| CPU: | AMLOGIC T950X2, |
| GPU: | Mali-G31, |
| RAM: | 2GB, |
| Storage: | 16GB |
| System: | Android 9 |
| Mirroring Display: | Chromecast, |
| Speaker: | 3W x2, |
| I/O Ports: | HDMI (x1), DC (x1), USB 2.0 (x1), Headphone (x1), |
| WIFI: | Dual-band 802.11A/B/G/N, |
| Bluetooth: | 4.2/5.0, |
| Noise: | < 30db. |
Pros
4K UHD supported
300 lumens
30000 hours lamp-life
Pros
Amazon Prime not supported
Poor battery life
4. Anker Nebula Mars II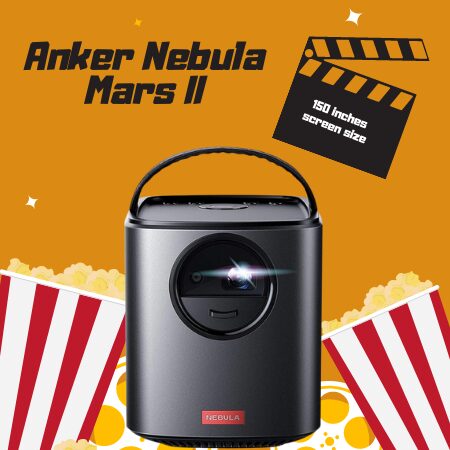 For all those movie enthusiasts and hardcore gamers, here is the one projector that might steal your hearts away. Guess what! It is the only mini projector in the market that can scale images up to a 150 inches screen size. Having a beefier size, it doesn't compromise on the features and functionality that it offers on the upper hand. It also has tripod support for increasing its height.
It has around 4 hours of battery life on a full charge. It has a regular USB port, DC input and HDMI port for displaying your PS4, XBOX or laptop. It runs on Android and you get all the basic streaming applications like Netflix, YouTube, Hulu and whatnot. It has 300 ANSI lumens of brightness which is optimal to view in the dark or limited lighting. It has dual 10W speakers that sound incredibly good. It only allows up to 720p resolution to the max.
Specifications:
| | |
| --- | --- |
| Power supply: | DC 19V 3A, |
| Power consumption: | < 57W, |
| Standby power consumption: | < 0.5W |
| Display technology: | 0.3" 720p DLP |
| Light source: | RGB LED |
| Projection image size: | 30"–150" |
| Resolution: | 720p, |
| Brightness: | 300 ANSI lumems |
| Contrast ratio: | 1000:1, |
| Projection ratio: | 1.2 |
| Speaker drivers: | 10W × 2: |
| Bluetooth: | 4.0 |
| Built-in battery type: | Li-Polymer |
| Capacity: | 12500 mAh 3.8V |
| Video play duration: | 4 Hours, |
| Music play duration: | 30 Hours |
| Dimension (W*H*D): | x 5.4 x 7.0 |
Pros
Powerful Sound system
Up to 150 inches screen size
4 hours of battery life
Pros
Only 720p resolution supported
Not the sharpest lens
5. Akaso WT50 Mini Projector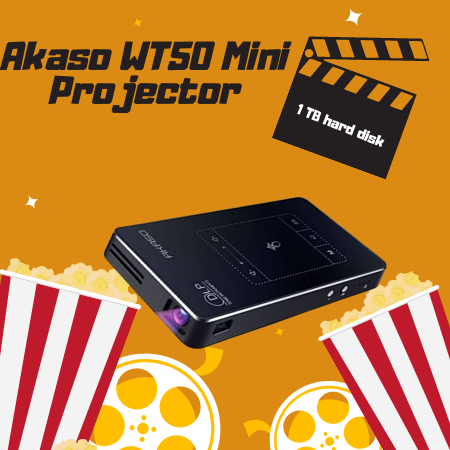 Have you ever imagined of having a portable Android Pico projector in the size of a 1TB hard disk? Here we have got one that has all the essential features that you might need as a binge-watcher. This has a ton of nifty features packed into it but does not have any kind of an appealing design though.
It supports up to 1080p resolution full HD display. It can go around 120 inches of screen size diagonally and produces some good contrasts with some crisp images. The basic control buttons are physically located on the side of the projector. It also has support for MicroSD cards for multimedia playback along with Mirroring and HDMI input. It has 2 bottom-firing speakers that sound okay-ish. It also acts as a portable charger having a 5000 mah battery. It also has support for tripod. Costing around $250, it is not the cheapest option available.
Specifications:
| | |
| --- | --- |
| Display Technology: | DLP |
| Display Resolution: | 1080p HD, |
| Operating System: | Android 7.1, |
| Battery Life: | |
| Screen Size: | 120", |
| Projection distance: | 1-1.5, |
| Wi-Fi: | 802.11A/B/G/N Dual Band, |
| I/O Ports: | HDMI (x1), USB (x2), 3.5mm Headphone Jack, DC Input, |
| Additional features: | 5000 Mah battery, MicroSD Card Slot, Remote Control, Screen Mirroring |
Pros
120" screen size
5000 mah battery
Highly portable
Pros
Inconsistent data transfer
Poor build
6. XGIMI Halo True 1080p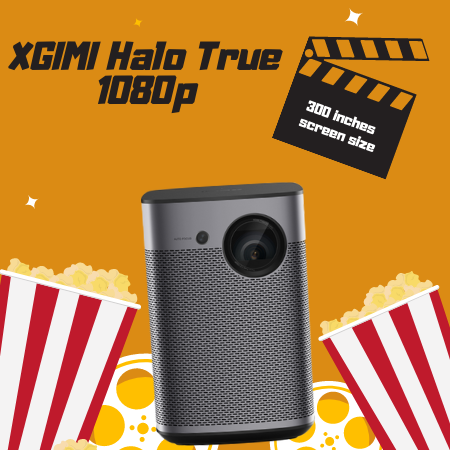 Here is a unique projector that might satisfy all your needs with a compromise to the size and weight of the projector. All those who love voice commands here is the support for Google Assistant!
It has really crisp and sharp images at 1080p resolution providing about 30,000 hours of lamp-light. It serves as a home theatre projector because of its 300 inches screen size. It weighs around 2 kgs It has RGB 4 channel optical path structure that provides some vibrant colors and lifelike 3-D pictures on the screen. It works on Android OS and provides a ton of streaming applications.
It supports up to 52 languages. You can direct cast images, movies, music or sports from your smartphones and computers using any mirroring software.
Having two customizable 5W Harmon & Kardon speakers, they produce a high-quality sound experience. The 4-point vertical and horizontal Keystone correction software allows viewing the projector at various angles.
Specifications:
| | |
| --- | --- |
| Projection: | 1920×1080 at 300 ANSI Lumens, |
| Processor: | Am logic T950X2 (4 x ARM Cortex-A55, 64-bit), with Mali-G31 GPU, |
| RAM: | 2GB, |
| Storage: | 16GB, |
| Connectivity: | Wi-Fi, Bluetooth, |
| Ports: | DC (power), HDMI, USB Type-A, headphone jack, |
| Battery: | 4 hours, |
| Dimensions: | 146 x 105.5 x 94.5mm (5.74″ x 4.15″ x 3.72″), 0.9 Kg (1.98 lbs), |
| Other: | 2 x 3W Harman&Kardon speakers, |
| Software: | Android TV 9.0 Pie |
Pros
Amazing sound quality
Sharp and vivid image quality
Highly-friendly Android Interface
Pros
Netflix not officially available
No USB-C charging available
7. LG PH550 CineBeam Projector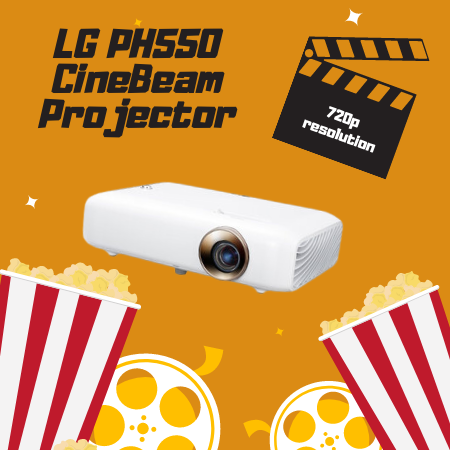 A frequent traveler or have a trip planned along with your friends very soon? Here is one such travel-oriented projector that offers some amazing connectivity options and portability. It comes at an expensive price.
An amazing Android smart projector that can give you a guarantee of 30,000 hours of playback time. This means that it could last you for another 10 years even after 8 hours of use every day, literally every day! It has all the necessary I/O ports for connectivity with Wi-Fi and Bluetooth.
The support for only a 720p resolution is kind of a bummer for 2023 but the image that it produces is one of a kind. Super-crisp sRGB profile and some vibrant colors that ease the eye.
The speaker system here though is of 1W and produces some very bad audio for the price segment. It has a brightness of 550 lumens which is amazing for this size and can scale up to 60" size diagonally. Coming from a reputed TV brand, it has been made to perfection and has good warranty on its parts and service. It can stream content like movies, video games and sports at 60Hz refresh rate and without any jittering in the video. This might be the most under rated projectors available in the 'Mini Android Projectors' section.
Specifications:
| | |
| --- | --- |
| Display System: | 3-Chip LCD, |
| Native Chip Resolution: | 1280 x 720m |
| Aspect Ratio: | Native 16:9m |
| DLP Link 3D: | Yes, |
| Focus: | Manual, |
| Throw Distance: | 2.526 – 10.105′ / 77 – 308 cm, |
| Projection Size: | 25.00 – 100.00″ / 63.5 – 254.0 cm, |
| Built-In Speaker: | Yes (Stereo), |
| Speaker Power: | 2W |
Pros
550 lumens of brightness
Light in weight
30,000 hours of lamp-life
Pros
Very expensive
Only 2.5 hours of battery life
What to consider when buying an android projector?
There are several criteria that make a projector well-equipped. You will need to know that apart from converting a regular display of 40 inches to a screen of 25 times larger, there are many other qualities that are to be noted down carefully. Here is a gist of the basic qualities of a decent projector.
Home Theatre resolution (1920×1080) HD 1080p minimum
Wide aspect ratio for a theatre-like experience
sRGB and Rec.706 color profile
Contrast ratio with deeper blacks
Adequate I/O ports
Wi-Fi enabled and Bluetooth 4.0 connectivity
The brightness levels that must be higher in terms of lumens
A minimum of 1 year of warranty on the parts
For very large screens, the image quality must remain crisp and vibrant.
Quiet cooling fans
HDMI ports for better picture quality
Image quality:
Talking about the image quality, the projector of this age you must be looking for must have a minimum of 1080p resolution that is around 1920×1080 for streaming high-definition content without any upscaling of the image that will spoil the complete quality of the image.
A 4K non-upscaled laser projector or an LED projector would just look as amazing as QLED TV's available out there that are highly expensive. Projectors having sRGB / Dolby Vision / Rec.706certifications are ideal for brighter whites and deeper blacks.
DLP vs. LCD vs. LED:
The DLP (Digital Light Processing) projectors have tiny mirrors and a spinning color wheel to produce the image that we see. Even though they look good to the eye, they are pretty expensive. The LCD projectors have a liquid crystal in their chip-making projectors cost way less than DLP projectors and they produce some vibrant and sharp images.
LEDs are the greatest invention of today's world as they produce highly sharp and color-accurate images with very little power consumption. Having a lamp lifetime of 20,000 hours and zero maintenance for around 5 years, LED projectors are the way to go!
Ideal Picture:
When you are doing a presentation at an institute or for your company and office mates, well, projection on a screen would be the best solution. As we know that screen projections help produce brighter pictures and have a higher reflection rate. Projection only on a white-painted wall might look good.
Connectivity and I/O:
Having multiple HDMI ports, along with a USB 3.0 or higher port for media playback, ARS-232 port along with some good Wi-Fi and Bluetooth 4.0 or higher is a minimum for a high-rated projector at any budget. Moreover, support for devices of different operating systems and configurations is also essential.
Conclusion:
Being a casual gamer and one who loves the portability of things, I would suggest everyone get the XGIMI Mogo Pro which is extremely portable to carry around wherever you go. It has all the cool and nifty features and connectivity that one would love to use. It is extremely bright with 300 ANSI lumens and has around 30.000 hours of lamp-life.
It supports 1080p FHD and 4K UHD resolutions with some incredibly crisp and vibrant images. The Harman & Kardon dual 10W speakers provide you with an incredible audio experience for binge-watching. I would give it a rating of 4.5/5.