You will agree to the fact that when we go out to buy a projector, we always inquire about the brand name before getting into the details of a particular product. We always try to stick to the well-known or premium brands of projectors, but not all the big brands sit in the top tiers list.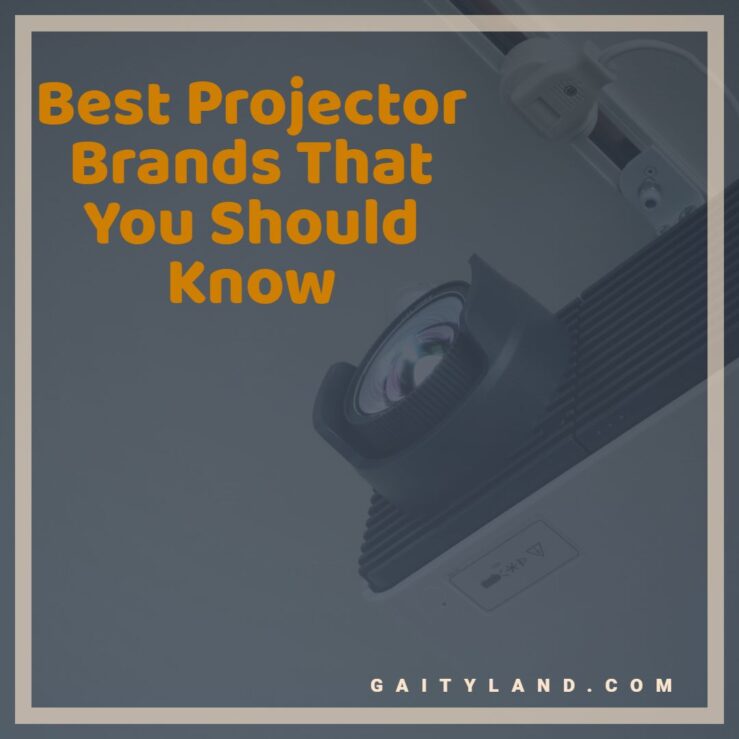 So what are the top projector brands on the market? Well, the question is entirely subjective, and it varies from people. But we did a thorough research where evaluated customer satisfaction and expert reviews. Finally we after hours of research we have come up with the name of the top five brands which we think has never dissatisfied its customer in quality or service.

Without further indulging into the details, let's begin with the first brand:
1. Optoma
Optoma is a world-renowned Taiwanese electronics brand which has made huge in the United States market with their large fleet of successful projectors. They are present in almost in every segment whether it is home theater, gaming, classroom or business projector. They have been producing quality projector for the US market since the early 2000s, and within a few years of starting, they grabbed a commanding position in the market.
They mostly sell projectors coupled with DLP and LED projection system, and their range covers most of the section from SVGA to 4K UHD models. According to market research, Optoma is also one of the highest sellers of DLP models in the US.
Why Is Their Projector So Good?
Every expert praises Optoma for their unique way of creating an amalgamation of technology and hardware which give rise to top-notch visual performance. Depending upon the type of projector, they configure their models with a varied kind of attribute list like high lumens, modern color technology, wide projection range, etc.
Despite offering a massive set of attributes, they never mark their models with the expensive model rather they try to make it affordable to everyone without compromising on quality.
Their UHD60 is probably their highest selling 4K model that has outclassed many other 4K models in selling figures and performance.
Customer Satisfaction
According to the testimonials of Optoma's users from various e-commerce site and forum, we can say that their customers are entirely satisfied with their projectors. The manufacturer has always tried to satisfy their customer by offering them high-quality projector at an economical range. They have many top-selling, but UHD60, as well as HD142X, deserves the special mention because they have blown many top-end models out of water in sales. However, the primary proof of their customer satisfaction can be found in the numerous positive reviews and awards they have won throughout their journey.
2. BenQ
Another Taiwanese that is rocking the United States projector market is BenQ, and everyone has a blind faith towards their product. They are like a giant octopus who has wings spread in every segment of the projector market and interestingly they are at the top tier position in all those segments.
However, they are most famous for their home theater models, and they were first one to offer DLP with lens shift. Since their arrival, they have produced numerous projectors with different attributes, but one thing that has been constant in most of their models is DLP technology.
Why is their projector so good?
The main reason behind the top of the line performance of most of the BenQ projectors is their prolific hardware configuration. They have a skilled R&D team who are continually evaluating today's technology so that they can create excellent for their customers.
Most of their products come with huge lumens number, decent contrast ratio and maximum color accuracy which ultimately help the device to achieve the desired performance.
It is a trait of BenQ to maintain strong built quality in most of their products even if the projector cost around $200.
Customer Satisfaction
The top-notch customer satisfaction level of BenQ users is evident from their thousands of positive reviews and high sales chart. A significant fact about this brand is that they give emphasis to the demand of their customer and this is another reason for their huge fan following. They even have a high efficient after service team who are always ready to solve any hardware or software issue brought up by their customers. Moreover, they also offer 24 X 7 customer support and all their customers are quite happy with their service. You will be baffled to know, BenQ has won numerous awards for their products and 100% dedication towards their customers.
3. Sony
The brand " Sony " is known to everyone in the United States, and everyone blindly trusts their products. This Japanese brand always stays in demand in the projector market because of their excellent fleet of products that starts from 1080p to top end 4K models.
Almost all their home theater products come with their exclusive SXRD technology that has outclassed every other model in terms of quality. They also have many renowned products in educational, business and Pico segment but most of them come with 3LCD technology.
Despite the fact that most of their products come with an expensive price tag, their sales figure has never dipped below certain threshold level instead it is increasing day by day.
Why is their projector so good?
Well, everyone would agree that most of the Sony projectors are considered as most excellent among the lot, and they have always amazed with their performance.
Their LCoS line up comes with a high-end configuration that has baffled everyone with lifelike visual quality.
Sony has never compromised on their class, and that is why they have used cinema grade lens in most of their models. Sony's projectors overthrow everyone when it comes to clarity, native 4K quality, color output, and black depth. The models in education and business segment have also done well, and they offer neck to neck competition to some end devices.
Customer Satisfaction
When it comes to customer satisfaction, Sony also excels in this department, and the numerous positive reviews of various e-commerce sites serve as the proof. Experts always praise them for after sales service, and they have never let down any customer.
The large number of awards like iF design award, Dot Award, Good Design, etc. serve as evidence behind its effort to satisfy customer demands. To help customers during their need, Sony has an efficient customer service team who are ready to solve any technical and hardware problem anytime.
4. Epson
Epson is one of those brands who is ruling the projector for decades, and they are currently the biggest maker of projector both in the US and world market. They are most famous for their immense range of LCD panel models, and according to recent sales, they sit at the top of the LCD segment. They are present in almost every sector in the projector market, and they have hardly failed in any of those segment.
According to reports Epson is nominated as the biggest supplier of educational models in schools through the United States. People love this brand because they cover most of the price range start at under $300 and ends around $15000.
Why is their projector so good?
Everyone blindly trusts Epson because they have always emphasized more on the quality rather than any fancy factors. The projectors are an outcome of true craftsmanship, and all their model has one thing in common which is high brightness and large color level.
Most importantly, the models were configured in such a way so that it can offer the optimum picture quality. Many experts prefer Epson models when it comes longevity because most of their products get enormous lamp life and premium build quality. Despite having high output quality, the prices are kept competitive so that it is available to everyone.
Customer Satisfaction
The customer satisfaction level is always high, and Epson has always tried to maintain that status in the US market. To help customers in solve any issue regarding the projector, they offer lifetime customer service. They always incorporated premium quality hardware in their models so that customers won't have to worry about the longevity or any issue. They have millions of positive reviews under their belt, and due to this immense popularity, they were awarded by many prestigious institutions.
5. Viewsonic
Viewsonic is a top tier multinational brand who currently holds the title of fastest growing projector brand in the US market. It is the United States based brand who has revolutionized the market with top-notch models at a marginal price.
They made their debut in the early years of the 2000s, and they didn't take much time to gain a respectable position in the market. In this time they have covered all the segments, but their sales figure were only high in home theater and business segment. Many consumers adore their product because they have mastered the art of bringing a blend of high visual quality and longevity.
Why is their projector so good?
A specialty of Viewsonic projectors is that they don't come with high-end configurations, but they are mixed together in such a way that they offer impressive visual output. DLP projection technology is prevalent in almost every model of this manufacturer which assist the models to provide top-notch performance. Many people prefer their home theater models because they come optimum brightness level along with high black depth and color accuracy.
The data projectors are also quite popular in the business sector due to high clarity and black level. They are also well known for including immense lamp hour, quality hardware, fast response time and three years warranty coverage.
Customer Satisfaction
According to reports and market research, customers are incredibly pleased with the product and after service of Viewsonic. They have always tried to maintain a good relationship with their customers, and their impeccable after-sales service has helped to achieve it.
In recent few years, they won some esteemed awards for their impeccable customer service. Moreover, they have always brought innovative technologies into their products and that too without hiking the price mark which helped gain a right amount of popularity.
Here you can find out which are the best selling projectors on Amazon: