Best Choice
Good Choice
Don't Miss
Also Consider
BenQ TK850 True 4K HDR-PRO Projector for Movies, Gaming &...
LG HU80KA 4K UHD Laser Smart TV Home Theater CineBeam...
Optoma HD39HDR High Brightness HDR Home Theater Projector |...
Sony VPLVW350ES 4K (4096 x 2160) 3D SXRD Home Theater/Gaming...
Best Choice
BenQ TK850 True 4K HDR-PRO Projector for Movies, Gaming &...
Good Choice
LG HU80KA 4K UHD Laser Smart TV Home Theater CineBeam...
Don't Miss
Optoma HD39HDR High Brightness HDR Home Theater Projector |...
Also Consider
Sony VPLVW350ES 4K (4096 x 2160) 3D SXRD Home Theater/Gaming...
Love binge-watching on a large screen like a theatre? People are really scared thinking about watching content on large screens finding TV with big-screen resolution highly expensive. Well. Here is a quick solution that does not burn your wallets down. A projector might be the best option to get high-resolution content without compromising on the quality under a budget.
Did you know?
Basically, most of the projectors available in the market today offer you a minimum of 1080p HD resolution with HDR and deep blacks. Projectors being compact are made even smaller to fit them in your living space making it even more subtle.

We've shortlisted some of the best budget picks to fulfill your home entertainment needs without compromising on the features they bring and the quality it provides. Here is a quick gist of the best home theater projectors that we have featured on our website:
5 Best Home Theater Projectors(Expert's Selection)
IMAGE
NAME
DETAILS
BenQ TK850

Lumens:

3000

Contrast ratio:

30000:1

Resolution:

3840 x 2160

LG HU80KA

Lumens:

2500

Contrast ratio:

150000:1

Resolution:

4096 x 2160

Epson Home Cinema 1060

Lumens:

3100

Contrast ratio:

15000:1

Resolution:

1920 x 1080

Optoma HD39HDR

Lumens:

4000

Contrast ratio:

50000:1

Resolution:

1920 x 1080

Sony VPL VW350ES

Lumens:

1800

Contrast ratio:

35000:1

Resolution:

4096 x 2160
Editor's Choice:
1. BenQ True 4K HDR-PRO TK850 – Best Home Movie Projector

This product is one of the most top-rated projectors considering sports fanatics. It has been rated as 98% Rec.709 color gamut and some amazing color accuracy. Brightness levels up to 3000 lumens gives you an amazing experience in your home. This home theatre projector works mostly in well-lit rooms.
The use of interpolation gives it excellent motion handling. Watching sports or some kind of fast-moving picture will look just fine and no jittering after-all. For under $1500, it becomes the best projector for home theatre experience with the amazing picture quality and features that it offers.
Having a refresh rate of 16ms is pretty ideal for gaming. It is a short throw projector that allows perfect viewing experience at 8-8.2 feet away and it projects a 100-inch screen without any magnification. It has up to a 1.3X zoom option. It has a 12V trigger port, RS-232 port, and a USB 3.0 port along with 2 HDMI 2.2 ports for direct 4K 60Hz support.
Specifications:
Resolution: 4K UHD (3840 x 2160), Brightness (ANSI lumens): 3000, Contrast Ratio (FOFO): 30,000:1 (Dynamic Iris), Speaker : Chamber Speaker 5W x 2, Projection System: DLP, Display Color: 30 Bits (1.07 billion colors), Native Aspect Ratio: Native 16:9 (6 aspect ratios), Light Source: Lamp,Light Source Wattage: 245W, Light Source Life: Normal 4,000 hours, Economic 10,000 hours: Smart Eco 15,000 hours.
Pros
Plenty of ventilation available
Accurate remote with backlight
Minimal Fan noise (36.6 db.)
Compact design
Pros
Poor speaker system built-in
Improper streaming services
Not the brightest projector
2. LG HU80KA 4K UHD – Best Movie Projector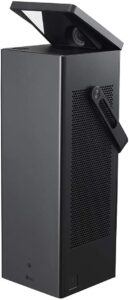 Having tons of innovative features, this product climbs up to the top in the list of one of the best projectors that one could have at home. The plastic cover that closes as the lid of the projector has a mirror on it that reflects the light coming out at any angle and direction you want your display to be projected accurately without any hassles. You can directly put it in place on the floor or a table and begin viewing content using the projectors in any particular orientation as per requirement.
It comes built-in with the LG Smart TV UI's they generally have also called as the 'Web OS' that provides a ton of nifty features and content platforms built-in like Netflix, YouTube, Hulu, Amazon Prime and so on. The most astonishing hardware design is the power cable that is rolled in at the bottom of the device in itself making it highly compact and robust.
It basically has two HDMI input ports, one on the back and one on its side. It also has an ARC via which you can transmit audio from the projector to your subwoofer or any kind of audio system. It has also got two USB ports, a LAN port, and an optical audio port.
Additionally, it has got support for Wi-Fi and Bluetooth. The laser technology used to project light on the screen or wall produces some stunning crisp images to view. Having a brightness of around 2500 lumens is one of the brightest projectors out there with a ton of amazing functionality along with some vivid colors. This projector is considered one of the most high-end projects available in the market today.
Specifications
Pros
Very smart Web OS
4K UHD resolution
Mira-Cast
Quiet in functionality
Compact design with roll able power cable.
Wide variation is angles and orientations.
Pros
You get only about 20,000 hours of playback time.
No backlight on the remote control.
Poor black level performance.
Just 1-year warranty.
Better color and brightness levels.
3. Epson Home Cinema 1060 – Home Theater Projector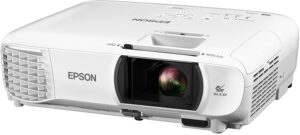 Want to turn your home into a movie theatre? Well, you won't need to empty your pockets to do so! The EPSON Home Cinema 1060 is the cheapest projectors out there. It is a good home projector with a Full HD 1080p (1920×1080) resolution.
It has a portable design weighing around 5.9 lbs.
You can stream HD movies, sports, games, and whatnot. Plus, you have the additional feature to stream content from your other devices using mirroring and charging. It has some deep blacks and crisp images playing on it with a sharp 4K resolution without any upscaling. Easy mounting options and horizontal image correction. It has a good quality built-in speaker and a remote controller is included in the box. The picture is vivid and perfect in a dark environment.
Specifications
Pros
3100 lumens of brightness
High color accuracy
2-year solid warranty
Pros
Heavy noise of around 55-60 db.
No 4K resolution supported.
4. Optoma HD39HDR – High Quality Projector

Are you a serious gamer who likes great numbers in FPS? Well, here is a projector meant exclusively for those hardcore gamers out there. The Optoma HD39HDR is an amazing, actually the best projector under $700 and is a bang for the buck. Having a brightness of 4000 lumens, you can literally view it under sunlight! It has a HDR10 and 4K UHD support for some color accurate, vivid and sharp images to be viewed.
It has sRGB and Rec.709 featurette and this produces some deeper blacks and brighter white. It has an RS-232 port, 2 HDMI ports and a USB 3.0 port for some incredible connectivity. The 120Hz refresh rate is perfectly ideal for all gamers who love playing games like CS:GO, Apex Legends, and so on.
In this article, including this projector we've seen around 4 of the best budget projectors, and considering the price point and competition, I guess the Optoma HD39HDR has all the nifty features that one would love to have with incredible picture quality and refresh rate with some robust and compact design. If you have an idea to move away from the experience of just a TV or a monitor and experience theatre at home, then this is the best choice.
Specifications
Pros
4000 Lumens Brightness
Standard Resolution (with 4K input)
3D capability
15,000 hours of lamplife
Pros
Only 1 year Warranty
1.3x zoom
5. Sony VPL VW350ES – Best Home Theater Projector for the Money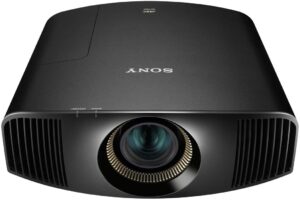 Feature
It has widescreen ranges which start from 51-82 inches from 8 feet, 77-122 inches from 12 feet and lastly 102-162 inches from 16 feet.
Full HD native resolution depicting 1920 X 1080.
1800 Lumens of white brightness.
Calibrated brightness ranging up to 1315 Lumens in Cinema 1 mode.
Lamp life around 6000 hours.
Vertical lens shift tends to +/- 71% where horizontally tends to +/- 25%.
Active 3D glass.
Three-year warranty.
2 HDMI connectivity port.
USB with firmware updates.
Picture calibration capability.
Let's get to the details, which will help you to pick up a home theatre projector that will fit your choice.
Sony VPL HW45ES: The Best Home Theatre Projector Under 2000.
Sony VPL HW45ES is one it's kind as it clears out the ado regarding 4K and HDR compatibility, and lets you enjoy theatre-like visuals. It is an adequately curated projector that can be counted as the best home theatre projector under the 2000 price mark. It not only amazes you with its visuals but provides you a flawless gaming experience at high definition 1080p with full 3D support. The projector will impress you in every way especially with its vibrant color detail, crisp image, and high brightness. This mini box will stand up to all your expectations, and it will let you enjoy without making any sound.
If you are eyeing use VPL HW45ES for your 3D gaming session and then playing utilizing this projector will be a treat to your eye. It is because dynamic loop control produces a clear and lucid visual in every condition. However, it fails to bring out bright images when in the vicinity of heavy ambient light. It comes in a sturdy box which quite light in weight and the design is clean with a little flair. It comes with nine preset calibration features and Motionflow along with the Advanced Reality Creation attribute acts as the highlight of this projector. The broad range of features with subtle picture quality defines its hefty price tag.

Pros
Advanced reality creation produces excellent color with excellent detail.
A bright and crystal clear picture with high brightness and contrast.
It is a competitively priced top end range.
Low sound fan.
Three-year warranty.
Pros
Lack of depth in black areas.
The absence of proper detailing in shadow parts of
visuals.
Special Note

Sony VPL HW45ES is highly recommended especially if you are planning to get the best home theatre projector under the 2000 price mark. It is an exceptional piece of technology that will dazzle you with its lifelike picture quality. Although it doesn't support 4K you will go into a trance while you play your games.