Watching movies or playing games on a large screen is always fascinating, but with a TV screen, you are restricted to specific screen sizes. Moreover, it is incomparable to the large viewing experience you get in a movie theater.
Shifting from television to projector is the best thing you can do to get the same feel of the movie theater at your home comfort. Not only the projector lets you adjust the screen size depending upon your requirement but also treats you with a better visual experience.
However, buying a projector might seem like a pricy affair, but we have found some best projector under 300 dollars that would quench your thirst.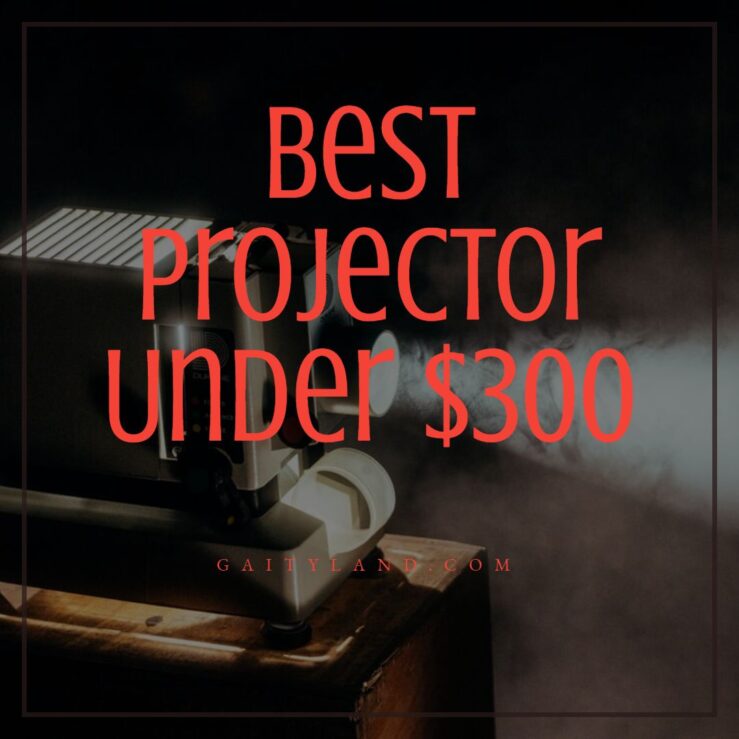 Our Top Pick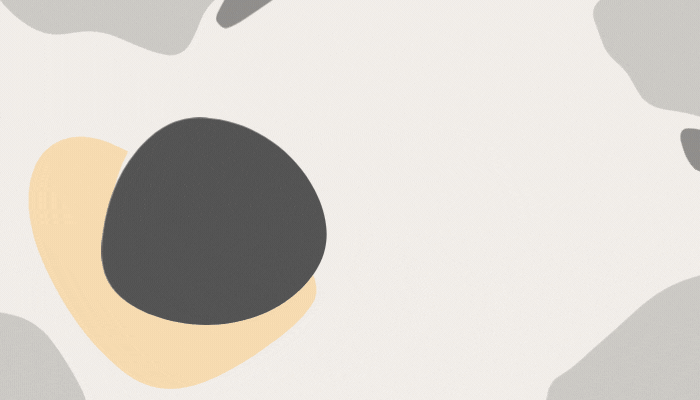 In order to put forward the finest projectors under 300 dollars, our team extensively reviewed many projectors, whether it is popular or critically acclaimed. We have thoroughly investigated every feature so that there is no stone is unturned.
In this guide, we have put forward our honest reviews, so by the time you finish reading it, you will find out which projector would be ideal for you.
So without further ado, let's jump to the review of top projectors under300 dollar:
1. ViewSonic M1 Portable LED Projector
When it comes to getting an awesome projector under 300 dollar radar, one model that has always been a rage in the market is ViewSonic M1.
It is a specialized portable viewing device that treats you with some fabulous features at an affordable rate.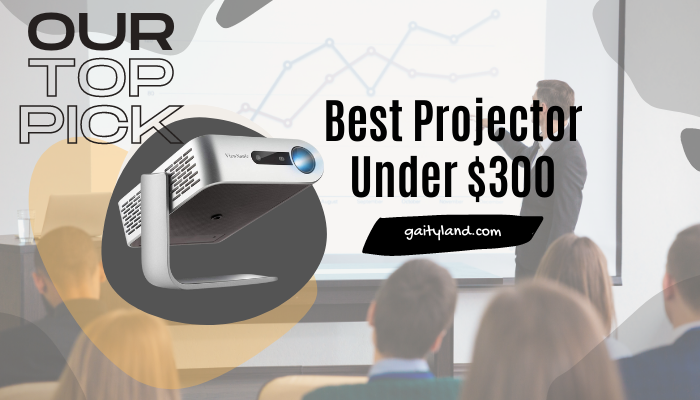 Features in a Nutshell
WVGA resolution.
1.2 short throw ratio.
250 lumens of brightness.
30000hour lamp life.
Inbuilt battery.
Harmon Kardon speakers.
At 854x480p native resolution, ViewSonic M1 lets you enjoy the big-screen experience with detailed quality that most ordinary TVs can't. Backed by an advanced LED source that ensures not only terrific visual quality but also years of usage with 30000hour of lamp life.
To produce clear and sharp videos in large screen sizes, you need advanced technologies, and that is why it comes with DLP technology and the support of 1.07billion colors.
Since M1 is a portable projector, so we think the 250 ANSI lumens is quite adequate to bring out excellent brightness level for both indoor and outdoor entertainment sessions.
With great visuals, you need superior audio, and that is why it gets dual Harman Kardon speaker that oozes out crisp sound to elevate your movie experience. Whether you want to watch a movie alone or with friends, it's short-throw lens can project up to 100inch max screen size and that too from just 8.9ft away.
The inclusion of USB Type C, USB Type-A, and MicroSD slot makes it great for showcasing movies and other content.
Enjoy entertainment on the go with the inbuilt battery that offers 6hours non-stop entertainment and 16GB internal storage. Weighing around 2 pounds and a palm-sized body, it serves as a perfect entrainment partner while you are traveling.
The 360-degree smart stand makes it incredibly versatile for outdoor setup as it facilitates to position it in different angles based on the setup area. The inbuilt safety features automatically turn off the lens when you fold the smart stand, thus making it totally convenient for outdoor entrainment.
Always view properly positioned image on the screen by the assistance of auto keystone that automatically rectifies image distortion.

Pros
A lot of portable features.
Crisp and clear visual quality.
Excellent audio quality.
Excellent lamp longevity and battery life.
Future-proof connectivity options.
Pros
The battery drains rapidly.
Verdict:
In the world of high-end models projectors, ViewSonic M1 perfectly shines with its terrific visual quality and portability that you won't expect at this price point.
2. Anker Nebula Capsule Home Entertainment Projector
Some users often get skeptical when they are eyeing for top projector under 300 dollar range as they feel that they won't get similar visual quality as modern LED TVs.
However, if you hold the same thought, then the Anker nebula capsule will change your perception by delivering superior visual performance and advanced features.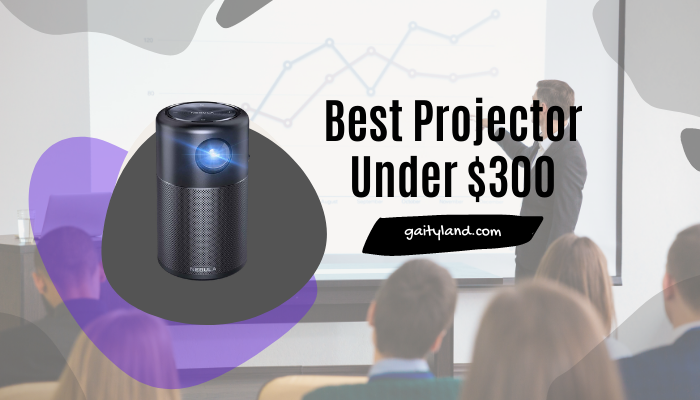 Features in a Nutshell
480p native resolution.
100ANSI lumens.
Pocket-sized design.
360-degree audio.
4hour video playback.
Android 7.1.
With projectors like Anker nebula capsule, you won't ever go wrong with the choice as it utilizes 854 x 480 resolution with
DLP technology to project
stunning picture quality.
The advanced IntelliBright algorithm churns out an excellent 100ANSI brightness that puts out remarkable clarity and contrast in images. However, the color quality is that great, but it gets the job done for a beautiful visual experience.
To immerse you totally in the movies or music videos, it houses a 360-degree surround speaker that spreads the sound all around and never lets you miss any moment.
Enjoy your movies, TV shows, and football matches in big size even when you are in the home as Nebula capsule makes use of 20-100inch screen size.
The best part is you won't have to allot a big space for supersizing your entertainment, and the praise goes to the 1.3:1 short throw ratio. Say goodbye to any distorted or out of focus visuals with its auto keystone correction that quickly corrects any error.
Play contents from any modern devices, and you just have to connect them through HDMI or USB. However, if you don't want to tangle yourself in wires, then stream wirelessly through Bluetooth, Miracast, or Airplay.
The Android 7.1 operating system with quad-core A7 chipset and 1GB RAM transforms it into a Smart entertainment hub where you can enjoy content from Netflix, YouTube, and other platforms.
All thanks to the 5000mAh battery, you can binge-watch for a long time without thinking worrying about total battery drainage. The soda-can style design with sleek and portably styling opens up a new boundary to you where you can take it anywhere you want.

Pros
Commendable built quality.
Fits into any bag.
Smooth picture quality with excellent brightness.
It runs on Android 7.1 OS.
Pros
It requires a tripod for projection.
The absence of Google Play store.
Verdict:
Buying a highly rated projector is always a priority of buyers, and if you are one of them, then getting the Anker nebula capsule would be a smart decision.
3. Vankyo Performance V630 Full HD Projector
Vankyo Performance V630 is a widely popular model that has made a considerable name among movie enthusiasts.
As the product name indicates, it is truly a high-performance device that is geared with many top-notch features to fulfill all your entertainment needs.

Features in a Nutshell
Full HD resolution.
Stunning colors.
46-300inch image size.
50000hour of lamp life.
45-degree electronic keystone.
Three years warranty.
The blend of full HD native resolution and 5000:1 contrast ratio in Vankyo Performance V630 will immerse you in a new dimension of cinematic experience.
The revolutionary 6800 LUX of brightness takes the visual quality to a new height as it delivers stunningly bright and detailed visuals. This one of the most excellent projectors under 300 dollars that imparts natural, vibrant, and rich color in all the frames.
With its 46-300inch mega projection size, you can go bigger than your TVB and enjoy mesmerizing outdoor movie session with your friends. You can set the projector pretty much anywhere you want, and the credit goes to the 5.15-30.18 throw distance range.
You can enjoy long movie session with Vankyo Performance V630's innovative cooling system that not only disperses all the heat but also keeps the noise at check. Adjusting an image while you are about to start a movie session won't be tiring because the electronic keystone correction quickly solves all the anomaly.
You will be delighted to know that this projector spares you from buying any external speaker and lets you enjoy the beautiful clear audio from its inbuilt speaker. With multiple installation methods, you can fit this projector almost anywhere you desire.
Housing multiple connectives like HDMI, VGA, USB, AV, audio-out, and SD card, V630 acts as a highly convenient and versatile device for hooking modern equipment. You can forgo all the wires and buy a separate HDMI wireless adapter to stream movies and music through your phone.
The decor friendly body design with white finish allows it to blend with any home decor without seeming as a misfit. However, you shouldn't judge it by its look because it boasts a durable construction but lacks in portability. Most importantly, it is built with a heavy-duty LED lamp that not only feasts your eye with stunning images but also 50000hour of long-life.

Pros
High-quality images with excellent color depth.
Generous brightness level.
A lot of connectivity options.
Easy to operate.
Verdict:
If you are in search of a projector that you can use for home entertainment as well as presentation, then nothing is better than Vankyo Performance V630.
4. Yakar CH-D36 Portable Wi-Fi Projector
The first look of Yakar CH-D36 might give you the impression that you are looking at an elegantly designed radio receiver.
But once you take a closer look, you will come to know that it is a pocket-sized projector loaded with modern capabilities.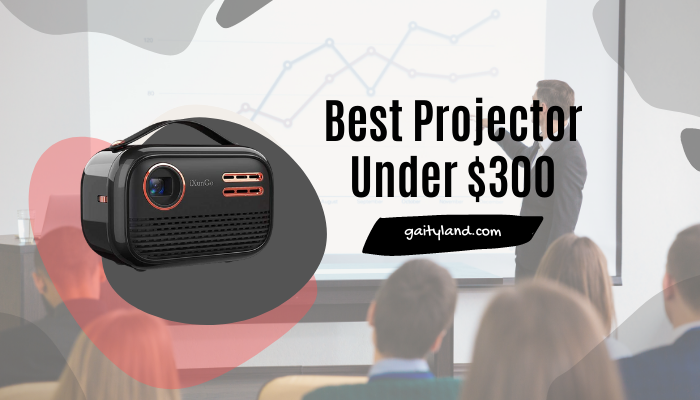 Features in a Nutshell
1080p native resolution.
150ANSI lumens.
5200mAh inbuilt battery.
Wi-Fi and Bluetooth 4.0.
Android 8.1.
The prime motto of Yakar CH-D36 is to treat your eye with 720p clear and sharp videos; thus, it comes with HD native resolution. However, you won't be limited to only HD videos and you can even explore Full HD movies and music videos without any degradation.
With 150ANSI lumens and 2000:1 contrast ratio, this high-quality projector under 300 dollars creates magic on the screen with outstanding color, razor-sharp clarity, and exquisite detailing.
Making use of an advanced German LED lamp that not only strengthens the durability but also facilitates bright video experience.
Yakar CH-D36 adopts a highly compact body built with an alloy shell that not only ensures robust construction but also makes it resistant to corrosion. Upgraded cooling technology with aluminum radiator makes it an extremely efficient device for heat dissipation.
The projectors fit right in your palm so you can stay assured that carrying it to far places won't give you any headache. For complete portability, it also provides you an inbuilt 5200mAh rechargeable battery so you can watch a full movie anywhere you like without needing power-source.
To showcase video or film from your laptop or phone, you can use the HDMI, USB, U-disk, or SD reader. Are you tired of using chords? Start using the Wi-Fi and Bluetooth 4.0 and play anything wireless from any corner of the house.
It might look tiny, but CH-D36 holds the prowess to produce an image size range of 20-150inch with 1.6-9.8ft throw distance. Apart from serving as a standard projector, it also acts as a smart device where it uses Android 8.1 OS with 2GB RAM to run the show.
Since it is an Android device, so screen sharing through Airplay or streaming TV shows through Netflix would become an everyday chore to you. Adjusting screen during setup is always problematic but not with this projector because it combines manual keystone correction with manual focus and one-click restore.

Pros
Superior clarity and detail in images.
Highly portable.
Excellent color accuracy.
Seamless wireless connection.
Pros
Poor battery backup.
The brightness could have been better.
Verdict:
Yakar CH-D36 will be a steal deal for you if you are the main priority is visual entertainment, especially while traveling and nothing else.
5. Yaber Y31 Full-HD Home Theater Projector
Yaber Y31 may not seem a popular product in the market, but when we tested this product, it simply left us all amazed by its remarkable image quality.
It might fall under the budget range, but it flaunts numerous advanced features that are found in high-end projectors.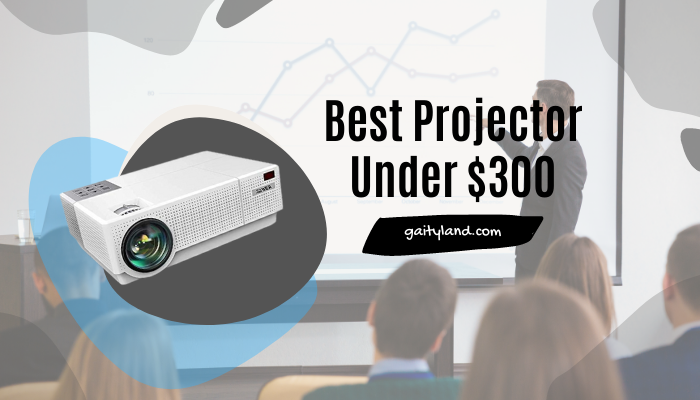 Features in a Nutshell
Full HD native resolution.
7000 lumens of brightness.
4D keystone correction.
Dual stereo speaker with SRS sound.
50-300inch screen size.
Meticulously engineered with Full HD native resolution and a contrast ratio of 10000:1, you will love Yaber Y3's cinematic visual experience with crisp frames and precise shadow details. What makes it stand apart? It's the ability to showcase 4K Ultra HD videos without any lag and ghosting issue.
The deep black levels also bring immense depth to the images, thus elevating your overall movie watching experience. Backed by a mammoth 7000 lumens of brightness that not only allows it to deliver clearer and colorful visuals but also bright images in low-light.
A great cinematic experience is incomplete without good sound, and that is why it gives crystal-clear audio through the inbuilt dual speaker with SRS sound.
Yaber Y31 is designed for big-size visual projection in both indoor and outdoor areas, so it makes use of an extensive 50-300inch screen size range. Despite being having a broad screen size range, it gets an effective throw distance of 4.9-21.3ft, thus making it usable in tight spaces.
Well, you will always enjoy accurately aligned and bright images while watching a movie, and it has been made possible by its 4D keystone correction, one-click restore, and one-click brighten. The inclusion of auto vertical keystone and -25% zoom function also makes it easy for you to adjust the screen conveniently.
The advanced cooling system with a three-cooling fan makes a huge difference in the visual experience because it lets you watch a movie for a long time without worrying about overheating.
Whether you want to play a movie through your laptop or games using PS4, you can do it all as it houses HDMI, USB, VGA, and AV audio-out. Multiple setup options also make it versatile for usage and installation. The three years warranty coverage with six months refund policy makes it a lucrative deal and clear all your headache regarding repairing cost.

Pros
Bright and dynamic visual quality.
Support for 4K videos.
A lot of image correction options.
Decent LED life.
Excellent warranty coverage.
Verdict:
Thinking to add a feature-rich projector to complete your entertainment room? But short on money? Well, you should take a look at Yaber Y31.
Conclusion
We know picking the best projector under 300 dollars isn't easy, but we hope our reviews must have guided you to the most appropriate projector based on your requirements.
We highly recommend all the products because we have found out that excels in most of the departments, whether it is visual quality, durability, or image correction.
The best part is that to get an excellent cinematic experience through these projectors, you won't have to shell out a considerable chunk of money. If you have any further confusion regarding the review, then you can get in touch with us.
Take a look at these projectors also: