Do you own an expensive PC setup or a good console but couldn't find an appropriate medium to play those games? Then you can either go for an ordinary $50 display or a dedicated gaming projector which would fully compliment your setup. So which would you reckon? We guess you must be going for the best gaming projector on the market.
They serve as the best alternative to monitors and TVs, thanks to their 1ms response time, vibrant color, high contrast, impressive brightness and wireless capability. It engulfs you with an immersive gaming experience which you won't be able to experience because a projector can allow you to go beyond 100inch screen size.
But do you know which gaming projector will be most appropriate for you? You must be puzzled as there are numerous models from different brands. To lift you out from the puzzle, we have created a list that carries the names of the top five finest gaming projectors from different brands. All these model carries different specifications, but they have one thing in common that they make sure you won't find any lag while gaming.
First, check out the names of all shortlisted models:
Now, it is time to cover the reviews of all these models, and we have put forward an unbiased review of all the models. At the end of the review section, we have also mentioned some answer to some queries that will arise in your mind when you go out to buy a projector.
The brand Optoma is almost known every gamer as they have a series of high potential HD 1080 projector which is known for producing an exciting gaming environment. GT1080 Darbee falls in those line up that has amazed many gamers with its performance and features. It may not offer quality like a true 4K video projector, but still, the quality it provides is really incredible.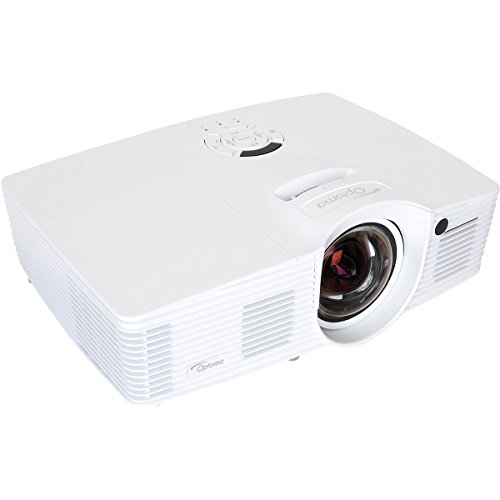 Main Attributes:


• Native 1080p resolution.
• Maximum resolution 1920 X 1200.
• 16:9 and 4:3 aspect ratio.
• 3000lumens of brightness.
• Single-chip DLP projection system.
• 16ms low input lag.
• 8000hours of lamp life.
Now,
Attributes Overview:
Optoma GT1080 Darbee is a next-gen model that is enriched with numerous features to ensure that you have the most thrilling experience. It is based on 1920 X 1080 native resolution and DLP projection which serves as the central pillar behinds it's fluidic visual output. However, most importantly it grabs the Darbee Vision processor that notches up the depth, texture and overall production of the in-game visuals thus allowing you to enjoy top-notch visual quality. The vividness of a projector plays a crucial in the output of a game visual, and that is why Optoma has introduced 3000 lumens of brightness.
You will be awestruck with the black level in the visuals of FPS games, and all the praise goes to its 280000:1 contrast ratio. The color reproduction it brings out in the in-game environment is simply amazing, and it is due to sRGB profile along with the Reference Display model that ensures REC.709b color accuracy. This DLP projector 1080p won't let you down in the gaming experience, and that is why it comes with Enhanced Gaming mode which ensures 16ms input lag. You can even play your games or watch movies in 3D as it offers support for all 3D formats including 3D broadcast, 3D consoles, and 3D Blu-Ray.
Optoma GT1080 Darbee will coddle you with an enormous screen size range that starts from 45inches and goes all the way up to 303inches. This is an ideal projector for a small room because it offers best-in-class short throw ratio 0.49:1 which depicts you can project a 100inch image from just 4ft away. For convenience, it even comes with a 2 X 10-watt speaker which is decent, but for proper clarity, you will require headphone or speakers. This 1080p projector is quite energy efficient, and 8000hours of lamp life with little maintenance serves as the proof.
Like every good home projector, Optoma GT1080 Darbee also carries some good tuning capabilities like +/- 40-degree vertical keystone correction, focus adjustment and zoom. You can connect almost every external gaming console, PC and other players as it houses HDMI, MHL, Audio 3.5mm, 3D Sync, 12V trigger, and USB. What sets this model apart? It is its HDCast Pro feature that offers screen mirroring and wireless presentation. You can even utilize it as an outdoor projector and carry it extremely easy as it only weighs 6.1lbs. However, you will just get one year warranty and ninety days lamp warranty.
Here's the kicker:

Pros
The visuals and color depth is impressive
It is entirely value for money product
Highly efficient Darbee processing facility
The gaming visuals are smooth
The game modes are pretty amazing
Short throw distance
The build quality is decent
Cons
The dynamic black feature causes issue
After some months it faces yellow tint issue
Last Words:
Cringing for a potent native 1080p projector which will also offer superior gaming experience? Then what are you waiting for and go get the Optoma GT1080 Darbee.
2. The Short Throw for Gaming Movies and Sports: BenQ HT2150ST
BenQ HT2150ST can be described as a compelling amalgamation of both gaming and home cinema projector that allows you to get the best of both worlds. It is filled with numerous features, and their main motto is to offer you an immersive gaming experience. What's more? It will not only impress you with its performance but also its outlook.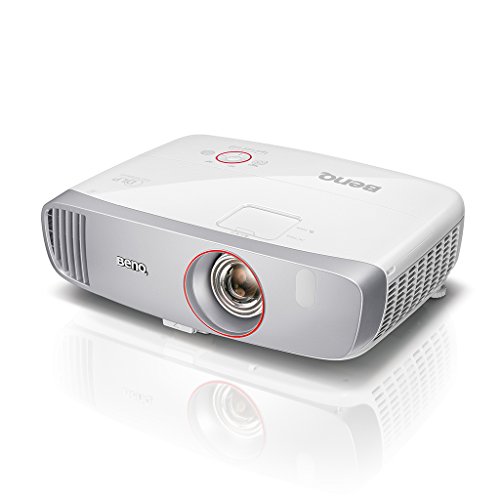 Main Attributes:


• 1080p native resolution.
• Maximum WUXGA resolution support.
• 15000:1 contrast ratio.
• 2200 lumens of brightness.
• 16.67ms input lag.
• Throw ratio from 0.69 to 0.83:1.
• Microsecond DMD response time.
• 7000 hours of lamp longevity.
It gets better from here:
Attributes Overview:
BenQ HT2150ST is one best home theater/gaming projectors available in the market that doesn't provide you any room to distrust its performance. To maintain top of the line visuals in games, BenQ has incorporated the famous DLP projection technology and 2200 ANSI lumens of white and color brightness. Not only that, it also serves as a native 1080p projector whose can't be described in simple words and you will even support up to 1920 X 1200 for your games. Everyone has credited this home theater projector for its clarity, and it is mainly due to it's 15000:1 which maintains a proper black depth.
The CinematicColor technology, 6X speed RGBRGB color wheel and 1.07billion display color of BenQ HT2150ST would leave you flabbergasted with its 96% coverage of Rec709. Once you start playing your favorite game on this HD 1080 projector you will be in a trance because it's 16.67ms low input lag offers an ultra smooth visuals with zero motion blur. In addition, its microsecond DMD response time and unique gaming modes also play a significant driving role behind its implausible gaming performance. As it is fully packed model, it even houses two 10-watt speaker adorned with BenQ Cinema Master Audio enhancer which enhances the fun while gaming.
Whether you want to hook your PC, console or any old device with BenQ HT2150ST, you would get support from HDMI, 3.5mm Audio Jack, DC 12V trigger, RS232 DB-9pin, USB, and D-Sub. It also boasts some adequate amount of tuning options like vertical +/- 20-degree keystone correction, 1.3x zoom, 102.5% projection offset and manual focusing. With this model, you will also find a unique feature which is ISF night and Day that comes handy to get clear visuals. You can even carry this model wherever you want because it only weighs 7.93lbs and takes few minutes for setup.
BenQ HT2150ST has a massive projection size which ends at 300inches, but you will get a clear image between 60inches and 120inches. However what makes this model stand out from the crowd? It's 0.69:1 to 0.83:1 throw ratio, and for this, it has won numerous awards from prestigious organizations. If you have a desire of playing games in 3D, it will even fulfill this wish because it gets full 3D compatibility and it can play 1080p 3D contents at 60Hz. Lastly, BenQ has never compromised on the longevity of its projectors and 7000hours of lamp life serves as a significant proof.
Now,

Pros
Smooth body design with excellent build quality
Sharp images with good vividness
The lag time is extremely low
The color output is terrific
It is very user-friendly
It can be carried almost anywhere
Last Words:
BenQ HT2150ST is a top of the line gaming projector which presents you jaw-dropping visuals without making a big hole with its price tag.
Epson Home Cinema 2040 is a popular model in the gaming world that is loved by many gamers throughout the United States. It holds all the cards to cradle you with mesmerizing gaming session and that too without breaking your bank. It might look simple from outside but has the prowess to overthrow any affordable 4K projector in performance.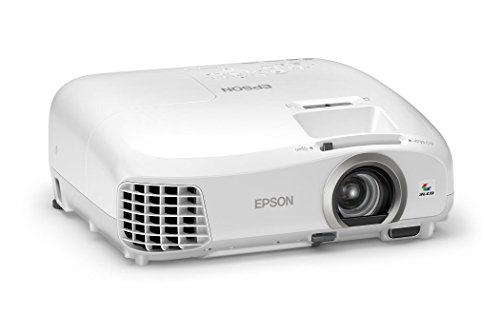 Main Attributes:


• 1920 X 1080 native resolution.
• 16:9 native aspect ratio.
• 3LCD projection technology.
• 2200 lumens of brightness.
• 7500 hours of lamp longevity.
• 2-years warranty.
Here's the kicker:
Attributes Overview:
Epson Home Cinema 2040 is well packed full HD projector that has made many gamers go crazy over the gaming visual output. Epson has included its well known 3-chip 3LCD projection technology and Poly-silicon TFT active matrix which ensures you get what you paid for. But its native 1080p resolution along with 2200 lumens serves as the principal protagonist to bring out the eye-popping visual quality. It engulfs every dark frame in a game with heavy detailing, and for that, it gets assistance from 35000:1 contrast ratio. An interesting fact of this HD LCD projector is that it won't ruin your gaming session with rainbow effects.
Epson always emphasizes on the crispness in the gaming visuals, and that is why they have included frame interpolation and Image enhancement in Home Cinema 2040. Top notch color output is vital to bring out the best out of a gaming visual, so it houses a Full 10bits color processing with a 1.07billion color display. You can stay assured you won't find any lag or motion blur issue while gaming because it gets low input lag with fast response time. Whether you want to play any particular game in 3D or watch 3D movies, you will get assistance from full 3D compatibility with maximum support up to 1080p at 60Hz.
Epson Home Cinema 2040 simply takes the driving seat when it comes to screen size range, and it ranges from 34inches to 332inches. On the top of that, it gets an impressive throw ratio range starting from 1.22:1 and ends at 1.47:1. However, it fails in the inbuilt sound output because its 5-watt mono speaker falls short when it comes to delivering detailed sound quality. Interestingly the fan noise level is quite low, and it stays between the range of 29 to 37db depending upon the usage hour. Like every well-known gaming projector, it also features a decent lamp hour which resonates to 7500hours in ECO mode.
You will find a lot of input option on the body of Epson Home Cinema 2040, and it comprises the likes of two HDMI, 2 RCA, USB Type-A and composite video. You can even use Roku streaming, Chromecast, Amazon Stick, etc. with this model as it also gets MHL support. To get you the ideal visual representation, Epson has supplied some tuning options like +/- 30-degree vertical and horizontal keystone correction, optical zoom and focusing. Unlike other best digital projectors, it provides you with a two-year limited warranty and 90 days lamp warranty.
Pros
The images are sharp and bright even in the daytime
Buttery smooth visuals with low input lag
Excellent black depth
Colossal projection size range
It is quite easy to set up
The absence of any rainbow and artifact issue
Smoothly streams HD videos
Cons
The inbuilt audio speaker is weak
The remote doesn't have backlit
Last Words:
If you are seeking for a highly efficient gaming projector at an affordable cost, then hunt down the Epson Home Cinema 2040. Most importantly, it is incredible value for money that offers all the facilities.
4. The Best 3D Gaming Projector: Sony VPLHW45ES
When you talk about best gaming projectors, one model that is prevalent in every top-tier list is Sony VPLHW45ES. It is a legendary projector that offers you one of the most excellent picture quality which can be compared with the quality of any ordinary 4K home projector. It holds an expensive price tag, but its performance and features make it worth that price tag.
Main Attributes:


• Full HD native resolution.
• Full HD 3D compatibility.
• 1800 lumens.
• 6000 hours of lamp longevity.
• Projection size: 40inches to 300inches.
• Motionflow technology.
• Inbuilt RF transmitter.
• Three years limited warranty.
The exciting part begins,
Attributes Overview:
Sony is always known for their prolific picture quality and impeccable performance in their projector. Likewise, VPLHW45ES also carries the same trait and its main motto is to cradle you with lifelike gaming visuals. To ooze out extraordinary visual quality, it utilizes SXRD projection technology which doesn't require any introduction. It is based on 1920 X 1080 pixel native resolution and 1800 lumens which drives the vividness and clarity in the video frames. The black depth offered by this model deserves all the praise, and it is mainly due to it's 120000:1 contrast ratio. However, it only comes with a single aspect ratio option which is 16:9.
Sony has never compromised on the color output in their projectors, and that is why VPLHW45ES offers one of the best color accuracies in the gaming projector segment. The smoothness in the gaming visuals is quite impressive, and all the credit goes to its low input lag along with high response time. Not only that, to enhances the silkiness in the visuals it also gets assistance from Reality Creation and Motionflow technology which make sure you get to see every detail. It is a complete gaming package because it also offers Full HD 3D capability which will fulfill your dream to immerse yourself in the world of 3D gaming.
The screen size range offered by Sony VPLHW45ES will merely leave your flabbergasted as you can change the size from 40inches to 300inches with ease. What's more? You can toggle between the screen size without worrying about throw distance, and all the credit goes to its 1.36:1 throw ratio. You won't be disappointed with its lamp life as it lasts up to 6000hours, but the replacement cost of the lamp is slightly costly. To allow hassle-free installation, Sony has installed the fan exhaust in the front position which offers maximum throw distance. With this model, you will also get the well-known whisper quiet fan which makes a sound around 22dB.
Sony VPLHW45ES always looks after the convenience of their customers, and that is why you will 1.6x zoom ratio, lens shift, and various calibration options. Not only that it also features many input options HDMI, RS232C, RJ-45, USB, Audio 3.5mm and 12V trigger. With the USB you can quickly update the firmware and stay up to date with the latest features. The manufacturer has incorporated a three-year warranty with this model which is a boon to all the buyers.
Pros
Lucrative design with excellent built quality
Lifelike visual output with razor-sharp clarity
Incredible low input lag
It doesn't make much sound
The black depth is quite good
It easily updates the firmware
The absence of unwanted motion blur
Cons
It doesn't come RF 3D glasses
The 3D pictures are slightly dark
Last Words:
Sony VPLHW45ES can correctly seat with your requirement if your main priority true to life gaming visual output and nothing else.
ViewSonic PJD7828HDL is an unconventional home cinema projector that cost like a projector 720p model but performs better than any ordinary 1080p models. It is one of the best gaming projectors on the market that is appreciated by a lot of buyers and experts. Not only it has won some esteemed awards for its incredible visual performance and functionalities.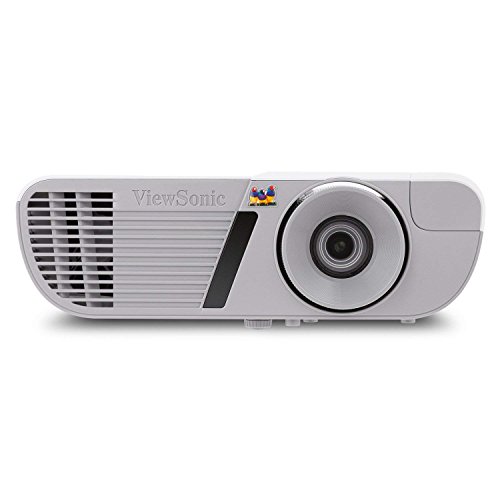 Main Attributes:


• DLP projection system.
• Native 1920 X 1080 resolution.
• 3200 lumens of brightness.
• SuperColor technology.
• Full 3D compatibility.
• Projection size: 30inches to 300inches.
Attributes Overview:
ViewSonic PJD7828HDL is one of the highly reviewed gaming projectors that has hardly dissatisfied any of its buyers. It puts up a top of the line visual quality, and it is due to the amalgamation of 1920 X 1080 native resolution and 3200 lumens. Besides, it also houses Dark Chip3 DLP technology which serves as the primary pillar behind its eye-popping visual quality. But surprisingly it only bags 16:9 aspect ratio which could be an issue if you are serious about the screen aspect. The richness in the dark frames is impressive and 22000:1 aspect ratio serves as the main protagonist.
The color reproduction ViewSonic PJD7828HDL bring out in the gaming scenes is breathtaking, and it takes assistance from SuperColor technology that provides large color gamut. It also gets SuperColor IPSMatch facility which blends color wheel coating, chromatic adjustment, and premium optics material to bring out lifelike color quality. Like every high-performance gaming projector, it also bags short input lag and fast response time around 16ms which bring out the lucidity in the frames. It also doesn't even rob you from Full HD 3D, and you can play 3D contents from almost any source.
Whether you want to play your game alone or with friends, you will always get to choose the screen size between 30inches and 300inches. Even though it offers you a mammoth display size but still ViewSonic PJD7828HDL has managed to keep the throw ratio around 1.15-1.5:1. The lamp longevity of this model is entirely praiseworthy, and it offers one of the best lamp life which is 10000hours. The fan noise is also low, and it stays between the range of 30dB and 35dB. It also excels well in portability segment, and you won't find much difficulty carry it as it only weighs 5.3lbs.
It doesn't end here,
You can hook various external devices with ViewSonic PJD7828HDL as it bags some decent amount of ports comprises HDMI (3D Blu-Ray ready), 3.5mm Audio, RS-232, MHL, D-Sub 15pin, Wireless HDMI, and USB. Likewise, you will also get some pretty good tuning features, and they are +/- 40-degree vertical keystone correction, manual focusing, 1.3x zoom, etc. Interestingly it also houses two 10-watt speaker which is adequate for casual gaming. Lastly, you won't have to worry about damage for three years because it gets 3-years warranty and 1-year lamp warranty.
Pros
Implausible picture quality with good richness
It is incredibly value for money
Massive lamp longevity
The vividness in the visuals is quite good
The color reproduction is exceptional
It supports 3D contents from any source
Full three years warranty
Cons
It often causes clipping in peak whites
The absence of a backlit remote
Last Words:
ViewSonic PJD7828HDL is a marvelous product that is suitable for buyers who are looking for breathtaking visuals in a gaming session. Once you get this model, you won't regret your decision of buying it.
Now, it is time to jump to the answers of frequently asked questions, and we are sure the following solutions will give you a bright idea about the projector.
FAQ:
1. How are pico-projectors built? How do I build one?
Pico projectors are built in the same manner as an ordinary projector, but here all the parts except the lens are quite minute. The boards used are similar to mobile motherboards. If you have the right parts, you can quickly make one. You just need a 2inch screen, a small projector box, slide lens, small stock cooler fan, Fresnel lens, LEDs, a small switch, power connector and cables.
At first, you have to take the LCD from the player and attach it to the projector box. Then you have to connect the LED to a heat sink, and after that, you will have to wire down the LED driver. After this, you will hook the lens and slide projector with the LED. You should arrange them in a line so that everything is in position.
2. Are there any 1080p LED projectors?
A few years ago the number of 1080p LED projectors were less but technology has evolved, and now you will find a lot of 1920 X 1080 LED models in the market. However, all the top models belong to ViewSonic and Panasonic and all of them priced above $1000. But apart from them, many other small companies are also providing 1080p LED models and that too at a rate below $500.
3. What is Digital Projection?
Digital projection is a method of projecting any content as an enlarged image on a screen from an external source. Basically, it connects PC, laptop, gaming console or any other player and projects the video content on the screen with the help of the projector. Digital projection takes assistance from a lot of factors before projecting an image like lumens, contrast ratio, color processor, native resolution and finally projection system. During digital projection, the projector takes help from the lamp to create the light output on the screen. The digital projection is a complicated process as a lot of factors comes into action.
4. Is it possible to turn a normal projector to a short throw one, with a lens?
It is entirely possible to turn an ordinary projector into a short throw model with just one lens and tele-compressor to minimize the distortion. You can do it by mounting a wide angle lens or any lens with ultra short throw capability, and it will shorten the projection by half of the original measurement. You should make sure the glass should be wider in diameter than the existing and only then you will be able to convert a normal one to short throw model.
5. What is the difference between an LCD projector and a LED projector?
The main difference between an LCD projector and a LED projector lies in the light source utilized. LCD projection oozes light onto a mirror, and it then divides into three primary color which then passes through three separate panels. In the end, it again converges after passing through another prism and then falls on the screen which results in a sharp, bright and colorful image.
Whereas LED projector uses either DLP or LCD technology for projection system and uses an LED lamp for the light source. LED headlamps have tremendous longevity, and they require zero maintenance. Not only that, the fans are quiet and come with an affordable price tag and much more energy efficient than LCD projectors.