Back when the PlayStation 1 was hot stuff only one person I know had a big TV which was just under 50" and it took out half of their living room! funny. By then, having a PlayStation 1 and a large TV was like dating the cutest girl on campus.
You can get a much bigger screen size out of something you can carry around your arm. Your solution is a short-throw projector. These projectors are not perfect, they have flaws like every device does. I agree with none of the products in this world is perfect.
So if you are in search of the ultimate thrill whether gaming or watching movies and that too without wasting space? You'll have to get yourself the "best short throw projector". One of the most successful projector technologies is a short-throw projector. The term "throw" implies the distance from the projector to splash an image or video onto the wall.
Our Top Pick
As a financial cautious guy, you have so many questions in mind concerning the purchase of a projector. Like is it going to serve the intended purpose? Will it be a good alternative to a
big TV screen?
Will it be a suitable fit for my home office and also use it for entertainment?
Can I afford it?
Don't feel lost, we've got you covered. We have created a list with a detailed review of the short throw projectors. Below are some of the voted 2020 short throw projectors on the market, and guide.

Quick View of The Top 10 Best Short Throw Projectors 2020
IMAGE
NAME
DETAILS
Optoma GT1080

Lumens:

3000

Contrast ratio:

28000.1

Resolution:

1080p

BenQ HT2150ST

Lumens:

2200

Contrast ratio:

15000.1

Resolution:

1080p

LG PF1000UW

Lumens:

1000 ANSI

Contrast ratio:

150000.1

Resolution:

1080p

Optoma GT5500

Lumens:

3500

Contrast ratio:

25000.1

Resolution:

1080p

Asus S1

Lumens:

200

Contrast ratio:

1000.1

Resolution:

854 x 480

Optoma ML750ST

Lumens:

700 ANSI

Contrast ratio:

20000:1

Resolution:

854 x 480

BenQ TH671ST

Lumens:

3000

Contrast ratio:

10000:1

Resolution:

1080p

ViewSonic PX706HD

Lumens:

3000

Contrast ratio:

22000:1

Resolution:

1080p

Epson VS240

Lumens:

3000

Contrast ratio:

15000:1

Resolution:

1080p

InFocus IN119HDx

Lumens:

3200

Contrast ratio:

15000:1

Resolution:

1080p
Our Top Pick
1. Optoma GT1080 Darbee– The Overall – Best Short Throw Projector
Optoma GT1080 Darbee is one of a kind short throw projector which armed with 3D compatibility and also Full HD (1080p) to produce crisp and realistic 3D output. The 28000:1 contrast ratio, along with 3000 lumens, also plays a significant role in bringing out jaw-dropping quality.
The sRGB color profile with REC.709b color accuracy also adds to the splendid video quality with immense depth and clarity. However, the main detailing and depth in all the visuals are facilitated by its DarbeeVision image enhancement technology. Not only entertainment, but it has also been designed to provide you fluidic gaming experience with a 144Hz refresh rate and 16ms response time.
The main highlighting part of this device is it's 0.49:1 short-throw capability and 45-303inch screen size range, thus allowing it to outclass most of its competitors. It gets the standard 16:9 aspect ratio, but you will also have a 4:3 option for presentation purposes. Not to forget the 8000 lamp hours, which is decent longevity for a projector of this range.
Two HDMI, MHL, audio-out, 3D Vesa, and 12V trigger are the main connecting ports you will find in the body. Image correction is quite easy, with its 40-degree keystone correction and manual focus. It gets a fantastic 2 X 10watt speaker setup that meets all the basic audio output requirements.
2. BenQ HT2150ST – 4k short throw projector
BenQ HT 2150ST is a meticulously-designed top short-throw projector that gets you a throw ratio of 0.69 and a massive 30-300inch screen-size range, giving you medium to enjoy big-screen entertainment. Supported by 1080p resolution, 2200 ANSI lumens, and 15000:1 contrast ratio, you will always get mesmerizing visual experience for your movies and games. All credit goes to its 16.67ms fast response time; you will feel like you are playing on a high-end gaming monitor delivering smooth visuals. The CinematicColor technology with a 6X RGBRGB color wheel makes a significant impact on the visual quality by providing the perfect color clarity and depth.
With full HD 3D compatibility, you can take your home entertainment to a whole new level and enjoy cinematic 3D visuals at home comfort. While watching a movie or playing games, it's a 10-watt speaker with CinemaMaster Audio+ will also continue to entertain you with its fluidic audio. A good thing about its 240-watt light source is that it can last up to 7000hours, which is a great life span for a bulb.
This high-quality short throw projector flaunts many connection facilities, and it includes the likes of HDMI, MHL, VGA, D-Sub, USB Type-B, and audio-out. For modifying an image error, you will also get the support 1.2X zoom, manual focus, and 20-degree keystone correction.
3. LG PF1000UW 1080P – ultra short throw projector 4k
LG PF1000UW is a uniquely crafted entertainment device that may have an unusual shape, but it gets a DLP projection system with a 1080p resolution to create magic on the screen. It lets you place the projector anywhere in your house because it can host a 60inch screen from 4.3inch away.
The clarity, vividness, and depth it brings out will simply leave you flabbergasted, and it is due to the perfect blend of 1000 ANSI lumens and 150000:1 contrast ratio. Apart from the standard movie 16:9 aspect ratio, it also gets cinema zoom, 4:3, original, just scan and zoom aspect ratio to cater to your visual requirement.
Well, with a powerful LED illumination of 30000hour of lamp longevity, it relieves you from the headache of lamp replacement. The built-in speaker enables you to utilize the projector anywhere you want without requiring external speakers. It also acts as a smart TV where not only can you play videos through Android applications but can also browse the internet. It will baffle you with the number of connection facilities it possesses that includes Bluetooth, Wi-Fi, HDMI, USB, HID, RJ45, and audio out. You can even hook your local cable connection with its DTV tuner or use Screen Share for screencasting on a large screen.
Optoma GT5500 is one of those models that doesn't need any introduction as it has already impressed many people with its short 17-22.1inch throw distance range. However, it only gets an image size range of 80-100inch range. Despite all these, it will never disappoint in visual quality, rather its 1080p resolution with 3500 ANSI lumens and 25000:1 contrast-ratio splashes high-end TV like visuals on the screens.
The vibrant color output it gets from 1.07 billion color support also makes a huge impact on the visual quality. You can also enjoy all modern 3D movies in full HD because it is engineered with full 3D compatibility.
With dual HDMI, VGA, dual audio-in, RCA, RJ45, audio in&out, and USB, it will cater to most of the connection requirements. What sets it apart? Its place and play facility that lets you place it anywhere, and it will automatically calibrate to provide the best picture quality possible. It packs an efficient 16-watt mono speaker which does a decent as an inbuilt speaker. Design-wise it is compact and wears a simple look so it will easily fit anywhere in your room. Optoma has given it a one-year limited warranty coverage, and it covers most of the damages as well as repair costs.
5. Asus S1 – short throw laser projector
A highly compact projector with superior short throw capability is an excellent way to introduce Asus S1. Geared with a 1.1:1 throw ratio and 30-100inches image range, it takes you to a new dimension of large-screen experience as you host it anywhere without requiring much space. In terms of visual quality, you can expect to have a visual experience at par with good LED TVs, and the credit goes to DLP and 854 X 480 native resolution. Its 1000:1 contrast ratio and 200 lumens also ensure proper clarity and vividness in all the images, even in semi-lit conditions. However, the 100% NTSC color saturation takes the visual quality to a whole new level.
It is a palm-sized projector that weighs around 0.75lbs so you can pretty much carry it anywhere you want. Most importantly, it gets an inbuilt 6000mAh battery, and it delivers a non-stop entertainment without requiring an external power source. Due to its robust 30000hr LED bulb, you can utilize this projector at least 10 to 12years.
What's more? It also houses a 2-watt inbuilt speaker that meets the audio requirement if you are watching movies or TV-series alone. It is suitable for all types of placement, whether its front ceiling or rear table. You will be surprised that this tiny module carries HDMI, MHL, USB Type-A, and audio out for fulfilling your basic connection needs.
6. Optoma ML750ST – Cheap ultra Short Throw Projector
Optoma ML750ST is a top-tier short throw projector that is designed to offer cinematic visual experience from a super short distance. It utilizes 1280 x 800 native resolution, 20000:1 contrast ratio, and 700 ANSI lumens to splash a mind-blowing image quality on the screen. It holds the prowess to accurately reproduce a Rec.709 color gamut, thus ensuring lifelike color output in all the visuals. However, its 1.41-11.29inch short throw and 16-135inch serve as a crown feature of this projector as it offers big-screen experience in a limited space. It also gets a 1.5-watt speaker, so you won't have to make space for an external speaker in the limited area of your apartment.
Not only entertainment, but it will also provide you an immersive gaming experience, and all the praise goes to its 17ms low response time that maintains the smoothness in visuals. It flaunts a robust LED light source that promises to deliver bright visuals for a maximum of 20000hours. The best part is that you get all high-end features inside a palm-sized projector that weighs less than one pound.
It hosts HDMI, MHL, VGA, USB Type A, audio-out, and microSD port that cradles most of your connection requirements. It even gets a digital signage application that allows the projector to play content from microSD in any orientation. Optoma has also given one-year parts and LED lamp warranty coverage with this model.
7. BenQ TH671ST – 1080p Short Throw Projector
When you look for the top of the line short-throw projector with outstanding visual quality, one model that would really excite you is BenQ TH671ST. It is a highly demanded product that has gained popularity with its super-low 0.69-0.89:1 throw ratio and extensive 30-300inch image size range. However, another reason behind its vast reputation is its low 16.67ms input lag that results to smooth gaming visual quality with almost no lag. Powered by a 240-watt lamp, it has the capacity to last up to 15000hours in lamp save mode. It comes geared with a 5-watt stereo speaker so that you can have an immersive audio experience.
Experience unparalleled visual quality in this projector, and it is due to the perfect blend of 1080p resolution, 3000 lumens, and 10000:1 contrast ratio. It also delivers vibrant colors in all the frames as it can cover 92% of the Rec.709 color gamut. You can also enjoy high-end TV like 3D viewing with its full HD 3D support from various sources. Ports like HDMI, MHL, USB Type A&B, audio-out, audio-in, and D-Sub will assist you in meeting your connectivity requirement. It also bags the support of vertical keystone correction so that you can perfectly align the image in any location. To our surprise, it gets 3-year limited parts and labor warranty, which is an unbelievable feature for every buyer.
8. ViewSonic PX706HD – viewsonic short throw projector
Holding a simplistic look, ViewSonic PX706HD is a usual entertainment projector with unusual performance and features. It is engineered to provide you a supersized view without wasting space, and that is why it gets 0.69-0.83:1 short throw ratio with a 60-120inch image size range. It is a full HD projector that takes the assistance of 22000:1 contrast ratio and SuperColor technology to ooze out high-quality visuals with exquisite detailing and clarity. Enjoy bright images with its 3000 ANSI lumens, which ensures you won't get washed out visuals during the day. Geared with low 16ms input lag that makes fast, responsive gaming with ultra-smooth lag-free visuals.
It is designed with a 5-watt cube speaker and SonicExpert technology, and together they deliver exceptional audio performance. Apart from flaunting the latest ports like USB Type C and HDMI 1.4, it also offers audio-in, RS232, and USB Type Mini B. What makes it more enjoyable? It's vast lamp longevity, and it promises to deliver bright images for a maximum of 15000hrs. It gets an innovative instant activation feature where it will automatically start when it detects a power cable or HDMI cable. Most importantly, it gets the industry-leading 3-year warranty coverage and one-year warranty coverage that you will hardly find in other short throw projectors.
9. Epson VS240 – short throw hd projector
A projector with which you can adequately associate the value for the money tag is Epson VS240. It is a mediocre short throw projector with a 1.45:1 throw ratio, but it gets a colossal 30-350inch screen size that makes it suitable for all kinds of situations. Since it is a budget model, it bags a 600p native-resolution along with a 15000:1 contrast ratio, but together, they produce a notable visual quality which surely makes your day. However, its 3000 ANSI lumens and 1.07billion color reproduction capability make the main difference as they ensure bright and colorful output in all visuals. Interestingly, you will even find a 2-watt mono speaker that is sufficient for meeting the essential audio requirement.
The number of ports this economical short-throw projector offers will baffle your mind, and it includes HDMI, D-Sub, S-Video, audio-in, composite, and USB Type A& B. However, we weren't impressed by its 10000hours of lamp longevity in ECO Mode as most of its competitors offer a better lifespan. It gets some quirky features like instant-off and sleep mode that make the projector more comfortable to operate. Image correction is an essential aspect for a projector; thus, it bags all the necessary tools like vertical keystone, manual focus, and digital zoom. Another advantage that you will get with this projector is its extreme portability, and you can take it almost everywhere.
10. InFocus IN119HDx – short throw 1080p projector
We can confidently say InFocus IN119HDx is an incredible piece of device that not only creates magic on the screen, but it does so from a small distance. All thanks to its 1.15-1.5:1 throw ratio and massive image size up to 299inch, you can set it in any tight spaces for a big-screen experience. Many users commend this projector for its brilliant visual performance, and it is facilitated by 1080p native resolution, DLP, and HD spacial resolution technology. The 3200 lumens, along with 15000:1 contrast ratio and BrilliantColor technology, play an essential role in producing a splendid full HD visual quality.
With a theater-like visual quality, it will also pamper you with terrific longevity as it's lamp can last up to 10000hours, and it doesn't require filter replacement. You can even utilize this projector for a breathtaking 3D movie session because it supports full HD 3D up to 144Hz. Whether you want to connect a modern laptop or a video player, you will have HDMI, S-video, composite, USB Type B, and 3.5mm audio for catering to your requirement. However, you might have to purchase an external speaker because its 2-watt mono speaker won't provide an excellent audio experience. Lastly, you will get 2-years warranty coverage and a 6month lamp warranty with this projector.
Buying Guide – To Choose The Best Short Throw Projector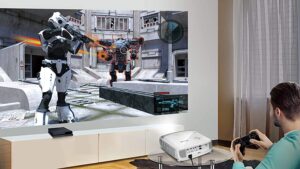 Do you know all the considerations which will lead you to the best one? Well, we guess you know some but not all. So what should we do? Don't worry you have come to the right place as we have adequately laid a compact guide that will assist you to find the ideal one.
Let's look at all the crucial considerations.
1. Throw Ratio:
Throw ratio is probably the most important aspect you need to consider while purchasing a short throw projector and it always preferable to never go above 1.4:1. However, the most preferable you should stick to 0.5:1 to 1.1:1 and it would be ideal if you can hunt down a model with a 0.4:1 throw ratio. But it is not possible to get a model with an extremely low throw ratio figure because there are a lot of factors that come into play especially budget.
2. Lumens:
Well, this is a crucial feature that you should emphasize because it will determine how bright your picture will be when you place the projector close to the screen. According to experts, it would be a smart move to get a projector with a lumens number higher than 2500. If you want to stay on the safe side, then you should look short throw model with lumens around 3000 because it will offer bright visual despite a massive amount of ambient light.
3. Resolution:
The resolution may not be an essential factor, and it entirely depends upon the type of projector you want to purchase. However, most of the experts suggest that getting a projector with a minimum of 720p resolution will maximize your chance of enjoying high-quality visuals in short throw projection. If you have a decent budget, then you should head for 1080p short throw models as perform efficiently and won't give you a chance you to question its quality.
4. Imaging Technology
Currently, most of the short throw projectors are coming with DLP projection which is quite efficient in bringing out good quality from a short distance. More DLP technology is also allowing the manufacturer to cut down the cost of the projector. However, you can even go for LED imaging technology which is also economical and offers fairly good performance.
5. Portability
It would be a good idea to get a short throw projector with proper portability feature because you can play it anywhere possible as it doesn't take space. However while checking their portability feature, you should adequately check their weight and carrying facility
6. Price
Last but not least, the price point and you should be careful with this factor as there are many brands which try to attract with a low price tag. These brands basically offer poor products by luring with an economical price so never step into that trap. Always look for a product that comes with value for money factor. If you want to own a projector with minimal throw ratio then you might have to spend a good chunk otherwise projectors with throw ratio around 0.9:1 don't cost much.
Let's dig more and learn what are the perks you will enjoy when you purchase a short throw projector,
The Benefits Of Using A Short Throw Projector
Here are some essential benefits you are going to enjoy,
The most important perk of using a short throw projector is that you won't require a large room to set up this device. It holds the prowess to project a 100inch image from just four feet away from the screen and that too without lowering the visual quality. However, 100inch@4-feet may vary from model to model, but most of the throw figures mostly stay close to this throw distance. It is suitable for people who are living in apartments especially in cities.
It prevents the user from the sudden blinding issue as people using a standard throw projector often accidentally look into the light of the projector. But with a short throw projector, you won't face this issue as they are placed close to the screen.
A short throw projector even bars you duck and cover issue which is prevalent with a conventional projector which bites up the whole space. Moreover, the video or image would vanish whenever anyone passes, and this kind of issue is faced by a lot of presenters in the office. However, having a short throw projector eliminates all these issues.
You can comfortably set up a short throw projector which is not always possible with a standard throw projector. It doesn't require much calculation or correction during installation thus offering easy mounting or placement process.
It reduces the setup cost as you won't have to buy large HDMI cables and other extensions for smooth connectivity. It also bars you from investing in a cable mask which adds to cost of the setup process. Moreover, it also relieves your cable tangling issue on the ground.
Now, we have learned about the facts of short throw projector but do you know how short throw projector? If you don't, let's check how it works.
How Does a Short Throw Projector Work?
A short throw projector is similar to any projector that uses its projection to throw the frames fed to it through an external device. However, unlike a typical projector, short throw models utilize unique wide angles like 10mm which holds the prowess to offer large pictures from a short distance. Moreover, the quality of the lens using short-throw models are quite high, and it is used so that it can offer better clarity as well as quality. Currently, some makers are also using a new chipset along with wide-angle lenses so that it can easily provide high clarity images without any distortion.You must have across the name of ultra-short short throw projector so let's know about it.
What is an Ultra Short Throw Projector?
Ultra short throw projector is similar to short throw projector, but they can shoot a 100inch image from just 2-3 feet away. It is mostly used in commercial spaces and small urban apartments where space is really a big issue. The number of ultra-short throw projector is not very high, and they are a tad bit expensive than regular short throw projector. However, the major drawback of these projectors is that they are not that bright and they are only suitable for certain conditions.So we guess this guide will clear all your confusion and will pave the way for you to get the best short throw projector in the market.
For More Details Follow us on Facebook