Back when the PlayStation 1 was hot stuff only one person I know had a big TV which was just under 50" and it took out half of their living room! funny. By then, having a PlayStation 1 and a large TV was like dating the cutest girl on campus.
You can get much bigger screen size out of something you can carry around your arm. Your solution is a short throw projector. These projectors are not perfect, they have flaws like everybody does. Agree nobody is perfect.
Looking for the ultimate thrill whether gaming or watching movies? You'll have to get yourself a short throw projector. One of the most successful projector technologies is the best short throw projectors. The term "throw" implies the distance from the projector to splash an image or video onto the wall.
As a financial cautious guy, you have so many questions in mind concerning purchasing a projector.
Like is it going to serve its purpose?
Is a good choice putting in mind there are other big TV screens on the market?
Will it fit use it in my home office and also use it for entertainment?
Can I afford it?
Don't feel lost, we've got you covered. We'll take you home and give a step by step in depth feature review about the short throw projectors. Below are some of voted 2018 short throw projectors on the market.
If you are a real movie enthusiast, you should give the Optoma GT1080 Darbee a try. Armed with 3D compatibility and also Full HD (1080p). This projector will produce very crisp images putting in mind it is a Full HD.
This projector will make your house full by the number of friends who will be coming around. It has a very clear video output making your room turn into a cinema. It is also to produce a good quality image even in normal room ambient light.
This projector has the ability to keep you and your family amazed by the quality of the video. For instance, if you really have a small room this projector will serve its purpose since it can well fit in a coffee table and has a one-meter throw distance saving you space on your room.
Surprisingly, the Optoma GT1080 Darbee projector has highly claimed brightness and built-in audio system making it easy to set up and also use. It's an incredibly short throw distance, with one meter it can splash a 100" inch image with no stress.
If you are into movies or even gaming, it is worth a glance. It has a really exceptional short throw lens making it a living room friendly projector since it won't occupy most of your living room space.
Below I'm going to give you a step by step guide on the features pros and cons of this projector.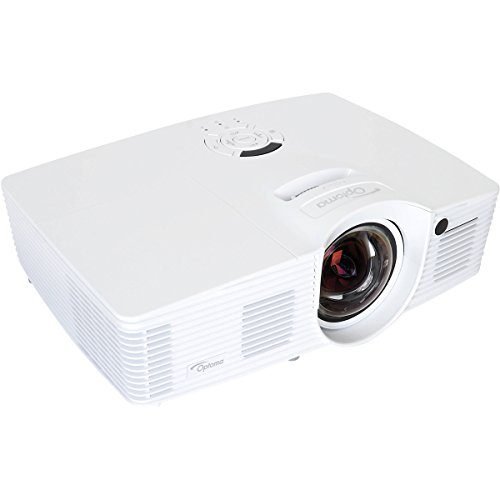 Other Features include:

• 8.8 x 12.4 x 4" in size

• Weighs 5.5 lbs

• 16ms response time

• REC. 709 HDTV colour function
Features:
Design:
It has white finish look making your living room look cooler. Due to its compact size, it can fit on even the smallest of your coffee tables. It has a gently curved top, a raised lens barrel and rounded corners making it look classier.
Resolution:
It has a Full HD (1080p) resolution making it produce a crisp image. Meaning you have to entertain your guests since they might not be going home anytime soon. You ex-girlfriend too will surely try to reach you with this projector in your house.
Contrast Ratio:
It has a contrast ratio of 28000:1 it means the Optoma has very rich dark color instead of the having a shade of grey. This makes it have very rich colors even while you're gaming.
Short Throw Lens:
It has a very powerful short throw lens. With a distance of 0ne meter, the Optoma GT1080 is able to splash a 100" inch image making it a very good feature about it. In search of a projector that can splash a 100" inch image, this is the projector of choice.
3D Compatibility:
Can you imagine it has 3D Compatibility, This is a plus? Tell how you would react when watching a 3D movie on your home projector. Trust me you would never leave that room anytime soon.
Lamp Life:
It has 8000-hour lamp life. If you look at this it seems to be a shortcoming, I agree with I ain't-a fun of short lamp life's. I don't like visiting electrical repair shops too, I know you also don't.
4000 Lumens:
It has 4000 lumens to ensure that you have a very good brightness level even in normal room light ambiance. I'm sure you won't be disappointed but the video output clarity. For me, I like my movies in Full HD so I can see all the details.
Connectivity:
It has a two HDMI and USB ports. This ensures that you have two HDMI inputs so you can connect two computers at once. It also has USB power meaning you can charge your phone on it. Making it easy to connect to other devices. It can also connect to Apple TV, Google Chromecast, and Amazon Firestick.
DLP Display Technology:
It also has DLP Display Technology that reduces the common DLP projector rainbow effect. This makes you enjoy your Full HD movies without any rainbow colors.
Pros
It is Full HD
Has 3D compatibility
It has 16ms response time
Has DLP Technology
Has a very short throw Distance
Cons
It has fan noise that recurs
Remote control is too bright while using it at night
Conclusion in a Nut Shell:

In a nutshell, the Optoma GT1080 Darbee has very good HD images output. Starting from its design it has a very classy white curvy look that makes your girlfriend jealous of you possessing it. It has an advanced DLP display Technology making it have no DLP rainbow effect.

Other Than all those pros it also has its shortcomings like it has a really loud fan noise that recurs. For me I like silence, I know you do too. If you check its remote control you will notice that the remote control is too bright at night and not healthy for your eyes.

Overall this projector seems to be a good projector for day to day use. You can't fail to acknowledge that the 3D has no lag and performs very well in that mode.

The 3D performance is on top of the league with unnoticeable cons. It has an added feature which is MHL which allows a very easy integration of compatible tablets and smartphones.

You will notice that your gaming nephews and cousins might make your house a trap house for entertainment. Hope you're ready to stomach many people in your house.

The Optoma GT1080 Darbee projector remains to be the best entertainment projector. If you pay attention to the Optoma's 1080 DLP price it proves to be worth the price it is selling for and should be taken into consideration.
If you work with a small workspace the Optoma 1080 DLP is the ideal projector to purchase without any hesitation, putting in mind all the features it has to offer and the quality of its video output that it outputs 1080p the Optoma 1080 DLP proves to be the ideal projector.
The BenQ HT 2150ST Home Projector is one of the best projectors for gamers, also movie enthusiasts and also if you want to win your ex back. Even though the initials HT stand for Home theatre, it has maneuvered its way to being a gaming projector. It has a very easy setup and has a friendly user interface for you who like it simple. It is designed for a short throw setup.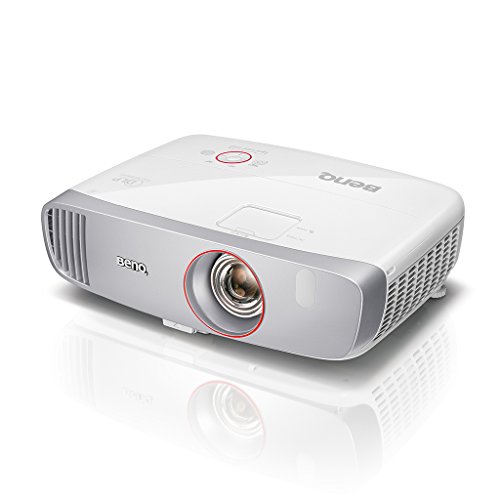 Other Features:

3D compatibility;

• 1.3:1 zoom ratio
• 15 – 102 KHz horizontal frequency
• Mini USB
It has also a mini USB built-in input to ensure once you have the option of accessing content that is ready for display in the USB device

• 3D compatible:

With the BenQ HT2150ST 3D compatibility the projector it has a frame packing of up to 24 Hz 1080p and a frame sequential of up to 60Hz 720p making it deliver all the 3D content as per the international standards
• Video compatible with SECAM, PAL, NTSC & SDTV
• 353W/110V power consumption
• Batteries included
Features
Native 1920*1080 Resolution
You can't help but notice the high resolution it has since it is a 1080p Full HD. This will keep your homes in your chill out room entertained. It has 2200 ANSI lumens making you have a nerve-racking experience while watching movies maintaining a very optimal brightness level.
Lamp Power
The 2200 ANSI Lumens is powered by a 240 Watt of light source wattage. The BenQ HT2150ST has given you a generous 3500-7000 light life. You don't have to worry about Maintainance costs once you purchase it since the light life is long.
Contrast Ratio
You can't fail to mention the remarkable 15000:1 contrast ratio it has inbuilt in it. Meaning you will have a deeper shade of black instead of just dark grey with respect to it brightest whites.
Light Engine Single chip DLP Technology
DLP technology is also on board to ensure that the DLP rainbow effect common in the most projector is reduced maintaining real color output. With this projector, you will not experience any deterioration of image quality. It is an idea projector and deserves the merits.
Audio:
BenQ HT2150ST has two 3.5mm audio jacks one in and one out. It inputs signal to the internal 10 Watt stereo speakers while the output takes sound from the projectors internal system to an external speaker of your choice.
Native Aspect ratio:
The 16:9 is the worldwide standard of HDTV and Full HD TVs.With it you are armed and ready to paint your 1080p movies on the wall not forgetting the screen size it splashes for you
Inputs:
It has1*HDMI 1.4, 1* HDMI w/MHL, 1* VGA meaning you will have two HDMI inputs. This makes the BenQ HT2150ST more reliable in a scenario when you're using two laptops to input signals to it.
Dimensions:
Its dimensions are 4.8" H x 14.9" W x 10.9″ D making it portable and also has a great design.

• Colour wheel:
It has RGBRGB, 6x @ 50Hz, 4x @ 60Hz making it have very rich colours
Pros
Very good Full HD image quality
Has an appealing design
Easy to carry around (portability )
It has 3D Compatibility
Advanced stereo speaker for clear sound
Cons
Is partially affected the DLP rainbow effect
It does not have lens shift
Conclusion in a Nut Shell
You might notice new technologies advances in lenses and lighting sources, which allow short throw projectors to be used in either small rooms, clarity in presentations. By not forgetting you can use it outdoor on occasions may it be a birthday or maybe a chill out with your homes.
Put in mind it has no lens shift. It still maintains the clarity and brightness you expect it to deliver while watching your favorite music videos. But it has cons too like the DLP projector rainbow effect.
In a nutshell, this Short Throw Technology has broken the ice for you. You have the option of purchasing a short throw projector and still not dipping your pocket buying a TV screen. It has brought an all in one solution making it very convenient comparing it to the TV screens.
The LG PF1000UW Ultra Short Throw Smart Home Projector puts together for you a very short throw distance and also smart TV technology. As you look at it, it portrays a very compact look and to add on it has streaming support.
This feature ensures that you have all the HBO TV Shows that you watch with your girlfriend are ready just by the press of a button. Using the LG PF1000UW, you have a sensibly easy to install with the help of the ultra-short throw lens comparing setting up your 85" LED TV screen.
For me, the LG PF1000UW has proven to be the premium choice for home entertainment. Its compact size and simply makes you have a classy home look even when your pals are hanging out.
In a few years' time, my opinion is that TV screens may become absolute making projectors have a very large market share. Below I will offer to give a very in-depth review since I know you might not be very sure about purchasing a TV screen or a projector, am sure this will answer all your questions.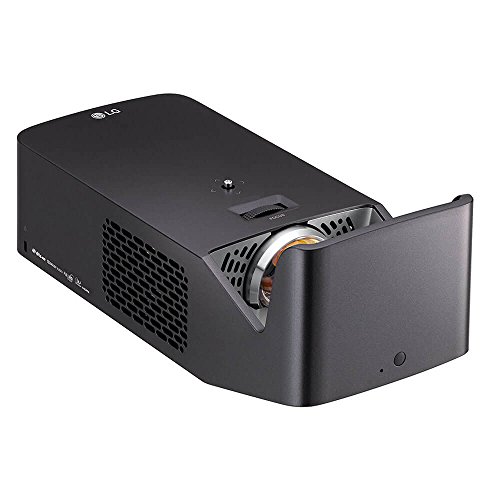 Features
LG PF1000UW Specs:
Throw Projection Length
You might be surprised by the distance the LG PF1000UW projector needs to place your favorite movie on your screen.
Full HD:
Your LG PF1000UW projector is full HD enabled making it ideal to watch 1080p movies with your girlfriend. Keep in mind that your girlfriend may not break up with you if you have this projector. The Full HD feature is so clear that it is nearly comparable to the TV screens.
LED Illumination:
This projector has an inbuilt Led feature that makes sure that you enjoy the most natural colors with you pals maybe while watching a movie. The lamps in this projector are estimated to have a lifespan of 30000 hours meaning you'll not be visiting the repair shops anytime soon.
Contrast Ratio:
The LG PF1000UW projector has a 150000:1 contrast ratio making it give you a deeper shade of black instead of the grey. You are now armed to watch HD movies and getting to enjoy true colors while watching it.
Aspect Ratio:
It has a 16:9 aspect ratio which means that it has the internationally recognized aspect ratio to make you have a full HD projector. You will notice that the output splash is always 16:9 aspect ratio.
Built in TV Tuner
It also has a built-in ATSC tuner which is also known as DTV (Digital Television). It means you and your family can enjoy locally broadcasted TV Channels. You will notice that this feature makes the projector more than a TV.
Wireless Remote Control:
It has a wireless remote control making it a win for you. This ensures that you don't have to wake up your nephew to go and adjust or change the channel you are watching. Awesome right!
Built in speakers:
It also has built-in speakers fitted. This means that you do not have to go out and purchase an external speaker.
Wi-Fi Compatibility:
It also has Wireless Fidelity connection ensuring that you can connect to the internet via this projector. This feature makes you have a chance to share from your android phone to the projector without using any physical cables.
HDMI Compatibility:
This HDMI feature ensures that you can input content from your computer and slash it to your screen.
Bluetooth Sound Out:
The LG PF1000UW projector has this Bluetooth feature that allows you to stream audio from Bluetooth enabled devices such as Home Theatres and portable speakers.
Pros
It has Bluetooth sound Connectivity
It has a clear 1080p output capability
It is also built in with a Smart TV for easy access
Has a long lamp life lifetime of 30000hrs
Cons
A room's ambient lighting can affect image quality
At times the Smart TV system might lag
Final Conclusion:
Its ultra-short throw distance remains to the projectors key feature. This reduces the output distance to the screen. For me, the LG PF1000UW projector remains to be the best ultra-short projector I know. You don't have to stress yourself purchasing other projectors in the search of ultra-short throw distance technology. Don't forget you have a DTV Tuner so this projector will serve you and your family as a TV. You still have to bear with the Smart TV system lag. This projector remains to be the best ultra-short throw lens projector we've ever reviewed. This is the caviar in ultra-short projectors.
The Optoma GT5500 Ultra Short Throw Projector has is the best 3D projector that money can buy. With a very easy setup and short throw capability, it remains to be the best projector for its price.
Ever thought of chilling with your family and enjoy a nice splash of true HD on the wall or screen? I also have, that's why I prefer the Optoma GT5500 Ultra Short Throw projector. It's one a kind since it has a very short throw to screen distance and a Full HD image output.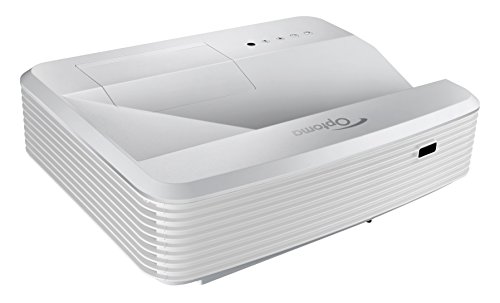 Other Features:

• 3D-sync out port
• VGA in/VGA out
• Audio in/out (3.5mm)
• Mini USB
• Weighs 6 lbs
• 6,500 hours of lamp life
• 12.2 x 15.2 x 4.7" in size
In a nutshell the projector is a really
Features:
3D Compatibility:
Once you purchase the Optoma GT 5500 Ultra short throw projector, you can't fail to notice its 3D capability. The most interesting thing is that the Optoma GT5500 produces 3D content without any flicker. This feature will obviously turn your house into a cinema meaning you will have to tolerate your friends since they'll hardly leave your house.
Contrast ratios and Colours:
The Optoma GT5500 has a contrast ratio of about 25000:1 and it has been combined with an Optical lens. You will experience a true black instead of the grey color. It has a rich color due to the contrast ratio ensuring that the colors outputted are Tue HD colors.
Lamp Life:
You will notice that this projector does not have a very long lamp life. I was also disappointed by that but even though it is not the best life of a projectors lamp life it seems to be so short.
Connectivity:
You can't fail to notice the connectivity port this projector has, it has an HDMI, VGA Audio in ports to enable it to connect to numerous peripheral devices. This is a win for you since this projector gives you many options to connect to in such as the HDMI and also VGA.
Built In Speakers:
Just imagine you have speakers on your projectors? You have them now on the Optoma GT5500 this feature is a win since you might be in a scenario with your business partners where external speakers may not be appropriate.
3500 Lumens:
It has a 3500-lumen bulb that ensures the brightness is always impressive. You can use it in both a room with no light and also a room with light and still the same clear image it is supposed to produce.
Pros
It has 3D compatibility
Has built in speakers
Combination of Optical lens and contrast ratio created detailed images
Easy connection to peripheral devices
Cons
Produces heat on high brightness level
Has only one custom setting
Rainbow artefacts appear in black and white films
Conclusion:

In a nutshell the projector is a really good device for everyday use. Starting from 3D compatibility and Full HD experience. You will notice it has minor cons that are key and should be pointed out, the heating issue while on full brightness has really disappointed me. Other than that, everything else seems to be on the go.
If you are looking for a high-end gaming projector this model has been created for you. The full HD experience just makes you feel the experience in reality. All around you'll notice that the projector has all the required features for its price. It is wise to consider this projector option since it will bring out value for money.
Just make sure your relatives don't fall in love with it, trust me it can cause drama in your house.
The Viewsonic Pled W800 has actually been designed for portability. If you take a look at its size you will notice it is small and compactly designed. Tell me if you took a day off from work and went to the rural areas with your girl.
This projector has to be the most ideal projector, mostly in rural areas there are no TVs so carrying the ViewSonic W800 can be the best decision. It will for sure entertain you and your girl as long as you have it in your travel plans.
If you look at its features the ViewSonic W800 has no amazing features like the other projectors in the market. Nut as you take a look at its price you will see for sure money talks. It is cheaper than the other most projectors on the market you have to bear a few cons with you.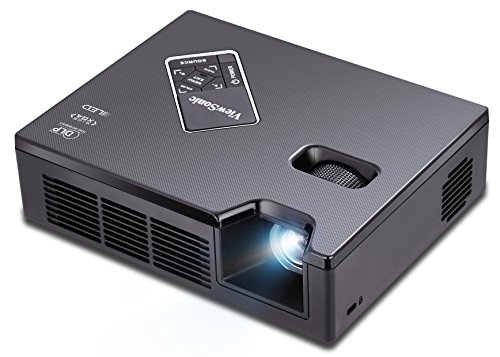 ViewSonic W800 Features:
Colour& Visual Tech:
This projector has a fairly good image even though it doesn't seem like doing so. The reason as to why it has a remarkable image is the advanced color technology it has inbuilt in it. Since it is nothing near a short throw projector it still manages to produce a crispy HD image output.
Design:
The ViewSonic W800 has a compact look by even just looking at it. You can't fail to notice that it has a very easy set up due to this compact design. I bet you can even give your youngest nephew a try and am sure he/she will be able to set up.
I know you now get it right, this acts as a pro since you can carry it wherever and setup within no time.
Lamp:
The ViewSonic W800 has LED lamps that produce vividly bright images. Its lamps life goes for about 30000 hours.
Speakers:
It has inbuilt 2 Watt (*2) speakers for you to ensure once you set it up you have no other stress going in search of external speakers. The inbuilt speaker produces a loud sound that is audible to anyone in the room.
Connectivity:
It has two USB ports which you can use for various uses like charging your grandpas phone and also connecting numerous peripheral devices. It doesn't get better, It has an inbuilt 3.5mm audio jack to allow you to connect external speakers or even plug in your headphones.
It also has an HDMI, RCA, and a VGA port too, meaning you can connect it to your blue ray player, computers and also laptops.
Contrast Ratio:
The ViewSonic W800 has a dynamic 120000:1 contrast ratios to give you a deeper black instead of unclear shades of grey.
Aspect Ratio:
It has an aspect ratio of 16:10 making it different from the worldwide accepted HD Aspect ratio. This makes it a little different from all the other projectors since most are 16:9. But for me 16:10 doesn't do.
Pros
Has crisp HD images
Easy connectivity to other devices
Has Compact design
2 Watt (*2) built in speakers
It has Long lamp life
Cons
It is not full HD (1080p )
Heats and its noisy when brightness is full
No Wi-Fi compatibility
Conclusion:

You may find the ViewSonic W800 projector with minor cons like the heating issue and also the loud noise the fan produces on its startup. Other than that your family or friends will surely enjoy the entertainment that comes in handy with it.

For me, the ViewSonic W800 projector seems to be ideal if you look at its price range. It can be taken out to camps and produce crispy images at night and more so it is portable. With its long lamp life seems to be very efficient when in use.

Due to its portability expect friends to borrow it around and am sure you won't be very comfortable with that. I'm sure the heating issue will disappoint you too but if you just want a projector that will serve its purpose and easy to carry around, The ViewSonic W800 projector is the best option without Wi-Fi compatibility

I'm sure it will spice up all the TV shows you like watching and also give you a crisp image output.
Tired of hanging your TV screen on the wall, The Epson VS240 SVGA is an economical projector with minimal features. It is ideal for just average image viewing. This projector doesn't have any specs but it is ideal for you who don't pay attention to detail.
The Epson VS240 SVGA 3LCD projector is definitely not a short throw projector. It is just a simple normal projector that is built to do easy tasks like view presentations and such. It has an accurate 3LCD, 3 chip technology for better brightness and also a wider color gamut. This feature makes it a competitive choice to other DLP Projector.
For you who don't want to go deep into your pockets to get a projector, this is for you. It is not that bad off as a projector but it fits its simple purpose of splashing low-resolution images.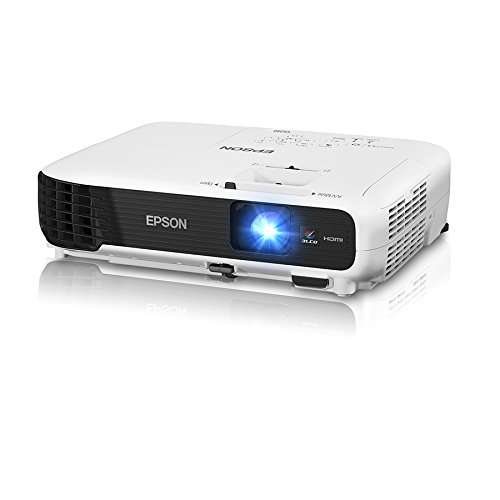 Features:
Resolution:
It has an SVGA resolution of 800*600 for projecting really simple outputs like presentations. I do not actually dig this resolution but maybe you might somehow.
3 Chip Technology:
This Technology bright more color to the image output making the image more rich in color and a wider color gamut. This is kind of a win to this projector.
Connectivity:
It luckily has HDMI support that is compatible with latest PCs in the market.
3000 Lumens:
This Lumens helps this projector maintain a good level of brightness and color too. Even though these 3000 Lumens is not enough it serves its purpose.
Contrast Ratio:
It has a contrast ratio of 15000:1 making it have a fairly rich color. You can notice that the color is not rich but it is acceptable.
Aspect Ratio:
It has an aspect ratio of 4:3 even though it is not the internationally accepted standards. I know the aspect ratio won't impress for sure.
Speakers:
Luckily it has mono speakers which serve the purpose of producing audio. For a small projector like this one, I did not think it had a speaker.
Pros
Has 3 chip Technology
Has 3000 Lumens
It has HDMI compatibility
Has inbuilt mono speakers
Conclusion:

The Epson VS240 SVGA has a remarkable feature like it has a speaker. This will enable you to have audio output without any external speaker connection. It also has 3 chip technology to enable it to have a rich color image output.
This feature enables you as the user have a rich image color. Even though this projector doesn't have any mind-blowing features like the 3D and 1080p resolution. It is not the best projector but already has the most basic functionality.
The iRULU BL20 Mini is a mini projector with impressive features. It has an inbuilt Native resolution of 800*600. The iRULU BL20 projector is a powerful projector putting in mind its price. On its price range, the iRULU BL20 is the winner.
With a resolution of 800*480, it is able to splash an 80" inch video output it is actually a biggie. For me, I'd take this projector. I know you want a projector to do small things like display presentations.
I know you don't want to go overboard while purchasing a projector to serve you at your home. The iRULU BL20 is the projector to buy. Maybe you already own a TV screen and you need a projector to display presentations in your home office.
You'll get impressed by the lamp life it has most of the projectors in this price range only have 5000hrs lamp life.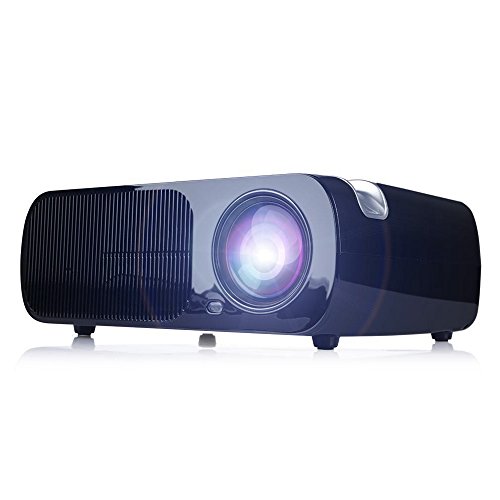 Features:
Resolution:
It has a native resolution of 800*480 it has poor image output. I know you will get disappointed with its resolution. It can project from 32"-200" inches though with a relative loss of quality in color and clarity
Speakers:
Just imagine it has internal 3Watt speakers, I sure didn't see it coming hahaha! This is a win for you as a user of this projector.
Connectivity:
It has 2 HDMI port and for God's sake, it is not 1080. How will you view your Full HD movies? I don't know too. It comes with two USB ports that enable it to charge your phones and also view content from the USB.
MHL Capability:
It has MHL compatibility meaning you can transfer files from your smartphones to your projector. This feature has really impressed me and I'm sure you will be too.
Pros
It has MHL compatibility
Has HDMI ports
It has an inbuilt speaker
Cons
Has a native resolution of 800*480
Does not have DLP Effect
Has a long throw distance
In a nutshell:

The iRULU BL20 is a projector that offers value for its worth. Though I did not expect much from it has a fair output. I know if you are not a detail fanatic you won't mind purchasing the iRULU BL20 projector.
It has cons that are inevitable like failure to have the DLP effect and 3D compatibility. For me, I cannot condone the iRULU BL20 projector. Other than the cons it also has pros like having HDMI ports and MHL compatibility. These two features are key to this projectors since they improve its connectivity.