Without a shadow of a doubt, Optoma GT1080 Darbee is one of the finest short throw projectors in the US market that delivers incredible video quality. Within one meter, it can splash a 100″ inch image with no stress, thus giving you enough space to make your seating arrangements. If you are into gaming, It has some exceptional gaming features and modes that can provide you mesmerizing gaming experience.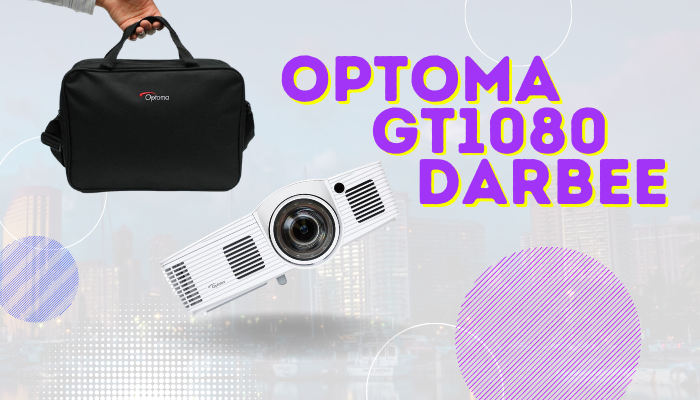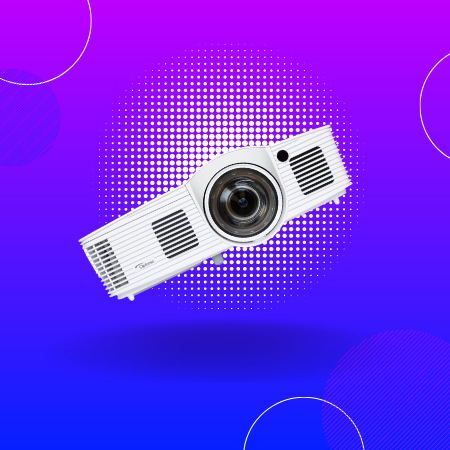 Features in a Nutshell
8.8 x 12.4 x 4" in size
Full HD 1080p
3000 lumens
16ms response time
28,000:1 contrast ratio
REC. 709 HDTV color accuracy.
Pros
Terrific full HD quality and detailing.
Realistic 3D output.
The gaming visuals are smooth with the fast response time.
It has a very short throw distance with a wide screen size.
Pros
The fan noise is quite irritating.
The remote control is too bright while using it at night.
Features Overview
Timeless Design
The ergonomic design with a white finish and trendy outlook give GT1080 Darbee a unique look that will blend with any room decor. Due to its compact size, it can fit even the smallest of your coffee tables.
Short Throw Lens
With an incredible figure of 0.49:1 short-throw ratio, it takes all the limelight as you will be to splash a 100inch image from just one meter away. The best part is that with short-throw projection, you also get a widescreen size range of 45-303inch that is sufficient enough to cater to your co-op gaming and movie sessions.
Full HD Resolution
Geared with Full HD (1080p) resolution, it reproduces a crisp and high-quality visual, which will make you think that you are watching a movie in the theater. Also, it gets a single 0.65inch DC3 DMD chip DLP projection system that makes sure you are always treated with clear full HD visuals and optimum detailing.
Image Enhancement Technology
To add to the remarkable visual quality, it also utilizes the DarbeeVision processing technology so that you can heave spectacular detailing, depth, and lighting in all your visuals. Basically, it uses a neuro-biologic algorithm to produce unparalleled detailing in shadow, skin tones, reflective surfaces, and texture.
Detailed Contrast
It has a massive contrast ratio of 28000:1, which means this projector has a vibrant dark color instead of having a shade of grey. To bring more depth, it also utilizes black dynamic technology so that you can view bright scenes with excellent clarity and dark scenes with shade detail and proper light.
Bright Lumens
GT1080 Darbee with high 3000 lumens figure, make sure that you are always treated with clear and bright videos despite the ambient light intensity in the room. However, the clarity and depth seem to come down if the ambient light increases by a large margin.
Beautiful Color Quality
This projector will treat you with a lifelike color output for all your movies and games, and the credit goes to its sRGB display profile. It has been designed to accurately reproduce the Rec.709 color gamut, thus allowing you to enjoy cinematic colors while you are watching your favorite movie.
Impressive Gaming Performance
All thanks to its 16ms response, you are going to get an immersive gaming experience with ultra-smooth visuals with zero motion blur or ghosting issue. Not only that, it even gets a 144Hz refresh rate, which transforms all the regular visual into cinematic frames; thus, it will make you play for hours without taking breaks.
Realistic 3D Output
Despite being a full HD projector, it delivers you 3D compatibility, thus fulfill your thirst to play games or watch movies in 3D and that too at large screen.
Appropriate Lamp Longevity
At this price range, it comes with a decent lamp life of 8000hours. It will seem like a shortcoming to you, but in reality, it can run for at least 2-3years, even if you use it daily.
Connectivity
In terms of connectivity, it won't disappoint you because you are going to find two HDMI, MHL, USB, and audio out. The exciting part is that you can even hook Google Chromecast, Amazon Firestick, and Apple TV for wireless streaming.
Final Thought In a nutshell, the Optoma GT1080 Darbee has an outstanding HD image output, which is perfect for home entertainment. Due to its incredible visual performance with short-throw capability has allowed this projector to be our be editor's choice for this list.
Overall this projector seems to be a good projector (Read about the Cheapest 4k Projectors) for day to day use. You can't fail to acknowledge that the 3D has no lag and performs very well in that mode.