Your favorite movie or series could be double the fun with a home projector. That goes for gaming as well. I am talking about the 4k resolution here. 4k is getting the standard resolution these days; you should not compromise on that either. Do you think that it won't e so budget-friendly? How about the best 4k projector under $2000? Yes, that confusion is taken care of as well.
I have shortlisted and reviewed, in detail, the 7 best 4k projectors you can get under $2000. The list includes those for gaming and non-gaming purposes as well. The features and quality you can get for under $2000 might surprise you. Along with that, there is a buying guide to aid you in your selection of the best projector for yourself.
Top 4k Projectors Under $2000
1. Optoma UHD30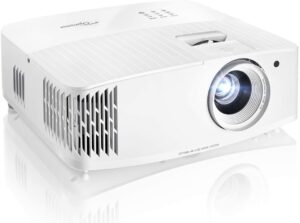 The Optoma UHD30 delivers a stellar cinematic experience with its 4K resolution, 8.3 million pixels, and the bright 3400 lumens, along with high contrast ratio. The projector has an 8 segment color wheel that gives a lively cinematic display. You are in for an incredibly immersive visual experience with the HDR10 and HLG compatibility Optoma UHD30 provides.
With this tech, you will get an outstanding contrast ratio, bright whites, and deep shades of black, so you don't miss any detail on the projected image. Gamers will also find it the best 4k projector they can get for under $2000. The gaming mode gives lag-free input with a 16 ms instant response time and 240 Hz ultra-fast refresh rate for smooth gameplay.
The 15000 hours long lamp life will allow you the longest undisturbed watch time, an average of two 2 2-hour movies on a daily basis for 10+ years. Moreover, the projector is equipped with flexible connectivity options, which include gaming consoles, VGA, and dual HDMI inputs for devices like Amazon Fire TV Stick 4k, Google Chromecast Ultra, and Apple TV 4k. You will find all the necessary image adjustment settings, such as vertical keystone correction and zoom.
Pros
Affordable
Higher brightness
Vertical keystone and zoom option
Gaming mode with lag-free input
High contrast ratio
Optoma UHD30 is packed with outstanding features. The great brightness enables it to be used in radiant rooms easily. The throw distance is longer, so you can't use it in a small room since the distance needs to be 10 to 12 feet for a 100-inch screen. The high contrast ratio will give you bright and realistic images hence an amazing visual experience.
2. BenQ HT3550i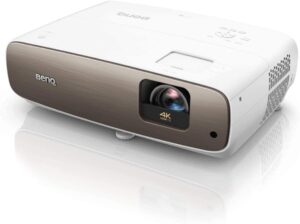 BenQ HT3550i generates bright, high-quality 4k images and will give you a magical movie experience with 8.3 million pixels and high contrast ratio. It has a six-segment color wheel with HDR pro tone mapping, offering radiant, detailed, and sharp cinematic quality images. The color tech of the model achieves 93% DCI-P3 color space, the same as utilized in movies.
The image is hyper-realistic and stunning with the auto color and auto-tone mapping. Its smartest feature is the built-in android interface that is linked to the Google Play store. That means you have access to thousands of apps, including games, music apps, or movies. It also has the Amazon Alexa and Google voice control feature. The manual zoom and focus adjustments give an ideally clear and crisp image, and auto vertical keystone gives a professionally squared image.
The BenQ HT3550i supports HDR10 and HLG, thus an incredible view whether it's Blu-ray or streaming. Get an excellent home cinema experience with the two cinema modes, D.CenimaMode for 4k movie night and Cinema Mode, for daytime visual entertainment. You can enhance the movie view further with the 4k pixel enhancer, color enhancer, skin tone adjustment, and motion enhancer.
Pros
True 4k resolution-clear and sharp image
Built-in android interface
95% DCI-P3 color space
Easy and quick installation
Incredible cinematic colors
Pros
Fan noise can be too loud
Lamp brightness is not too high, relatively
The BenQ HT3550i is undeniably one of the best 4k projectors under $2000; you are getting an outstanding home cinema at such an affordable price. It delivers clear, detailed, crisp, and sharp images has 95 % DCI-P3 color space giving you high quality and realistic cinematic projection. Plus, the unit is exceptionally easy to install, which is definitely another great win.
3. Optoma UHD50X

UHD50X is another model by Optoma which is versatile and high quality and one of the best projectors you can get under $2000. You can enjoy its 4k resolution alk lit even in a bright, vibrant room with the powerful lamp brightness of 3400 lumens. This projector is also a great pick for gamers and delivers the same exceptional performance in the enhanced gaming mode.
It provides lag-free input with only 16 ms response time in the gaming mode and 25 ms if you select the 4k resolution. Hence, no disruptions while gaming, like motion blur or frame, tearing, and an unparalleled, smooth, and lag-free gaming experience. The projector has a high contrast ratio with the HDR 10 and HLG technologies.
You get to get to enjoy the crisp and detailed image with the whites being more bright and the blacks having depth and richness. The 8 segment color wheel makes the images vivid and lively with its increased color ratio. The projection is incredibly easy to adjust with the lens shift and keystone correction.
Pros
True 4k resolution with HDR10 and HLG technologies
Lag-free gaming input
Lens shift and keystone correction
Excellent contrast ratio and colors
High brightness-3400 lumen
Pros
No direct streaming
Long-throw distance
The UHD50X by Optoma is a great pick for your home theatre. Whereas it does have a relatively longer throw distance, so you need to use it in a larger room, the image quality is outstanding. The high contrast ratio and color contrasts deliver a stunning, cinematic quality picture and, to you, an unforgettable visual experience. Definitely one of the best you can get at such an affordable price.
4. ViewSonic X10-4KE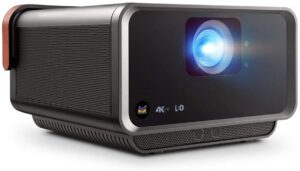 This compact and smart-looking projector by ViewSonic is packed with all the necessary and smart features that will give you a fabulous theater experience at home. The X10-4KE offers smart wireless compatibility options, with Wi-fi for live streaming from Youtube, Amazon Alexa, and Google Assistant voice control.
Other than that, it offers extensive connective for your devices, including 2 HDMI and USB ports each, one USB type c port, and one micro SD port, so you can connect most of your devices. The color space utilized is Rec. 709 that gives vibrant and realistic colors for a lively experience. The ViewSonic X10-4KE consumes surprisingly less power than other projectors that come at a similar price point.
Moreover, this model comes with lamp-free projection; it rather utilizes solid-state LED technology as a source that has a lifespan of 30,000 hours. The built-in speakers are powerful enough to produce a loud and deep sound that fills the room. These Harman Kardon speakers can be wirelessly controlled through Bluetooth devices, another one of this unit's appealing smart features.
Pros
Compact and portable design
Wifi connectivity
Powerful speakers
Alexa and Google Assistant voice control
Less power consuming LED source
Pros
HDR tech is not the latest
This smart projector is inarguably one of the best projectors that come under $2000, with plenty of smart features rendering connectivity and assessing entertainment sources easier and lessening the power consumption. Even appearance-wise, it is compact and portable; plus, it is a short throw, so you can set it up in smaller rooms as well.
5. Epson Home Cinema 3800 Pro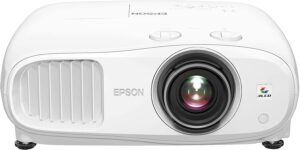 This projector, Epson Home Cinema 3800 pro, stands out from all the others in this list because of the 4k enhancement technology it makes use of. This 4k enhancement tech is meant to elevate the cinematic experience in terms of resolution, color, and image processing.
While the native resolution of the projector is HD, pixel-shifting shifts the pixels to double the screen resolution and projects a UHD image, for the vivid, true to life, and powerful images, this projector uses 3LCD chip technology which gives accurate colors and a stunning contrast ratio, eliminating any chance of image color issues regarding color brightness and the rainbow effect that color wheels can cause.
The HDR has a 10-bit color range that is about 1 billion colors per pixel, hence stunning colors and image quality. Other than that, it has a 12 bit digital to video processing and 60 per second frame rate for smooth gameplay, with the input lag going as low as 16.7 ms; Epson Home Cinema 3800 pro proves itself a great pick for gaming as well.
Pros
Enhanced 4k technology
3LCD chip technology prevents color issues
High frame rate
Low display lag
Pros
Fans can get louder, stifling the sound of the speaker.
This modern digital projector utilizes high-end technology to enhance the visual experience for you. With the enhanced 4k tech, 3LCD chip, and 12-bit digital processing, it improves the image and video quality and makes a great choice for gaming as well. The brightness, though, is 3000 lumens, making it suitable for a room with moderate brightness levels not too bright.
6. BenQ TK850i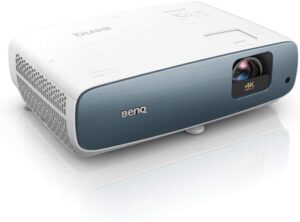 The TK850i, another model, manufactured by BenQ, delivers excellent picture quality with clarity and crispness due to the 8.3 million pixels. It is another great pick if you want your projector to be smart; the Android TV interface allows live streaming and access to different sources of entertainment.
It also allows screen mirroring through Chromecast or Airplay and Google assistant and Alexa voice searches. As for the picture quality, BenQ TK850i is ideal for your home theater; with the improved HDR Tone Mapping, the colors will be vibrant, detailed, and the image, expressive and lively.
Moreover, the Dynamic Iris Technology is integrated into the projector, which controls the brightness of the projected image, reduces that if needed, and keeps the contrast prevalent to ensure the clear and promising quality of the projection. The adjustment of the unit is easy in nearly all spaces with the vertical keystone correction and 10% vertical lens shift.
Pros
Smart features like the Android TV interface
Allows screen mirroring via Chromecast and Airplay
Alexa and Google Assistant voice command
High contrast
Pros
Not so effective for gaming
Although not a great choice for gaming, BenQ TK850i remains one of the best projectors under $2000 with all the bundle of smart features it offers. From easy access, live streaming, voice commands to incredible colors and contrasts, it also allows easy setup at any place almost. Hence, worth every penny.
7. Optoma UHD52ALV

This smart tech projector, UHD52ALV by Optoma, at a price this affordable, is a must-add to this list. It is an outstanding choice if you are looking for a smart digital projector that provides you all the necessary features that make functioning easier and convenient. It offers wider voice command options integrated than any other projector, including IFTTT, Alexa, and Google Assistant.
The 35000-lumen brightness makes the picture quality unaffected in well-lit rooms as well. The RGBWRGBW color wheel prevents chances of color issues like RBE (The Rainbow Effect), and the HDR10 and HLG technologies keep the contrast higher, and the colors lively and accurate for a stunning visual and image quality.
There is more connection and access flexibility with the HDMI USB and VGA ports available. Installation and adjustment of the projection are easier with the 15% vertical lens shift and 1.3xzoom; the throw distance is shorter, so small rooms are not a problem. Now let's have a look at the pros and cons.
Pros
Extensive voice command options
High contrast ratio, deep blacks, and bright whites
Vivid and accurate colors
High brightness for brighter areas
UHD52ALV is an outstanding take on Optoma's part on a smart digital projector, designed keeping in mind the consumers' rising need and demand for voice commands. This model offers just that, including voice searches like Amazon Alexa, Google Assistant, and IFTTT, the use is extremely easy and convenient. The contrast and color-rich is deep and stunning, all this in an extremely reasonable price range.
Buying Guide to Buy the Best 4K Projector Under $2000
Buying tech products, such as this one, can admittedly get pretty difficult, and deciding to buy them without having any knowledge about the basics beforehand is stupid. You cannot access and judge such things just by their appearances; rather, countless technicalities need to be considered.
The above list provides 7 of the best projectors that are under $2000. However, if you can't make your selection from those and would rather go purchase one by yourself, in that case, you need to know the basics as to what features you should look for in a projector for a promising purchase. 4k projectors are normally costly, so finding one budget-friendly is not going to be easy. This buying guide will include the basics, which will lead you through the selection process.
Brightness
The brightness or lumens of the projector is the brightness of the projector's beam. No matter what high-quality unit you buy, if you bring it home and set it up in your well-lit living room and discover that the dull light beam can even compete with the brightness of the area, your purchase will be quite a waste. That is if you don't check the lumens of the projector.
Natural daylight can spoil your whole visual experience, and for most spaces, you need to be mindful of that. Projectors with more lumens minimize that risk to a great extent; they enable the projector to be used in a bright area. You might, ideally, need to keep the windows shut and curtains down, but no extra effort.
Lumens go high as 6000, but normally that's not needed. For normally bright rooms, lumens from 3000 to 4000 are perfectly enough. Under $2000, you can easily get projectors with lumens ranging from 2000 to over 3000, which is a great deal. For darker spaces, you can get projectors with low lumens, from 1000 to 1500, and keeping the image quality intact.
Image Quality
The image quality of the projection is another extremely crucial factor to be considered while buying a projector; you should never compromise on that. Image quality, in turn, is built by the features like contrast ratio, color accuracy, and detail and clarity of the image. A high contrast ratio means the contrast between the whites and blacks on your screen will be striking, whites will be brighter, and blacks will be richer and deeper.
This will give you a stunning and immersive visual, colors will stand out more, and eye fatigue will be reduced. The color accuracy ensures that the colors are vivid and the image is close to real. So make sure the projector has all these qualities, high contrast, color accuracy, excellent clarity, and sharpness with vivid and lively colors. The models in this list have all these, along with the 4k resolution, so you know that it's possible under $2000.
Connectivity
Expensive connectivity is important in a projector with a single person owning multiple gadgets; you never know which device you might need to connect with your projector. In fact, you might already have decided which device you will connect with your projector. Most projectors do come with HDMI and VGA ports, but you need to consider your requirement; these might not be enough for you. Extensive connectivity can come under this price range.
Another feature that is convenient and also rising among the users is the voice command feature. With voice searches so common and prevalent, your projector needs to have that too. Amazon Alexa and Google Assistant voice commands do come under $2000, which will make your user experience extremely easy and enjoyable.
Installation
Installing a projector is not a child's play; it needs a separate guide and host of considerations on its own. Aligning and adjusting the image properly on the screen is extremely important, so for that, you need to look for features that make the task easier. Those include vertical keystone correction, throw distance, and zoom and lens shift.
Vertical keystone correction is important, especially if you are to mount your projector on the ceiling; it will fix the upside vertical distortion of the projection. If the room is smaller, you need a projector with a short-throw distance since your room won't have the space to set up a long throw projector.
FAQs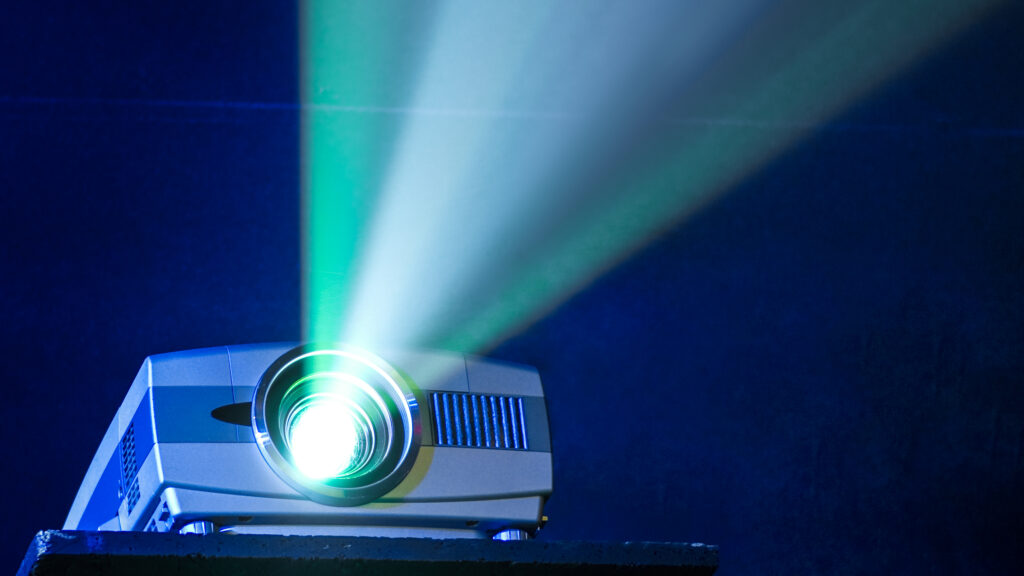 Are 4K projectors as good as 4K TV?
Projectors are designed for a home theatre experience and give a more immersive and enjoyable 4k resolution experience on the big screen. However, those depend largely on the light of the space. TVs with more than 60 inches can deliver lively and vivid displays and an amazing experience as well.
Are 4K projectors worth it?
If you wish to have a truly enjoyable and cinematic home theatre experience at home, then investing in a 4k projector is totally worth it. Even if you think you are just kind of better off, you might not know what you are missing.
Is a projector better than a TV for the eyes?
Yes! Projectors are better for the eyes than TV. That's because the projected image is much bigger, so there is much less strain on the eyes. Also, TVs emit light which is harmful to the eyes, while projectors reflect it.
Conclusion
So here is the list of the 7 best projectors that you can get at a budget-friendly rate under $2000. It might be surprising for you the brilliant models you can get at this price point. This list is made trying to keep different preferences in mind, including gaming and non-gaming purposes as well. The top 3 picks are:
Optoma UHD30 for its lag-free gaming input, high brightness, and adjustment options. BenQ HT3550i because of its smart features and amazing cinematic colors. Optoma UHD50X for its excellent contrast ratio and colors, and high brightness.
Hopefully, you will find the right projector for yourself. These models differ in some of the attributes, but all of these deliver nothing short of excellent quality, that is for sure. Besides, there is a comprehensive buying guide included after the list to guide you through the selection process in case you decide to go buy a projector for yourself.
Take a look at these projectors from Amazon also: