We often underestimate a projector by its size, but Optoma ML750ST will change your perception. It is a meticulously engineered product that gives you the best of both worlds that is super short throw range and a highly portable body. It is a complete package that showcases all the necessary features that you need to have a mesmerizing visual experience.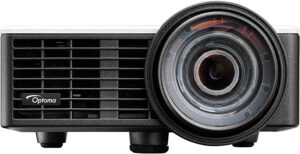 Features in a Nutshell
1280 X 800 native resolution.
0.81:1 throw ratio.
16-135inch screen size range.
700 ANSI lumens.
Low 16ms input lag.
Digital zoom: Yes.
Pros
Incredible picture quality.
Super low projection distance.
Smooth visuals and low-blur in gaming.
Extremely easy to carry.
Excellent lamp warranty.
Pros
It is slightly expensive.
Features Overview
Exceptional Throw Distance
Despite being a tiny projector, it offers a throw distance range of 1.41-11.29inch, which is a staggering figure. So you can utilize it in your bedroom or while traveling because it can achieve a 50inch screen from around 4inch distance.
Ideal Projection Screen Size
Neither too low nor too broad, the 16-135inch screen size range is highly appropriate for a portable projector like ML750ST. It gives you the flexibility to set it up anywhere you without about the number of people who will view the screen.
Palm-Sized Portable Body
It is a cutie device. It has a palm-sized body with a weight under one pound, thus allowing you to carry in a bag, side-bag, or briefcase. It is shipped with a rubber lens cover and a shoulder bag for easy portability.
Decent Resolution Quality
Although you won't be able to experience a spectacular visual quality, but its 1280 X 800 native resolution brings out a realistic video quality with intrinsic detailing. Don't be appalled by its WXGA resolution because it can flawlessly play full HD contents with the exact color fidelity and clarity. To add to the terrific visual performance of the projector, it also bags 0.45inch DMD chip DLP technology that brings out top-notch clarity in every resolution.
Appropriate Brightness
Whether it low-lit or utterly dark room, its 700 ANSI lumens will always maintain an optimum amount of vividness and clarity on the screen.
High Contrast
With this projector, you won't get to view gray tones in dark scenes or pale white in bright scenes, and the credit goes to its high 20000:1 contrast ratio.
Fluidic Color Output
This projector holds the capability to reproduce the Rec.709 color gamut meaning it can bring cinematic color in all the visuals so you can expect a terrific image quality. None of the colors in movies or the game's environment gets faded; instead, it replicates the exact color tone from the content.
Satisfying Gaming Performance
It performs like a pro when it comes to gaming, and whether it competitive or single-player games, you will always find buttery smooth visuals without lag. It gets lightning response time with low latency at 17ms that not only gives you motion-blur free gaming but also delivers vivid color and high contrast.
3D Compatibility
You can quench your thirst for 3D movies or gaming with this projector as it holds the prowess to play 3D visuals at SVGA and XGA resolution in 120Hz.
Standard Port Facilities
Well, don't underestimate the availability of ports based on their tiny size. It flaunts an array of ports that includes HDMI, MHL, VGA, audio-out, microSD, and USB Type A. If you can buy a WUSB separately, then you can opt for a flawless screen mirroring in your large screen.
Immense Lamp Life
Well, you will be surprised to see its vast LED lamp longevity that amounts to 20000hours. It ensures you won't have to opt for lamp replacement for at least eight years and that too with daily usage for entertainment or gaming purposes.
Audio Output
The audio output it puts out with a 1.5-watt speaker is only suitable when you are watching a movie or playing games alone.
Good Warranty Coverage
It packs the standard one year labor and parts warranty coverage so you won't be charged with any repairing cost for any damage. Unlike others, it gets you a one-year or 20000hour LED warranty, which is a great advantage.
Final Thought
To be honest, we really liked this projector for its superb visual quality, gaming performance, and ability to project a large image in a tight space. Although it is a little expensive, but its ultra-compact design and an extensive list of features make it totally worth the price.
Check out this video for more info about this model: