InFocus IN119HDx is a hidden gem in the projector market that may not have gained immense popularity, but the performance it offers can outplay many high-end projectors. It is a full HD projector that is filled with many fabulous features, and those features produce a superior visual quality that can make you sit for hours.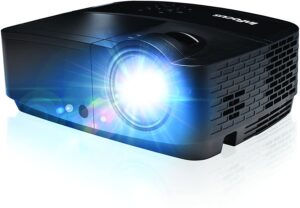 Features in a Nutshell
1.15:1 short-throw ratio.
Full HD native resolution.
BrilliantColor technology.
3200 ANSI lumens.
Full HD 3D support.
10000hour of lamp life.
Pros
Brilliant picture quality.
Accurate color reproduction and optimum brightness.
High-end TV-like 3D output.
Easy to store and carry.
Excellent projection distance.
Pros
Complicated menu.
It often faces a rainbow effect
Features Overview
Short Projection Distance
Space is a real issue when it comes to setting up a projector, and it applies to big houses too. But IN119HDx solves this issue with its 1.15-1.5:1 throw ratio, meaning you can watch a movie on a large screen by placing the projector 1m away.
Wide Image Size Options
Even though it might take a little amount of space for setting up but for catering screen size requirement, it doesn't compromise. It can start from a small 1.2m screen size and reach up to a massive screen size of 10m(299inch).
Crisp Full HD Resolution
According to our experts, this projector offers one of the most excellent full HD qualities on the screen with colossal detailing and clarity. The lifelike picture quality it offers with the assistance of HD spacial technology will leave you mesmerized.
Optimum Brightness
Brightness level will never be your concern because its 3200 lumens will maintain optimum vividness in all light conditions. It will not only make the visual natural but will prevent them from losing texture in bright scenes.
Rich Contrast
It is all about delivering the top-notch image quality, and that is why it utilizes a 15000:1 contrast ratio that brings out all sharp visuals with deep black and bright white.
Beautiful Colors
You are going to have a cinematic experience whenever you play a full HD movie, and the BrilliantColor technology is partly responsible. The BrilliantColor technology with a six-segment color wheel and 1.07billion color reproduction pop out all the natural color in the film without making it over-saturated.
High-End TV 3D Experience
All thanks to its full HD 3D 144Hz compatibility, once you start watching 3D movies in this projector you will almost feel that you are in the middle of the scene. Importantly, it can play 3D videos from different sources like Blu-Ray, PC, PS4, 3D broadcast, etc.
Sufficient Lamp Longevity
It bags the conventional 203-watt lamp that holds the prowess to last for 10000hours when you run them on low power. Moreover, it doesn't require any filter replacement, so it automatically lowers down the cost of ownership.
Satisfactory Connectivity
A good projector should have the option of multi-connectivity. With this projector, your problem of multi-connection is solved. It offers two VGA ports, one HDMI 1.4, two S-Video, composite video, USB Type B, and 3.5mm stereo audio.
Easy To Move and Install
To our surprise, it flaunts a compact size that may not be suitable for carrying in a backpack, but you can easily carry them from room to room. It only weighs around 5.4lbs, so it won't tire your hand while moving them.
Image Correction Options
Well, you won't get a plethora of image correction options with this projector, but whatever it provides is sufficient. 40-degree keystone correction, manual focus, and zoom are the only options you will have for adjustments.
Huge Warranty
InFocus offers two years of warranty coverage with this projector, and it covers most of the parts. Not only that, you will get a six-month lamp warranty and three months accessories warranty with this model.
Average Audio
The compact body also houses a 2-watt mono speaker which works well in a closed environment or bedroom, especially when you are alone.
Final Thought InFocus IN119HDx is an all-rounder projector that provides you all kinds of features, including impressive throw distance. It performs well when it comes to visual quality, so you can easily have a thrilling family movie session.
Watch the following video for a quick overview of InFocus projector: