Star projectors offer you a fun and easy way to transform your kid's room into home planetariums. Kids love to watch the night sky; counting the stars, comparing and observing them, and now there is a fun way to bring that experience right to your kid's room!
We will be taking a look at some of the best star projectors for kids, so you can decide for yourself what's best for your child.
Top Picks for 2023
1. Sega Toys Homestar Flux Home Planetarium Star Projector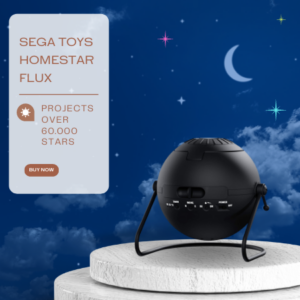 Sega Homestar Flux is probably the most advanced star projector available on the market, it delivers unparalleled realism compared to the other models that you will find later in the article. It is highly customizable, easy to use, it projects high quality, sharp images, and that's why this had to be our favorite pick. Sega outdid themselves this time, and they made some big upgrades compared to the older Homestar Classic.
It projects over 60.000 stars per disk, which puts this projector at the top, as far as star count is concerned. Not only does it project a lot of stars, but they are all super crisp and beautiful. You can fine-tune the projection using the focus wheel, which will allow you to achieve the sharpest projection possible.
Homestar utilizes interchangeable disks, with two disks included in the box and over 30 additional optical star disks. We haven't tried additional disks, they are reportedly great; we did try the included northern hemisphere disk, and it looked surreal.
Another amazing feature is the "shooting star" feature, which can be toggled on or off. When toggled on, it will project a falling star onto the night sky at random intervals. The effect is realistic, definitely the most convincing one we've seen so far, and it adds an extra layer of realism to this already great star projector.
With the help of an onboard motor, you can also control the direction in which the projection will go, the sky will rotate either towards North or towards the South, depending on your choice.
There is barely any noise coming from the motor, so you don't have to worry about using this projector at night.
It has a really large projection area; it can be used even in bigger rooms with high ceilings.
Pros
Gorgeous and sharp projections
Realistic
Huge projection area
Projects over 60.000 stars
Interchangeable disk system
Falling star feature
Rotates
2. Yikubee Colorful Aurora Projector – Best Projection Quality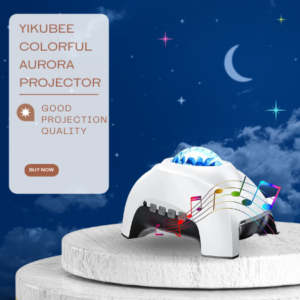 Yikubee Aurora Projector comes packed with a plethora of features that will amaze your kid. It projects thousands of stars across the room with a push of a button. Not only does it project the night sky, but it also projects different nebulas and auroras.
Another great addition is the Bluetooth speaker, which not only lets you play your kid's favorite jams, but it comes pre-loaded with different sound effects that are designed to help your kid fall asleep (birds, waves, rain, calm stream). On top of that, there are eight different white noise modes; white noise is a soothing sound that neutralizes and offsets other unwanted sounds.
One of the most unique features of this product is the atmosphere maker. It is a voice-activated feature that detects sounds and voices in the room, and it will makes the stars and nebulas "dance" in the rhythm of it. It makes for some cool effects, you can make the stars dance in the rhythm. For example, the stars can dance to your kid's favorite music or even a cartoon.
It offers five different levels of brightness, it has five speeds, and it can project 14 different colors. There is also a timer mode, which will turn off the unit after 1/2/4 hours. Timer also has an "auto-off" mode. All of the controls and customizations are done with the included remote controller.
Pros
Good projection quality
Plenty of extra features
Customizable
Sleek modern design
Great quality speaker
Cons
Available in only one color (white)
3. National Geographic Astro Planetarium Multimedia – Best Realistic Projection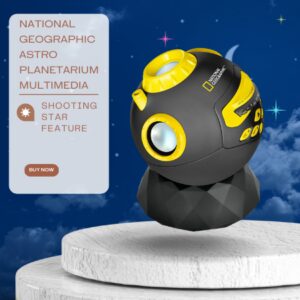 National Geographic Astro Planetarium Multimedia is one of the top-rated products on the market. This portable star projector is one of our favorite picks because it is more than a toy, it offers an accurate and realistic projection of the night sky.
It comes with two interchangeable disks. The first disk is used to project more than 8000 stars, and the second one is an overlay of a constellation map, with detailed diagrams. You can use the disks separately or simultaneously. Near the lens, there is a focusing wheel, which will help you get a beautiful and crisp projection.
All of the features are accessed by buttons on the projector body, and our favorite one is the date and time wheel. It allows you to set the star image to an exact date and time of your choosing.
There is also a "shooting star" feature, which will project a streak of light at random intervals, so your night sky will be even more realistic with random falling stars. Intervals at which the shooting star appears depending on the rotation speed of the projector, which can be controlled by the arrow keys.
This projector is equipped with two speakers, with high sound quality. There is an onboard FM radio, which picks up most nearby stations. You also have the option of an audio input jack, you can connect your phone or any other device and play any music you want.
On the opposite side of the main control set, there are also controls for FM radio and speaker volume. This star projector can be powered either by the included AAA batteries or by a 5V power adapter (not included in the box).
Pros
Accurate and realistic projections
Interchangeable disks
Supports AAA batteries (included in the box)
Shooting star feature
Good quality speakers
Cons
No power adapter included
4. BlissLights Sky Lite 2.0 – Best Dual-lens Projector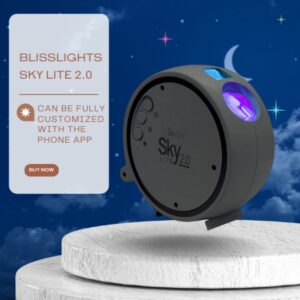 BlissLights is one of the most reputable manufacturers, as far as star projectors are concerned. This is their flagship projector, and it's one of the smartest ones we've reviewed. It has a dual-lens system. One lens is projecting the stars, while the other one is projecting the nebula, which makes for a layered, realistic night sky effect.
It projects the full RGB spectrum of colors, which means it can display more than 16 million different colors. Thanks to the patented holographic technology, nebulas look lifelike and out of this world. There are three buttons on the unit itself; a power switch, a brightness toggle, and there is also a button that will cycle through the stars and nebulas.
Unlike most other star projectors, this one is smart, and it can be controlled and customized with the BlissLights phone app, available both for Android and iOS.
With their phone app, you can create unique effects, or use some of the presets. With the playlist feature, you can cycle through effects in any order. It has a timer feature that will turn off the unit after 6 hours, which might be too long. Stars and nebulas are not static, even though this projector has no motor, there is still movement in the night sky. Rotating motion can be toggled on or off, depending on your preferences.
Pros
Smart
Full RGB projection
Dual-lens system
Can be fully customized with the phone app
Moving sky
Cons
Timer only has a six-hour mode
5. Omegon Star Theater Pro Planetarium Home Projector – Best LED Projector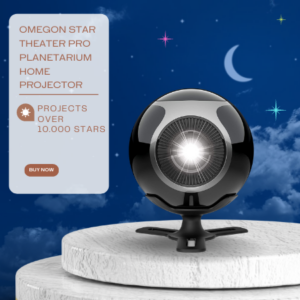 Omegon is a company well known for high-end telescopes, and now they are promising to bring a realistic planetarium to your room with their Star Theater Pro Planetarium.
It's one of the top picks for those who are looking to get a realistic night sky experience without spending too much money.
It projects over 10.000 stars, and the quality is exceptional, although you will need to adjust the focus ring to get that perfect sharp projection.
There is an interchangeable disk system, and in the box, you can find the two included disks; one will cast the Starry Sky, and the other one shows the Moon, the Sun, and the Earth. We loved both disks; we were amazed by how realistic the Moon, Sun, and Earth projection looked. Omegon has a variety of discs that you can get, and it's worth noting that this model can also use the Uncle Milton brand of discs.
This model uses an LED bulb, which is super bright and powerful enough to cover a large area. It works great in big rooms. It's powered via the USB port, which can be convenient, as you can use a power bank to power this device wherever you go. The timer feature allows you to turn the projector off after 30, 60, or 120 minutes, you don't have to worry about leaving it on accidentally.
Pros
Affordable
Projects over 10.000 stars
Interchangeable disk system
Low power consumption
6. ROVE Aurora Sky Galaxy Projector – Best Projector with Music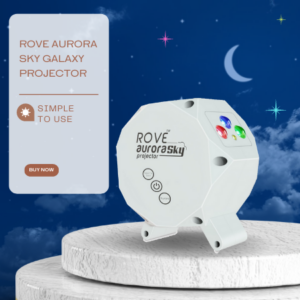 If you are looking for an affordable, well-built, and futuristic-looking projector, ROVE Aurora Sky can be a perfect choice. Even though at first glance it looks like a simple plug-and-play device, it has a lot of additional features.
It has three different light bulbs, each projecting a different color from the RGB spectrum, which delivers a unique look that looks much more realistic than a standard single bulb projection. It also has a laser that draws out the stars, which guarantees a sharp and great-looking night sky.
It offers a wide selection of modes, which you can mix and create some unique-looking auroras. Moreover, there are built-in Bluetooth speakers. Pair them with any device and start playing your favorite music. Like most good star projectors, it has a timer function.
Our favorite feature was the voice mode, which makes the stars and auroras move in the rhythm of the music. You can adjust the brightness, aurora mode, fade off, timer, and much more using the included remote control.
Pros
Affordable
Futuristic design
Simple to use
7. Night Light Star Projector Twilight Turtle Classic – Best for Young Kids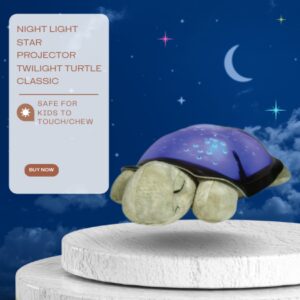 This is the most unique-looking star projector we've reviewed. It looks inconspicuous, like a regular turtle toy, but at a press of a button, it will project a bunch of beautiful stars all over the room. It's one of the simplest star projectors we've seen so far, and this is likely the best choice if you want something simple for your baby or young child.
The projector will light up a dark room pretty well, but don't expect too much power from it, as it's designed for young kids and babies.
It will mix blue, green, and amber to create some pretty nice-looking visuals.
It automatically turns off after 45 minutes, which is just enough time for your kid to fall asleep. Kids love to play with this toy, which is why it's made with non-toxic materials and plastics. It is powered by three AAA batteries, and the battery cover uses screws, which prevents little kids and babies from opening it.
Pros
Perfect for small kids/babies
Simple
Safe for kids to touch/chew
Made from non-toxic materials
Turns off after 45 minutes
Cons
Stars are visible only in a dark room
8. KMM Galaxy Star Projector – Best for Customization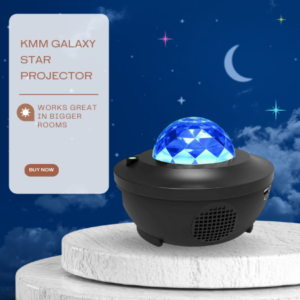 This galaxy star projector is another great addition to your kid's room. While many products on the market project only a single color, Galaxy Star Projector can contain up to ten different colors, creating a colorful and dynamic experience. You can mix the colors however you want to create your customized and unique night sky.
There are 44 pre-programmed lighting effects, and using the included remote control you can adjust the rotation speed, star brightness, and you can change colors.
KMM Galaxy Star Projector comes equipped with a Bluetooth speaker, just pair it with your phone, laptop, or tablet and play your favorite music. It also offers USB support. Another great feature is the "sound-activated flicker", which will make the stars dance to the beat of your music.
When it comes to the exposure range, it can cover up to 1400 square feet of space, which makes this star projector a great choice for bigger rooms. It has buttons, for controlling the music, most of the features and customizations are done with the included remote control. This star projector uses a LED bulb, with a lower power consumption than a traditional projector bulb.
Pros
Simple to use
Low power consumption
Works great in bigger rooms
9. BlissLights Starport USB Laser Star Projector – Best Budget Option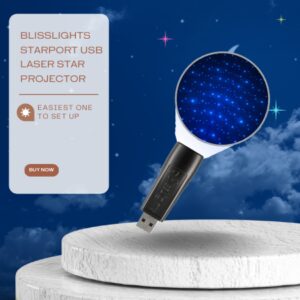 Another great product from BlissLights, the Starport USB Laser Star Projector is a great choice if you are looking for something basic and simple. It projects only a single color, but there are three different models to choose from, so you can pick between green, red, and blue laser colors.
This projector is versatile and portable, it can be used with any device that has a USB port.
It displays thousands of stars, and considering its small form factor and simplicity, we have to say that quality is pretty good. The spread is great, and you can cover an entire room with this simple plug-and-play star projector.
It comes with a flexible USB extender, which is useful when the USB port is in hard-to-reach places.
Pros
Simple
Plug and play
Easiest one to set up
Good quality
Cons
Projects only a single color
Buyers Guide
When choosing the best star projector for kids, there are different factors to consider depending on your kid's age. Younger kids and babies will prefer something more simple and colorful, while the older kids will be more impressed by high-quality projectors that can show realistic-looking stars, nebulas, planets, and galaxies.
Materials
It's always important to consider materials when choosing the best star projector for your child. They will be touching them, moving them around, and even chewing on them if they are young. Make sure the product you are buying is made from non-toxic plastic such as ABS. Most projectors use a combination of glass and ABS, which are considered safe, but always double-check to be sure.
Realistic vs non-realistic
All projectors can be divided into two categories: realistic or non-realistic. Realistic projectors are more suited for older kids, as they will quickly get bored of endless stars and auroras. Higher-end models usually display real night skies, planets, and star constellations; they can be perfect for sparking your child's interest in astronomy, and they can be a perfect space learning aid.
Battery support
Some star projectors come with battery support, which makes them super portable. All models can be powered by a power adapter or USB cable, but it's always more convenient to use the battery. Most projectors use less than 10W, so they can be used for dozens of hours before needing a recharge.
Noise level
Many star projectors have an integrated motor that will move the night sky around, which makes for a great effect, but the motor will always have a certain amount of noise. Those motors are usually small, quiet, and barely noticeable, but keep it in mind if you plan to place the star projector near a sleeping area.
Number of features
Star projectors are simple devices, but since there are a lot of manufactures on the market, they all try to outdo each other, so you will notice that many of them have lots of features, such as music players, or even an FM radio. It's always nice to have extra features, but when choosing the perfect star projector, always consider its main purpose, and choose accordingly.
FAQ
Can you sleep with the star projector turned on?
Yes, you can. Star projectors use low-wattage bulbs, which means they won't heat up even after hours of usage. Some models even have an auto-off feature, which will power off the projector after some time.
Are star projectors worth it?
They turn rooms into home planetariums, so you can be sure that they will deliver a completely new and unique experience to your home. Most star projectors are fairly priced, and since they can completely transform a room into a planetarium, it's safe to say they are worth every penny. It's one of the best additions to your kid's room you can get.
Do star projectors make noise?
Many star projectors come equipped with a motor that rotates the night sky. Those motors do produce some noise, so it's always a good idea to research the model and choose the less noisy one.
Are laser projectors safe?
Laser projectors are safe for short exposures, but they should be aimed away from the eyes. They should be used away from babies and young children, as they may be inclined to put them close to their eyes. If you are worried about the safety of laser projectors, you should consider getting an LED projector.
Can star projectors help babies sleep?
Yes, many users use star projectors to relax their babies, and it reportedly helps them fall asleep. Babies love to observe shiny and colorful things, so it makes sense that it helps them to sleep. Some models come equipped with white noise mode. Not only does white noise help remove other unwanted sounds, but it also helps babies to relax, which in turn helps them fall asleep quicker.
Conclusion
With so many star projectors on the market, it can be challenging to make a perfect choice. Consider what features you need the most, do your research before a purchase.