Asus S1 is a highly rated short-throw projector that has become a favorite among travelers with its intriguing performance and short-throw projection. It is an efficiently priced pocket projector that has been designed to serve the mass without compromising on quality.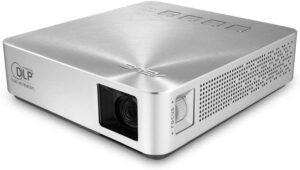 Features in a Nutshell
854 X 480 native resolution.
200 lumens brightness.
1.1:1 short-throw ratio.
30-100inch screen size range.
60000maAh inbuilt battery.
HDMI and MHL support.
Pros
Excellent visual output with sufficient vividness.
Tremendous LED light source longevity.
Sufficient battery backup.
Competitive pricing.
Fits easily inside the pocket.
Pros
Fits easily inside the pocket.
Features Overview
Useful Short Throw Ratio
Asus S1 has managed to shorten up its space need in every department, whether it is body size and setup area. It gets a 1.1:1 short-throw ratio that allows it to project a decent 41inch screen from just 1m so space won't be your concern during setup.
Appropriate Image Size Range
Given the ultra-compact size, it offers a reasonable projection size range lying between 30 inches and 100 inches. So whether you want to watch a movie while traveling or set it up in your home, you won't face a shortage in image size.
Decent Resolution
Well, you might get appalled by its 480p native resolution, but once you see its visual output, you won't complain. Moreover, you can play up full HD videos without any quality degradation. The 0.3inch DLP chip serves as an essential pillar behind its excellent visual quality as it maintains clarity and detailing.
Right Amount of Brightness and Contrast
Despite having 200 ANSI Lumens, it creates a beautiful picture quality with an adequate amount of vividness and sharpness. All thanks to its 1000:1 contrast ratio, the picture quality really looks splendid with rich black and bright whites.
Impressive Color Output
We can say the color quality and depth will leave you flabbergasted as it notches up overall image richness. The 100% NTSC color saturation and 16.7M make the primary impact and allow the projector to perform like a prolific entertainment projector.
Clear Audio
Even though it is a pocket-sized projector, it houses a mono 2-watt speaker that is sufficient enough when you are watching a movie inside closed doors. It also gets the support of SonicMaster technology, so quality and clarity won't be a concern.
Visual Features
You will get four picture modes with this projector for utilizing it in different situations, and they are standard, theater, battery, and presentation mode. It also pampers you with three 16:9, 4:3, and auto aspect ratio option, which is a great facility.
Jaw-dropping Lamp Life
With a 30000hour of life longevity, the LED light source will not provide you a brilliant vividness in visual but will also ensure jaw-dropping longevity. So you might not have to change the bulb until you buy yourself a new projector.
Good Power Backup
This little box is full of surprises as it also packs a powerful 6000mAh battery that can allow you to watch a football match or movie anywhere for a maximum of three hours. Most importantly, it even acts as a power bank, thus enabling you to charge the phone while traveling.
Adequate Connectivity Options
The tiny body also has provisions for some ports, and it includes likes of HDMI, MHL, audio-out, and USB Type-A. We think these ports are sufficient enough to cater to your need for connecting all the standard devices. However, for hooking android smart-phone and iPhones, you will need to buy MHL and lighting adapters separately.
Simple Design and Lightweight Body
The whole body is molded with a Zen-inspired aluminum casing with a compact body shape so that it easily fits in a pocket or bag. It weighs only 0.75lbs so that it can provide maximum portability during transportation.
Numerous Placement Options
Setting up this projector in a different place would be a piece of cake for you, and partly the credit goes to its different projector placement options. It gets a front table, front ceiling, rear table, and real ceiling option for placement.
Final Thought Asus S1 is a stylish and compact short-throw projector that would never give you any chance to frown on its performance. Even though it looks small, but it packs an extensive list of features that are sufficient for your entertainment session.
Watch the following video for a quick overview of Asus S1: